The Review: Eva Restaurant in Los Angeles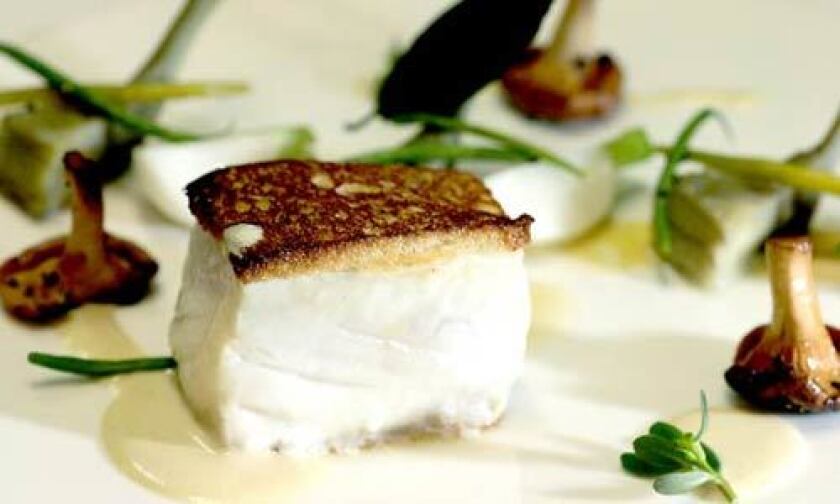 Restaurant Critic
It's Sunday night and I've just come off an 11-hour flight rumpled and cross-eyed after reading the last installment of Steig Larsson's "Millennium" trilogy straight through. When my friend picks me up at the airport, she reminds me that I'd asked her to make a reservation at Eva for their prix fixe Sunday dinner.
---
FOR THE RECORD:
Restaurant review: A Nov. 18 review of Eva restaurant identified the pastry chef as Tess Parker. Her name is Tess Panzer. —

---
What foresight! Because I happen to be hungrier than I can remember having been in a long time. There's just time for a bath and a much-needed change of clothes before we set off again for Eva, two doors down from BLD on Beverly Boulevard in the space that was once Hatfield's.
As we settle into one of the tables on the porch that wraps around the small bungalow, a waiter approaches, an apron around his waist and a bottle of wine in each hand. Albariño or a Meritage from Carneros? he asks. It turns out that wine is included with the $35 Sunday night supper, making it quite the bargain. And it's not just plonk either, but bottles that grab your interest.
Of course, Eva is not the first to have a Sunday night set-menu supper program. Suzanne Goin more or less started the idea at Lucques and got a highly successful cookbook out of it too. Palate does something similar, on Sunday afternoon and evening. And Eva's Sunday night menu exemplifies everything that is good about the new restaurant from chef-owner Mark Gold.
Any night of the week, the place is fun and relaxed. And, though Gold cooks exceedingly delicious food, he's not given to taking himself too seriously. He also has something very rare, a generosity of spirit that translates onto the plate.
Walk into Eva (which is named after Gold's grandmother) and you won't have to stand around waiting to be noticed. Someone welcomes you right away. If not Gold himself, then one of the members of his staff, dressed in white T-shirts with gray knit sweater vests from Suss Cousins of SussDesign, who has a shop up the street.
The night's menu begins with Little Gem lettuce, each dainty crinkly leaf separated and cloaked in a velvety green goddess dressing with a good splash of vinegar in it. It's utterly seductive and refreshing.
On Sundays everything is served family-style, which makes Eva's supper something of a cross between Lucques' long-running event and the nightly fare at Thomas Keller's casual Ad Hoc in Napa Valley. Before we'd even finished the Little Gem salad, a bowl of warm potato salad and a platter of juicy fried chicken straight from the fryer arrives. Piled high on a platter, there's a meaty thigh for each of us, just what the jet lag doctor ordered. Somebody mentions wings wistfully. And minutes later, the kitchen sends out fried wings, one to a person. A bite of chicken. A bite of potato salad. What more can you ask for on a Sunday night?
Dessert? Not quite yet. Gold is also serving brisket braised in red wine and cut in finger-thick slices to show off its texture. It comes with a thatch of green beans on top and a bowl of spinach in cream so thick it resembles a light custard. As I taste the beef, I'm wondering why more restaurants don't serve brisket. It's become a lost art.
Dessert, when it arrives, is a homey buttered bread pudding drizzled with a caramel sauce that tastes just the way it should -- of butter and caramel instead of something from a squeeze bottle. Pastry chef Tess Parker was a home baker until she walked in one day to ask for a job at the precise moment that Gold needed someone. This month's dessert menu includes a light-as-air lemon pudding cake crowned with meringue and sweetened with thyme honey. She's doing a 2-inch-high pain perdu (French toast) with barhi dates tucked inside, cloaked in a ginger custard.
Gold is used to cooking at much more high-volume, high-price-tag restaurants. He was last at Leatherby's Café Rouge at the Orange County Performing Arts Center, and previously executive chef at Café Patina downtown and executive sous chef at Water Grill under then-chef Michael Cimarusti. He's clearly a skilled executive chef. Whether or not he's at the stoves, dishes are executed with the skill of a first-class kitchen.
How can he turn out such polished cooking at such moderate prices for the quality? His normal menu, which changes frequently, is focused and small, with a handful of appetizers, the same number of mains. To start, you can get Bagaduce oysters on the half shell simply presented on a pillow of salt in all their briny glory. There's always a soup. It could be a slurried onion soup embellished with pickled baby chanterelles or a silky smooth potato purée enriched with a little Parmigiano-Reggiano and garnished with miniature croutons.
At Leatherby's Café Rouge, Gold indulged his interest in Japanese cuisine, and here he's doing a stunning Japanese-inspired first course of a gentle dashi broth with a poached egg, a bundle of spinach and a piece of delectable fried chicken. A melt-in-your-mouth foie gras terrine is topped with diced pineapple guava. The exotic fruit adds a touch of sweet as a foil to the delicacy of the foie gras without being too sweet.
Main courses pull their own weight. Young chicken is cut up and rearranged to look like a landscape on a plate, here a mountain, there a hill, with halved turnips and carrots laying down the color. Each piece of chicken is cooked perfectly.
Scallops, along with short ribs and pork belly, have become a cliché on practically every menu. But Gold's Hokkaido scallops from the Japanese island are something else again, less sweet and tasting more of the sea than the regular variety. Contrasted with fiery Spanish chorizo, earthy Brussels sprouts and Bomba rice from Spain, this is a dish to make you fall in love with scallops again. Big Eye tuna is delicious too, served in discrete hunks with beautiful Nantes carrots, a swirl of carrot juice and a little whipped tofu.
The occasional dish, such as the dull poached beef or gummy pumpkin ravioli, misses the mark. The first time I had his clamswith udon noodles, I loved it. But on second acquaintance, maybe because the noodles had been cooked longer, it didn't work for me. Everything was too soft and somehow the flavors seemed too close up, missing the play of textures in a traditional spaghetti alle vongole. But most everything else is worth ordering.
While Sunday is an extraordinary bargain, the regular menu is close to a steal, considering the quality of the cooking and the raw materials. Most small neighborhood restaurants at this price level (only two of the main courses are over $20) zero in on simple rustic cooking. But Gold is too seasoned and too skilled a chef to ratchet himself down that much.
Most of all, though, he communicates his love of cooking to his guests. Affable and welcoming, he pops in and out of the kitchen, and roams around the dining room as if he can't quite believe he's here in his own little restaurant. He's so used to pressure and turning out food for big restaurants, that Eva must seem like play for him.
Let's hope he likes playing, because I'm hoping this restaurant will be around for a good long while. Oh, and he does lunch too.
---
Get our weekly Tasting Notes newsletter for reviews, news and more.
You may occasionally receive promotional content from the Los Angeles Times.