The Review: Blue Plate Oysterette in Santa Monica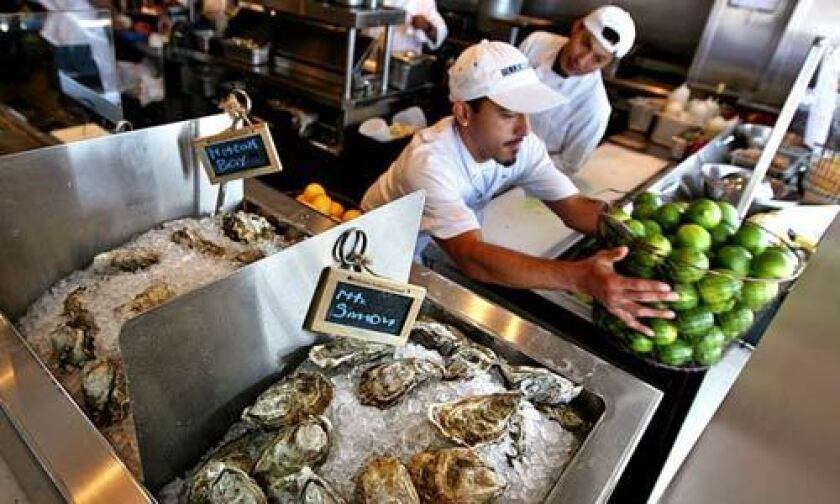 Restaurant Critic
OK, so L.A. has its Issan Thai restaurants, Sichuan and Shanghai style places, Tuscan trattorie and Provencal bistros, Yucatan and Oaxacan joints. Why not an East Coast clam shack? Well, now we have one, fetchingly called Blue Plate Oysterette.
I'm surprised no one has tried it before. There was the short-lived Menemsha, but it was a much more ambitious East Coast seafood place. That this one is small and cozy with a studied casual air and a great front of the house -- not to mention it's just across from Palisades Park and the Pacific -- gives this place a fighting chance.
Owner Jenny Morton, who also owns Blue Plate on Montana Avenue, went for a neighborhood kind of place rather than something glitzy. The menu is smart too. Pretty much everything that people love about East Coast seafood -- oysters, clams, mussels, lobster rolls, fish 'n' chips, steamers -- is listed on the one-page menu. But if you're looking for grilled or steamed Maine lobster, you're out of luck. No clam bakes either.
But then you can't have everything, can you? What's best here is the raw seafood -- oysters, clams, ceviche and some, but not all, of the cooked dishes. New York's Pearl Oyster Bar, this is not. But the service from waiters in blue-and-white gingham or striped shirts is eager and willing and the front of the house bends over backward to accommodate everyone.
A striped awning defines the sidewalk terrace outside with three covet-able -- at least on a balmy night -- wooden picnic tables. Inside, designer Tim Clarke of Tim Clarke Interior Design has given the Oysterette a designerly take on the clam shack with a pearlized white leatherette banquette and galvanized metal tabletops. A metal starfish adorns the stove hood, and a narrow counter runs in front of the kitchen, the better to watch the frantic goings-on there.
Antique glass bottles turned into hanging lamps march down the length of the small space. A round mirror framed with writhing brass octopi is hung at the very back of the room.
Everyone seems to be having a great time as couples, friends, mothers and sons, fathers and daughters commandeer a table or a space at the bar. Every other table seems to be a regular. Not bad for a place barely 2 months old.
Boa or Oysterette?
I joke with the hostess outside one night over the game I'm playing: identifying whether people getting out of their cars are going to Boa or Oysterette. (They share the same valet.) It's too easy, really. The trendoids and tourists are headed to Boa; the locals and real eaters are sprinting to Oysterette's hostess desk out front to put their name on the list. No reservations are taken in advance. But if you want to stroll, she'll jot down your cellphone number and call when your table is ready.
A half-dozen different oysters are chalked on the board above the counter. I'm strictly for cold water oysters, so I order Kusshi and Komo Gateway oysters from the Pacific Northwest. The Kusshi are small as Kumamotos, plump and creamy, while the Komo Gateways are larger but thinner, crisp and minerally. The waiter describes them as having a cucumber finish, whatever that is.
A big bowl of steamed mussels in either white wine, lemon and garlic, or (my choice) a smoldering red curry sauce, are a deal at $14, too much for one person, perfect for two or three to share. I might claim all of the baked clams for myself, though, if I ever have the chance. It's the classic with a California touch -- coarse breadcrumbs and fresh herbs and a drizzle of good olive oil. Calamari and other seafood are rolled in cornmeal before being fried to a deep, satisfying crunch, served with pickled hot peppers and house-made tartar or cocktail sauce. Clam chowder, though, has more carrots in it than clams.
Lobster roll is always a touchy subject. The one at the Hungry Cat has its fans and its detractors. This one may turn out to be just as controversial. It's plenty big, on a typical soft roll, but for me the lobster is chopped too finely and the mayonnaise is scanty. I prefer larger chunks of lobster meat cloaked in a beautiful mayonnaise. But here the filling is almost too dry.
Fish 'n' chips is made with ling cod and fried up in big pieces. Sometimes it's a touch greasy, but that's just part of the genre. The fries are fine, nothing special. If you don't like your fish fried, check the blackboard for the fish of the day, which could be California swordfish, Eastern haddock, Hawaiian ono or any number of other choices with your pick of sauces.
Eastern haddock with checca (fresh tomatoes, basil and olive oil) doesn't seem as fresh as it could be. It's shown up by a wonderful piece of wild king salmon cooked in a simple lemon caper sauce.
In general, the kitchen tends to cook the fish a tad too long. If you like your fish less cooked, it might be a good idea to ask for it medium rare.
Sides include coconut rice, which is fine, and garlic-sautéed spinach, which reeks of the stinking rose and tastes like frozen spinach to boot.
Try the Big Dog
OK, not everybody eats fish. For folks like that, the menu created with Blue Plate chef Violet Robles has the Big Dog -- a half-pounder made from Kobe beef, though I think you'd be hard-pressed to tell the difference between this and a regular Nathan's hot dog. Who could finish this? Not only is the dog longer and bigger around, it comes in an oversized bun to match and with small crocks of mustard, sauerkraut and red cabbage coleslaw to dress it up.
The wine list is limited but still offers decent white wines for the money. Beer, though, actually goes better with the food.
For dessert, get the chocolate ice cream sundae. The ice cream is a generic vanilla, but the chocolate sauce is dark and fudgy, and I love that when you stick your spoon into the glass, you find chocolate-covered malt balls buried in there. But what's with the affogato? The waiter brings a giant cup full of already melting ice cream, pours the espresso in, and suddenly you've got a bowl of coffee-flavored soup. Otherwise, there's a respectable blueberry cobbler.
With BP Oysterette, Morton and crew have another neighborhood hit on their hands. Small wonder, it has a truly friendly and welcoming staff, a fun vibe and a relatively moderately priced menu.
Plus, they're open all day, so you can take a walk on the beach and drop in for a lobster roll or a dozen oysters pretty much any time, making the Oysterette a low-key alternative for ravenous seafood lovers at the beach.
---
Get our weekly Tasting Notes newsletter for reviews, news and more.
You may occasionally receive promotional content from the Los Angeles Times.