The Saturday Cook: This one-pan shrimp stir fry cooks in under 10 minutes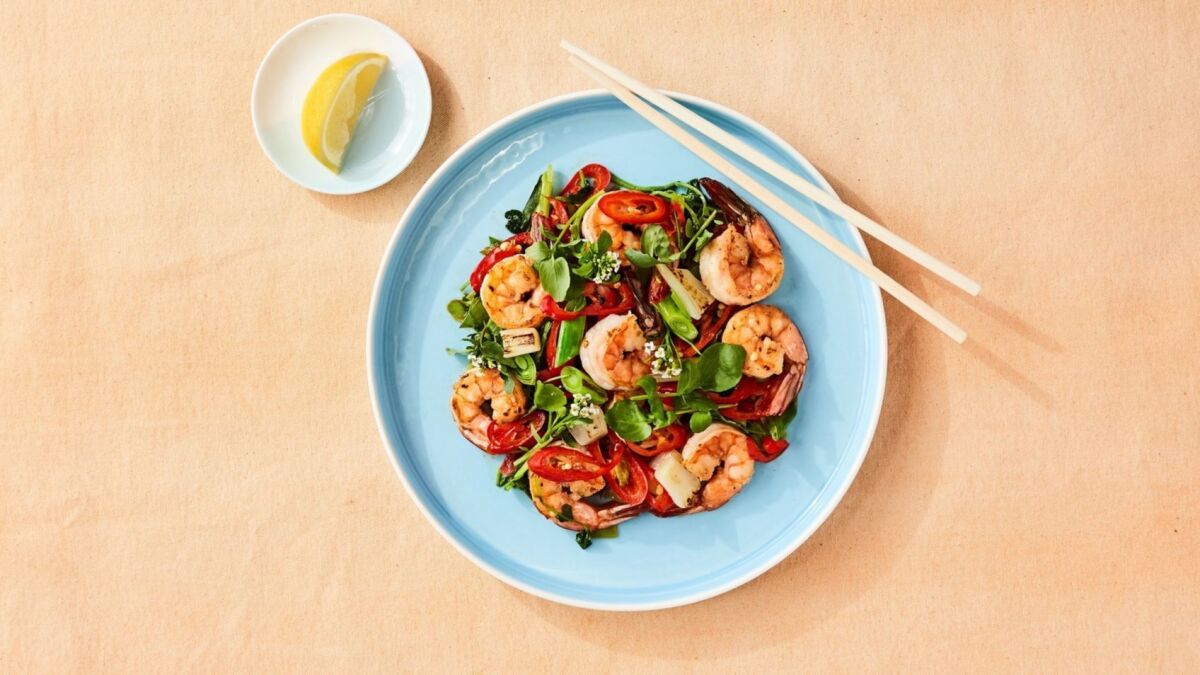 Leeks are always available in markets, but right now, some are more slender and tender.
Spring leeks harvested young measure less than an inch in diameter, and their dark green tops are soft enough to eat. That means less food waste and more flavor in this super-fast stir-fry in which land meets sea, the earthy sweetness of leeks and mild red chiles highlighting shrimp's natural sweetness.
Watercress, which is especially peppery in spring, offers a savory counterpoint.
Growing up in a Cantonese American home, I ate my greens either cooked in stir-fries or raw in salad. In this dish I combine the two techniques. Most of the watercress is wilted to tame its sharp edge, but a handful of tender leaves and flowers are simply scattered on top. They add a refreshing brightness to the steaming hot stir-fry.
And that's what you're going for — a stir-fry so hot it's still steaming when you serve it. In Chinese it's called wok hay, which translates to "breath of a wok." But you don't actually need a wok to get that effect. Whether you're using a flat-bottomed skillet (not nonstick!) or a wok, be sure to get it so hot that it's nearly smoking before you even add the oil. You'll know it's ready when you fling a bit of water on the surface and the water dances right back out.
That crazy-hot pan will char the leeks enough to sweeten them but leave them with a little crunch. If you can't find slender leeks (insider tip: they're at Chinese supermarkets year round), you can use thick ones too. Just cut off the fibrous dark green parts that will leave you chewing endlessly and slice the parts you're using in half lengthwise. Maybe it'll add a few minutes to your prep time, but you'll still have a full meal on the table in record time.
Shrimp, Leek and Watercress Stir-Fry
15 minutes. Serves 4.
Ingredients

2 small leeks
12 ounces large peeled and deveined shrimp
Kosher salt and freshly ground black pepper
2 tablespoons extra-virgin olive oil
2 fresh long red mild chiles, such as finger or Fresno, thinly sliced at an angle
1 bunch watercress (7 ounces), tough stems discarded, flowering tops and some leaves reserved for garnish
Lemon wedges, for serving
Instructions

Trim any tough dark green tops off the leeks, keeping the tender green parts. If the leeks are thick, cut them lengthwise in half. Cut into 1-inch pieces crosswise, then wash well and dry well. Sprinkle the shrimp with salt and pepper.
Heat a large skillet or wok over high heat until a drop of water skitters across the surface. Add the oil and carefully swirl to coat; it should be shimmering. Add the leeks, sprinkle with salt, and cook, stirring occasionally, until browned in spots, 1 to 2 minutes. Add the chiles and cook, stirring, for 1 minute. Add the shrimp and cook, stirring occasionally, until lightly browned and opaque throughout, 3 to 4 minutes. Remove the skillet from the heat.
Fold in the watercress; it will wilt in the residual heat. Transfer to a serving plate and garnish with the watercress tops and flowers. Squeeze lemon juice on top and serve.
---
Get our L.A. Goes Out newsletter, with the week's best events, to help you explore and experience our city.
You may occasionally receive promotional content from the Los Angeles Times.