Review: Jonathan Gold finds a spot that takes regional Mexican cooking on an adventure
Chef Danny Godinez's lamb barbacoa served with fresh tortillas at his new Pasadena restaurant Maestro
(Allen J. Schaben / Los Angeles Times)
Grilled octopus served atop a mezcal bottle with chorizo salso, sweet plantain and a puree of avocado at Maestro.
(Allen J. Schaben / Los Angeles Times)
Oysters with creamed spinach, chorizo and Oaxaca cheese at Maestro.
(Allen J. Schaben / Los Angeles Times)
Maestro's duck carnitas with roasted tomatillo, cauliflower and escabeche.
(Allen J. Schaben / Los Angeles Times)
A mezcal presentation at Maestro with El Jolgorio tobaziche and Los Javis cerrudo.
(Allen J. Schaben / Los Angeles Times)
Chef Danny Godinez holds his grilled octopus dish at Maestro in Pasadena.
(Allen J. Schaben / Los Angeles Times)
Lamb barbacoa in a fresh tortilla gets a spritz of lime.
(Allen J. Schaben / Los Angeles Times)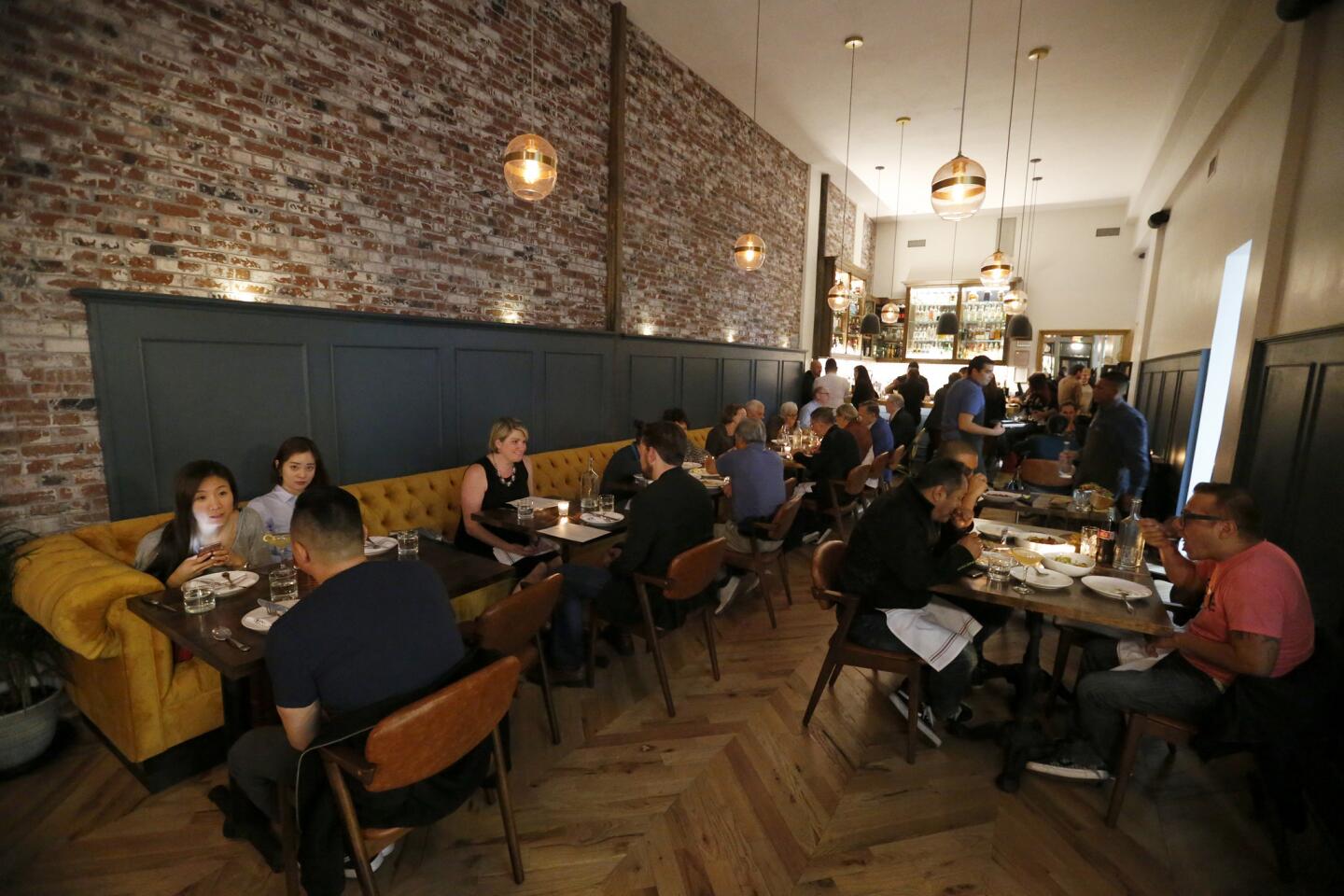 The dining room of Maestro in Pasadena.
(Allen J. Schaben / Los Angeles Times)
The view through the front window of Maestro.
(Allen J. Schaben / Los Angeles Times)
Another view through the front window of Maestro in Old Pasadena.
(Allen J. Schaben / Los Angeles Times)
Union Street outside Danny Godinez's new Maestro in Pasadena.
(Allen J. Schaben / Los Angeles Times)
Food Critic
The morning after my last meal at Maestro, Danny Godinez's new Mexican restaurant in Old Pasadena, I pulled the leftover barbacoa out of the refrigerator to see if I could salvage enough for a taco. There were still a few scraps of lamb left, but the container seemed half-filled with a mysterious goo. I was about to abandon the project – congealed lamb fat is no fun. I dipped in a spoon to see whether it might be worth reheating. And I was flabbergasted to discover that what I'd thought was grease was in fact beautifully jellied consommé, clear and as richly flavored as a demi-glace, without a speck of fat.
This was Mexican food with a different point of view. And while I'm not sure I don't prefer the magnificent hangover barbacoa from the beloved Aqui es Texcoco in Commerce or the dense, oily barbacoa from My Taco in Highland Park, Godinez's version is very, very good — more delicate than its counterparts, slightly stringy, and without the insanely delicious pockets of fat that burst on your tongue, but still lovely and substantial. You could compare it to a Provençal daube, but flavored with chiles and cinnamon instead of orange zest and thyme. When you eat it at Maestro, you have the benefit of fragrant tortillas patted to order and maybe something from the restaurant's first-rate mezcal list to go with it. It is a thoroughly Mexican meal.
Maestro is the newest outpost of Godinez's small empire, crammed into what used to be the Afghan restaurant Azeen's. It is his first restaurant outside Orange County, where he is considered a chef as ambitious as Taco Maria's Carlos Salgado or Irenia's Ryan Garlitos. He cooked for years with chefs such as Charlie Palmer and Michael Mina. When he was interviewed by the OC Weekly a few years ago, he confessed that his goals included three Michelin stars.
The first time I went to Anepalco, his Mexican diner near the St. Joseph Hospital in Orange, I had barely found a seat before a customer came up to me, put her hand on my shoulder and said, "One word: chilaquiles," as if she were the guy giving Dustin Hoffman advice in "The Graduate." I was there to try Godinez's take on French-Mexican cuisine, which there includes things such as chipotle crepes, pork-belly tartines, and croques madames made with Oaxacan cheese, but his version of chilaquiles, the humble casserole made with stale tortillas and last night's salsa, has always been his famous dish.
The chilaquiles were perfect. And I don't mean perfect in that it was the best I've ever had, but in that it had been assembled in what must have been a pastry mold, the top was even as an ice rink, and the shape was as precise a cylinder as any Michelin-starred crème brulee. On top was set an exact quarter-circle of thin omelet striped with guacamole, crema and chopped-tomato salsa, the colors of the Mexican flag. The surface of the plate was as saturated with brick-red splatter as the background of a Chaz Bojórquez painting. Godinez took a preparation generally noted for its moreness and made it his own by exercising restraint.
The chilaquiles haven't quite made it to Maestro yet – Godinez promises brunch will be coming soon – but the food there is also dominated by the themes of big flavors, clean preparations and restraint.
Grilled octopus tentacles are lightly attached to the top of the mezcal bottle on which they are served with dabs of chorizo puree and avocado. Picadas, corn disks normally as chunky as sopes, are millimeters-thin, smeared precisely with the Mexican cream called jocoque and pureed chiles, sprinkled with hair-thin shreds of radish and a bit of Oaxacan string cheese. Chicken taquitos are half-dunked in broth; you savor the contrast between slightly soggy and crisp the way that the Japanese do with tempura swimming in a bowl of udon.
Esquites, the street-corn dish that has become almost a cliché in Los Angeles restaurants this year, becomes skewered cobs of baby corn whose coating includes toasted grasshoppers as well as the inevitable grated cheese. Fat, seared scallops are served on a rich bed of rice saturated with the essence of huitlacoche, which may be as close as you can get to truffled risotto within the context of Mexican cuisine.
Would you rather be eating your chicken mole at Guelaguetza, your duck carnitas at Eagle Rock's CaCao or your tamal at Broken Spanish? Probably. Sometimes one perfect tortilla per person isn't quite enough. As clean as the preparations, as ambitious as the interpretation of regional flavors, sometimes you want Mexican cooking to be more soulful than precise, to smack you across the head with intensity, funk and heat.
::
Maestro
The newest outpost of chef Danny Godinez's small empire
LOCATION
110 E. Union St., Pasadena, (626) 787-1512, maestropasadena.com.
PRICES
Small plates $9-$12; somewhat larger plates $15-$29.
DETAILS
Dinner Tues.-Sun., 5 p.m. to 10 p.m. Credit cards accepted. Full bar. Street and nearby city lot parking.
RECOMMENDED DISHES
Baked oysters with cheese; picadas; lamb barbacoa; day boat scallops with huitlacoche rice.
MORE FROM JONATHAN GOLD:
At Kismet, your culinary destiny may come in the form of rabbit kebabs
Jonathan Gold reviews Irenia in Santa Ana, which is reinterpreting traditional Filipino cuisine
Get our L.A. Goes Out newsletter, with the week's best events, to help you explore and experience our city.
You may occasionally receive promotional content from the Los Angeles Times.