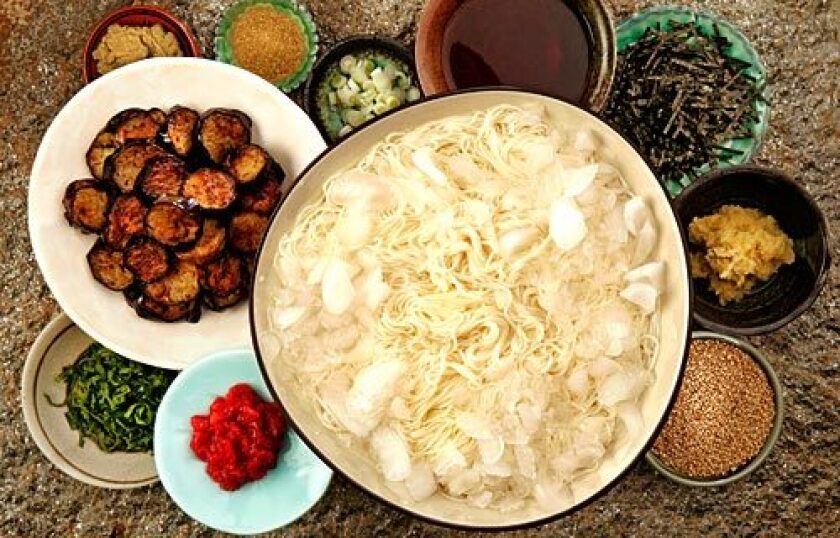 Total time: 1 hour, plus cooling time for the sauce
Servings: 6
Note: This can be served for lunch or as an appetizer. The noodles take less than 3 minutes to cook, so have all the condiments ready to go before you cook the noodles. If you want more condiments, you can add shredded chicken and other julienned vegetables suggested in the recipe for iced somen with chicken and vegetables. Bonito flakes (dried tuna flakes), myoga root, shiso leaves, pickled plums, shichimi and sansho pepper, wasabi paste, somen noodles and kizami nori can be found at Japanese markets.
Soy-mirin dipping sauce
3 cups water
1 1/2 cups bonito flakes (they should be large flakes)
3 dried whole shiitake mushrooms, softened in warm water for 20 minutes (discard water after softening)
1/2 cup plus 2 tablespoons (5 ounces) mirin (sweet sake)
2/3 cup light color soy sauce (usukuchi-shoyu)
In a medium size pan, bring the water, bonito flakes, softened shiitake mushrooms, mirin and light color soy sauce to a boil over high heat. Reduce the heat and simmer gently for 3 minutes to infuse the flavors. Remove from heat, strain the sauce and discard the bonito flakes. Reserve the shiitake mushrooms; remove any tough stems and slice them thinly and use them as a condiment for the noodles. Let the dipping sauce come to room temperature, then refrigerate, covered until needed. This makes 3 1/2 cups sauce and will keep for 1 week, refrigerated.
Somen noodles and assembly
4 to 5 tablespoons toasted sesame oil
3 Japanese eggplant, cut crosswise into 1/2 -inch slices
2-3 myoga roots, cut into 1/8 -inch slices, optional
12 shiso leaves, cut into 1/8 -inch slices
4 scallions, white parts only cut crosswise into 1/8 -inch slices (discard green and root ends)
6 pickled plums (umeboshi), seeded and chopped to form a paste
1/4 cup peeled and grated ginger, from about a 4-inch root (reserve the juice to serve with the grated ginger)
1/4 cup toasted sesame seeds
Shichimi pepper (hot red dried chile)
Sansho pepper to taste
2 tablespoons wasabi paste
Sliced shiitakes reserved from the sauce
3 bunches of somen noodles (300 grams)
3 cups ice cubes
1 cup kizami nori (sliced pressed Japanese seaweed)
Prepared dipping sauce
1. In a medium, nonstick frying pan, heat a few tablespoons of the sesame oil and fry the eggplant until it is lightly browned on both sides and cooked through, about 5 minutes. Remove from heat and place on a serving dish.
2. Arrange the remaining condiments except the nori (myoga, shiso, scallions, plum paste, ginger, toasted sesame seeds, shichimi pepper, sansho pepper, wasabi paste and sliced shiitakes) on the same serving dish or in separate serving dishes.
3. Cook the somen: Bring a large pot of water to a boil and add the noodles, spreading them apart so they do not stick together while cooking. When the water returns to a boil, add half-cup tap water. Cook the noodles so they are al dente, about 3 minutes total cooking time. Immediately remove from heat.
4. Drain the noodles and cool them in a large bowl of water under running tap water. Gently swirl the noodles in the running water until the water runs clear. Drain the noodles again.
5. Place the noodles in a glass or pottery serving bowl. Add the ice and enough water to mostly cover the noodles. Chill for at least 3 to 5 minutes before serving.
6. Bring the chilled noodles to the table, along with the condiments. Arrange the nori with the rest of the condiments or in its own serving dish (arrange the nori last as it will wilt quickly around any sort of moisture). Pour one-third cup (or more as desired) dipping sauce into individual serving bowls for each of the guests.
7. Allow the guests to serve themselves, first by taking some of the noodles, then garnishing with condiments of their choice. Make sure guests garnish with the nori last so it stays dry until it reaches the mouth. When guests finish the first batch, go for seconds and thirds.
Each of 6 servings: 357 calories; 10 grams protein; 49 grams carbohydrates; 6 grams fiber; 14 grams fat; 2 grams saturated fat; 0 cholesterol; 1,554 mg. sodium.
---