Culinary SOS: Milton's special house chopped salad with creamy garlic dressing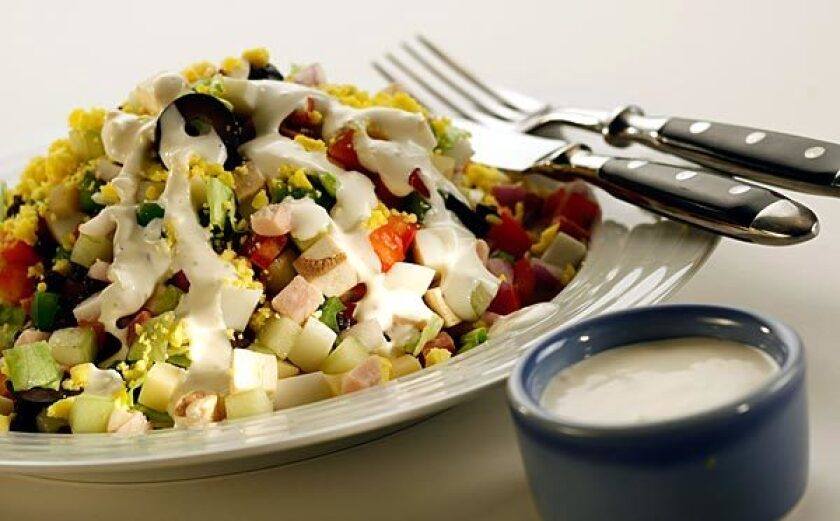 Dear SOS: Please, please print the recipe for the creamy garlic dressing served on Milton's special house chopped salad at Milton's restaurant in Del Mar. It is soooo yummy.
Jill Lamour
San Diego
Dear Jill: This rich ranch-style dressing takes no prisoners when it comes to garlic flavor. Paired with a colorful chopped salad, it makes for a flavorful meal that's simple to prepare.
Milton's special house chopped salad with creamy garlic dressing
Total time: 45 minutes
Servings: 4
Note: Adapted from Milton's Restaurant Delicatessen.
Creamy garlic dressing:
1 1/2 cups mayonnaise
Heaping 2 teaspoons minced garlic
5 tablespoons buttermilk
Salt and pepper
In a food processor, combine the mayonnaise and garlic, pulsing to blend. With the processor running, add the buttermilk. Season to taste with salt and pepper. This makes a scant 2 cups dressing.
Salad and assembly:
1 cup chopped button mushrooms
1 cup chopped cucumber
1 cup chopped tomato
1 cup seeded and chopped red bell pepper
1 cup seeded and chopped green bell pepper
1 cup chopped red onion
1 cup diced salami
1 cup diced smoked turkey
1 cup diced jack cheese
1 cup diced Swiss cheese
1 cup chopped iceberg lettuce
1 cup dried currants
1 cup sliced black olives
2 hard-cooked eggs, diced
1 cup dressing, more as desired
In a large bowl, combine the mushrooms, cucumber, tomato, red and green bell peppers, onion, salami, turkey, jack and Swiss cheese and lettuce. Divide the salad between 4 plates. Garnish each salad evenly with the currants, olives and eggs. Serve each portion with 1/4 cup dressing, or more as desired.
Each serving: 896 calories; 35 grams protein; 45 grams carbohydrates; 7 grams fiber; 67 grams fat; 19 grams saturated fat; 217 mg. cholesterol; 32 grams sugar; 1,608 mg. sodium.
---
Get our new Cooking newsletter.
You may occasionally receive promotional content from the Los Angeles Times.