Culinary SOS: Caramel banana bread pudding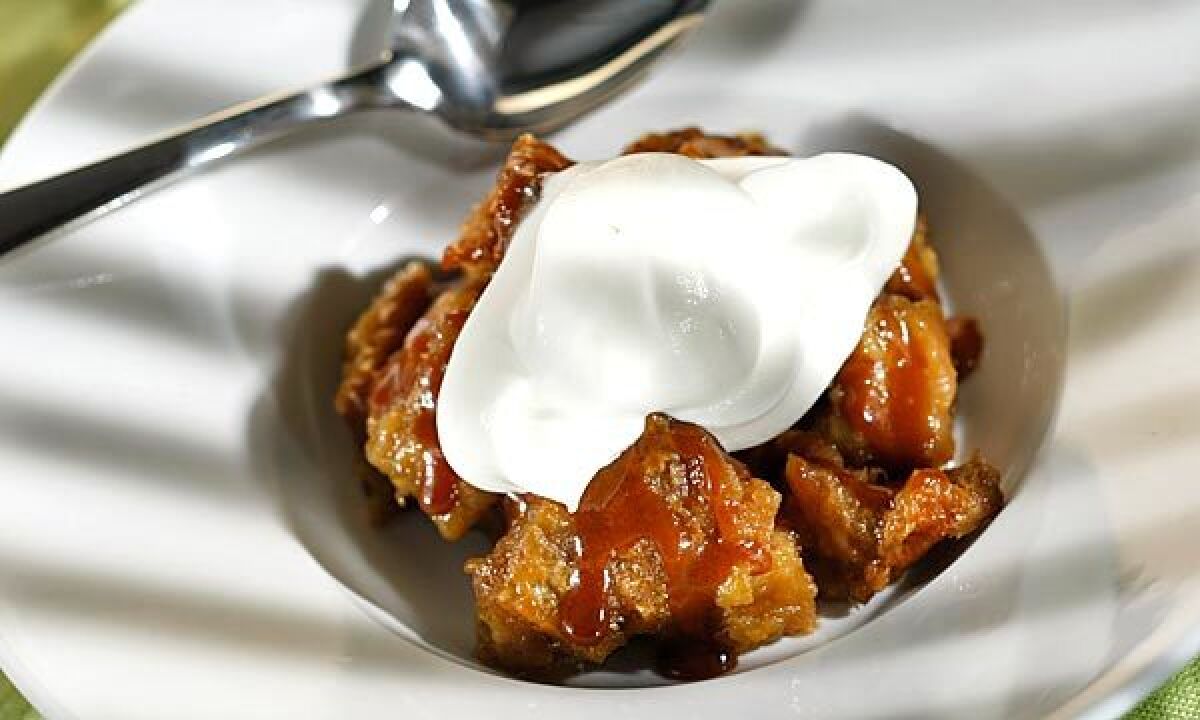 Dear SOS: I live in Chicago and often visit friends who live in Calabasas. My favorite restaurant there is Cafe 14 in Agoura Hills. I think my favorite dessert ever, and that of my friends, is their caramel banana bread pudding. I would be forever grateful if I could have this recipe.
Nan McCormack
Chicago
Dear Nan: Cafe 14's take on bread pudding calls for croissants, which lend a soft, buttery texture to this classic comfort food. Rich caramel and crushed, ripened bananas are folded in before the pudding hits the oven. The resulting dish is a wonderfully rich play on flavors, at once looking like a classic bread pudding, but tasting almost like bananas Foster. We liked it even better after a quick trip under the broiler to crisp the top layer.
Caramel banana bread pudding
---
Our recipes, your kitchen: If you try any of the L.A. Times Test Kitchen recipes from this week's Food section, please share it with us: Click here to upload pictures of the finished dish.
---
Total time: 1 hour, 10 minutes plus soaking time for the pudding
Servings: 8
Note: Adapted from Cafe 14. The restaurant serves the bread pudding with caramel sauce and whipped cream.
1/4 pound (1 stick) unsalted butter
2 cups lightly packed (13 ounces) brown sugar
2 cups heavy cream
1 teaspoon vanilla
Salt
3 bananas (overripe is preferred), peeled and coarsely mashed with a fork
6 cups diced croissants, from about 3 croissants diced into 1/2-inch cubes
3 eggs
1. In a large, heavy-bottom saucepan, melt the butter over medium heat. Stir in the brown sugar and cook, stirring to dissolve. Stir in the cream, vanilla and a pinch of salt and gently bring the mixture to a boil, stirring frequently. When the mixture has come to a boil, remove from heat and set aside to cool.
2. While the caramel cream cools, toss the bananas and croissants in a large mixing bowl.
3. Whisk the eggs into the caramel cream to form a custard base, strain and then pour the custard base over the croissants and gently toss. Place the mixture in a greased 9-inch round cake pan or an 8-inch square baking dish. Set the mixture aside to soak for 1 hour. Meanwhile, heat the oven to 350 degrees.
4. Place the cake pan into a larger baking dish; fill the larger baking dish with enough boiling water to come up the side of the cake pan halfway to form a water bath.
5. Bake the bread pudding until puffed and set, about 45 minutes. Remove from the oven and water bath, and cool slightly before serving. For a crisp topping, place the cake pan under the broiler just until it begins to brown and crisp on top, about 1 to 3 minutes, depending on the broiler.
Each serving: 673 calories; 6 grams protein; 76 grams carbohydrates; 2 grams fiber; 40 grams fat; 24 grams saturated fat; 206 mg. cholesterol; 62 grams sugar; 243 mg. sodium.
---
Get our L.A. Goes Out newsletter, with the week's best events, to help you explore and experience our city.
You may occasionally receive promotional content from the Los Angeles Times.