Culinary SOS: Lunch's green apple chicken salad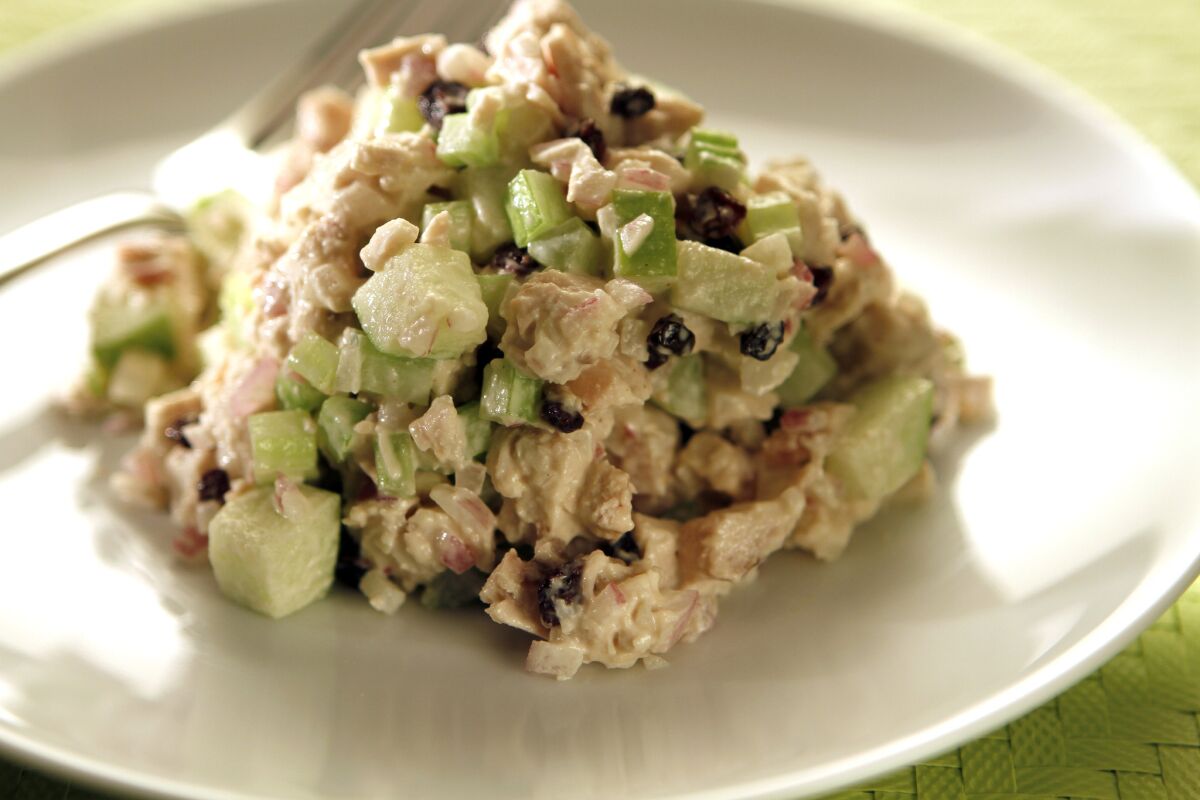 Dear SOS: I love the chicken salad from Lunch in Culver City. It's so delicious, and I always want it when I'm at home in Burbank. Please help!
Laura Meredith
Burbank
Dear Laura: Lunch's chicken salad is a deliciously simple dish. It combines diced chicken with a little red onion, celery, currants and apple for a nice crunch, great color and a wonderfully fresh combination of flavors not unlike a classic Waldorf. And it's just as easy to prepare.
---
Our recipes, your kitchen: If you try any of the L.A. Times Test Kitchen recipes from this week's Food section, please share it with us: Click here to upload pictures of the finished dish.
---
Lunch's green apple chicken salad
Total time: 25 minutes
Servings: 4 to 6
Note: Adapted from Lunch
1/3 cup mayonnaise
2 tablespoons cider vinegar
1 tablespoon Dijon mustard
2 cooked boneless and skinless chicken breasts, diced (a generous 2 cups)
2 small celery stalks, cut into small dice
1/2 red onion, cut into very small dice
1/2 green apple, cored and cut into medium dice
1/3 cup currants (raisins may be substituted)
Salt and pepper, if desired
1. In a large bowl, whisk together the mayonnaise, cider vinegar and Dijon mustard to form a dressing.
2. To the bowl, add the chicken, celery, onion, apple and currants. Toss everything together, taste and adjust the seasoning if desired. Chill before serving. This makes about 1 quart chicken salad.
Each of 6 servings: 188 calories; 12 grams protein; 10 grams carbohydrates; 1 gram fiber; 11 grams fat; 1 gram saturated fat; 39 mg cholesterol; 7 grams sugar; 163 mg sodium.
SOS REQUESTS: Send Culinary SOS requests to noelle.carter@latimes.com or Culinary SOS, Food section, Los Angeles Times, 202 W. 1st St., Los Angeles, CA 90012. Please include your name, phone number and city of residence.
Get our L.A. Goes Out newsletter, with the week's best events, to help you explore and experience our city.
You may occasionally receive promotional content from the Los Angeles Times.