Recipe: Euro Pane's lemon squares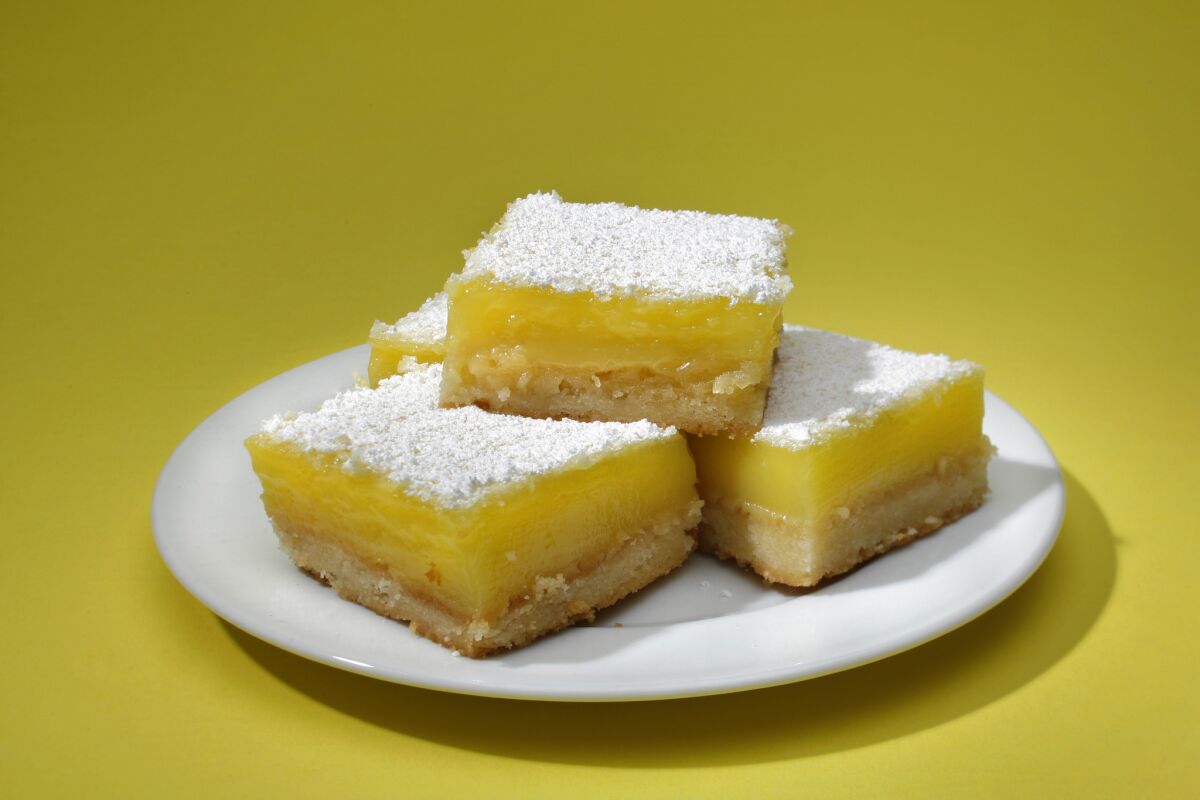 Dear SOS: Many lemon bars are either too sweet or much too tangy. Euro Pane's is just the perfect combination. The base is crumbly yet firm. They also serve really large portions. I always love picking up a couple and putting them in the fridge. They taste so much better cold, well at least for me. There have been many times when these bars run out, so I always have to call to make sure they can set aside a couple. I'm sure this bar will become a staple in dessert menus in many homes. It will in mine.
Monica Melgoza
South Pasadena
Dear Monica: With a custard that uses more than a cup of lemon juice, there is no shortage of bright, fresh lemon flavor in these wonderful bars, from Euro Pane in Pasadena. Neither too tart nor too sweet, they're baked atop a crisp but tender shortbread crust, making for a snack that's hard to resist.
Euro Pane's lemon squares Total time: 1 hour and 45 minutes plus cooling time for the crust Servings: 24 Note: Adapted from Euro Pane. Crust 2 cups (8.5 ounces) flour 2/3 cup powdered sugar, sifted 1 cup (2 sticks) chilled butter, cubed 1. Heat the oven to 350 degrees. In the bowl of a stand mixer using the paddle attachment, or in a large bowl by hand, mix together the flour, powdered sugar and butter until they come together to form a dough. 2. Press the dough into a greased 9-inch-by-13-inch baking dish. Bake the crust until golden-brown, about 20 minutes. Remove and cool. Reduce the oven temperature to 300 degrees to bake the bars. Filling and final assembly 8 eggs 3 cups sugar 1 1/4 cups lemon juice (from 12 to 13 lemons) 1/2 cup (2.1 ounces) flour Prepared crust Powdered sugar for dusting 1. In a large bowl, whisk together the eggs, sugar, lemon juice and flour. Pour the filling into the prepared crust. 2. Place the dish in the center of the oven and bake at 300 degrees until the custard is set, about 40 minutes. Cool to room temperature, then dust with a light coating of powdered sugar before serving. Each lemon square: 253 calories; 4 grams protein; 40 grams carbohydrates; 0 fiber; 9 grams fat; 5 grams saturated fat; 91 mg. cholesterol; 25 mg. sodium.
Get our L.A. Goes Out newsletter, with the week's best events, to help you explore and experience our city.
You may occasionally receive promotional content from the Los Angeles Times.