Beyond Spago, exploring Wolfgang Puck's L.A. empire at Cut and Chinois on Main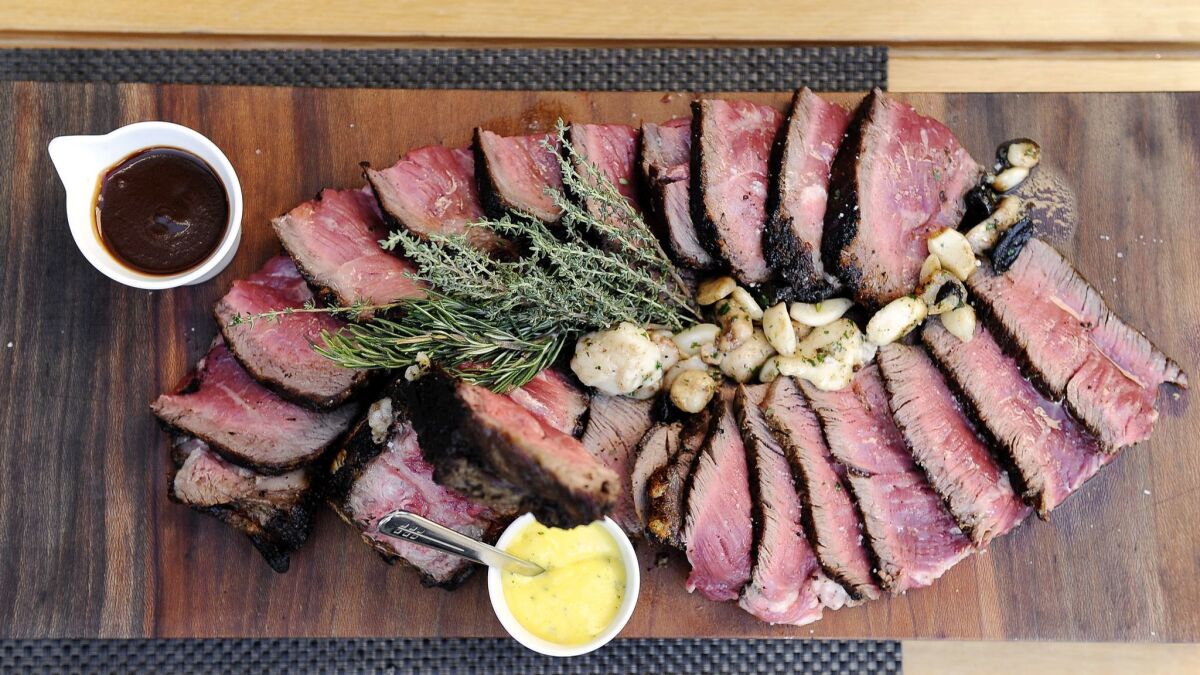 Spago is the undisputed crown jewel of Wolfgang Puck's dining empire, but the acclaimed chef also oversees more than a dozen other branded restaurants around the world. Our restaurant critics Bill Addison and Patricia Escárcega drop in on two of Puck's other Los Angeles restaurants: Cut, a luxury steakhouse at the Beverly Wilshire Four Seasons Hotel, and the groundbreaking Chinois on Main in Santa Monica, a restaurant that helped pioneer modern Asian fusion cooking.
CUT BY WOLFGANG PUCK
9500 Wilshire Blvd., Beverly Hills, (310) 276-8500, wolfgangpuck.com/dining/cut-beverly-hills
Perhaps all you need to know about Cut is that it sits on the ground floor of the Beverly Wilshire Four Seasons Hotel, a magnet for tourists and anybody with a taste for high-end hotel amenities. Wolfgang Puck's steak-centric restaurant is appropriately sleek for the setting, housed in a modern, all-white space designed by Getty Center architect Richard Meier.
The star of the menu is the Japanese pure-breed Wagyu beef imported from Miyazaki Prefecture, lavishly marbled and wheeled out on a cart so you can leer at it appreciatively at the top of your meal. Highly graded American steaks round out the steak menu: corn-fed USDA prime beef from Illinois, grass-fed sirloin from California, hybrid Wagyu raised in Idaho. The "Tasting of New York Sirloin" sampler is possibly the most rewarding thing on the menu, a delicious controlled study on three prime cuts: a USDA steak dry-aged for 35 days; 4 ounces of Snake River Farms American Wagyu; and 2 ounces of the prized Miyazaki Wagyu.
Steak aside, bone-marrow flan spread on toasted brioche is a worthy indulgence, and of course there are all manner of sides and gourmet condiments: cleanly fried tempura onion rings, creamed spinach and an extravagant selection of house-made steak sauces. Nothing on the menu breaks new ground, but the point of Cut is not novelty but rather expensive, flavorful beef, prepared with exacting proficiency by a culinary team led by chef de cuisine Hilary Henderson. Cut is representative of modern-era Wolfgang Puck: not the boundary-crossing chef of the 1980s and '90s but the acclaimed restaurateur and overseer of an international portfolio of restaurants. For those in pursuit of the luxury steakhouse experience, though, Cut is indispensable. — P.E.
CHINOIS ON MAIN
2709 Main St., Santa Monica, (310) 392-9025, wolfgangpuck.com/dining/chinois-santa-monica/
"Um, what exactly is 'Oriental brown rice?'" asks my friend whose parents ran a Chinese restaurant in the San Fernando Valley when he was growing up. Great question. We ask our server, who has worked at Chinois on Main for 35 years. "Oh, it's just a vegetable stir-fry but made with brown rice," he says cheerfully. Aha.
While Spago strives to keep reinventing itself through the decades, Chinois on Main and its Asian-fusion menu wallow in the past. Wolfgang Puck and Barbara Lazaroff opened it in 1983, a year after their whirlwind Spago debut. Lazaroff's dining room design is wild: lime tables and trim, bamboo paneling against brick walls, curving patterns everywhere.
If the decor comes across as a fascinating time capsule, the food is simply anachronistic. How exactly is Shanghai lobster — a dish of lobster in curry sauce over fried spinach — related to the cooking of Shanghai? Its flavor is monotonous and the spinach is oily, regardless of the answer. The shredded poultry tossed with cabbage and fried wontons in the utterly bland "Chinese chicken salad" tastes days old. I'd swear the plum sauce spooned around roasted Cantonese-style duck is in fact the canned cranberry sauce trotted out at grocery stores around Thanksgiving.
And yet: The place is packed on a Tuesday night, filled with tourists and locals alike. I don't understand why, except for the eye-popping interior. I gape at a diorama of orchids behind glass built into one wall. "They aren't real," says the server, noticing my interest. "They used to be, though." Metaphors, metaphors. — B.A.
Get our L.A. Goes Out newsletter, with the week's best events, to help you explore and experience our city.
You may occasionally receive promotional content from the Los Angeles Times.