Why you'll want to figure out how to use a spiralizer
I came late to the spiralizer party. I'd never heard of the gadget that turns vegetables into noodle-like strands until about a year ago, when I started seeing dishes with names such as "Zinguine™" on restaurant menus.
The gluten-free and paleo crowd have been onto this tool for some time — it's a terrific technique for those who love pasta but have a problem with wheat or with carbs. I'm not a member of either of those groups, but I've always loved the taste and texture of zucchini pasta, which I made, laboriously, with a vegetable peeler before I bought my spiralizer.
It turns out that the spiralizer is a great prep tool for all sorts of other vegetables, including onions, potatoes, celeriac and beets; and it does a lot more than just transform them into pasta. Pass an onion through the fine blade and you'll get incredibly thin slices in less than a minute — and no tears. The tool is like a simplified and much less expensive version of a mandolin; and you don't risk cutting off the tip of your finger when you use it.
Recipe: Celeriac pasta with tomatoes and mint or basil »
This summer I've been using my spiralizer mainly to make vegetable pasta dishes. It's perfect for this because many people crave lighter pastas when the weather is hot. Prep goes quickly and the cooking time for spiralized pasta strands, whether made with summer squash, celeriac, beets or rutabaga — can be less than a minute. Your stove won't be on for long and your kitchen can stay cool.
Try using a mix of green and yellow squash ribbons — it makes for a gorgeous dish, and you can use up the mountains of summer squash your garden is producing or you pick up at the market.
Zucchini and other summer squash have a high water content and release water when they cook, and afterward. Because of this, it's a good idea to avoid accompanying squash noodles with liquidy sauces; the juices from the squash will dilute them. The squash provides its own welcome moisture, and if you use enough salt in your cooking water, the juice that it releases will be tasty.
Celeriac, one of my very favorite choices for vegetable noodles, doesn't get watery when cooked. The noodles have a lot of flavor and are a better option to toss with tomato sauce than summer squash.
Spiralized vegetables also make wonderful stir-fries. I blanch them first, for just a minute, to ensure that the noodles are evenly cooked before I finish them in my wok with other stir-fry ingredients.
For those of you who find vegetable prep tedious, the spiralizer just may change your attitude about cooking. My sister, who has celiac disease and must avoid gluten in her diet, was visiting last winter when I was working on a collection of recipes for the spiralizer. After watching me turn out several dishes a day and being the happy recipient of one gluten-free pasta dish after another, she had an epiphany. "I realized that it's not that I don't like to cook," she said. "It's chopping that I don't like."
Recipe: Summer squash ribbons with green beans and herbs »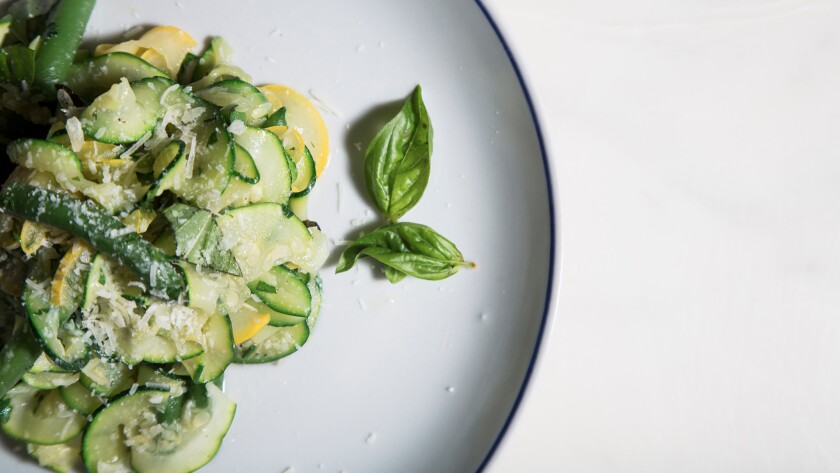 How spiralizers work:
There are two types of spiralizers on the market: smaller hand spiralizers and larger freestanding models. The freestanding models are easier to use and more versatile, with three to four blades for making fine and thicker strands and flat, ruffly pappardelle-like ribbons or slices.
To spiralize a vegetable, place a sheet pan or a wide shallow bowl at the end of the spiralizer to catch the strands. Trim the ends off the produce so that each end is flat. Affix one end to the circular hold in the center of the blade and secure it at the other end with the pronged piece attached to the crank. Make sure that it is centered. Then turn the crank. As you turn the crank the item moves against the blades as the center moves through the hole (sort of like a pencil in a pencil sharpener), and long curly strands or slices fall into the bowl or sheet pan. The strands can be very long, so you'll want to cut them into manageable lengths with scissors. Some cooks cut their vegetables into shorter, 4-inch pieces before spiralizing.
Take care to double-peel vegetables with thick skins and those that have a fibrous layer underneath the skin, such as kohlrabi, celeriac and winter squash. If you don't, some of the strands will be tough.
Left over, after the vegetable or fruit has gone through the blade as far as it will go, is a mushroom-shaped solid bit consisting of the middle that moved through the tube and the end affixed to the holder. You can use this for another purpose or cut it by hand.
Recipe: Stir-fried zucchini noodles with greens, cabbage and shrimp »
What fruit and vegetables work:
— Produce that is firm, at least 1 1/2 inches long and at least 1 1/2 inches in diameter. This eliminates most carrots sold in 1-pound bags, but loose carrots are often wide enough at one end. I find it easiest to use a hand-held spiralizer for carrots and broccoli stems because the pronged holder on the crank spiralizers can't get a purchase on the hard, narrow ends; they won't turn properly against the blade.
— Like these: apples, Asian pears, beets, broccoli stems (only fat ones), carrots (only fat ones), celeriac, chayote, cucumbers, daikon radish, jicama, kohlrabi, onions, parsnips, pears, peppers, potatoes, radishes, rutabaga, sweet potatoes, turnips, watermelon radishes, winter squash, zucchini and other summer squash
What fruit and vegetables don't work:
— Produce that is soft or juicy. The produce will give and fall apart or squish as it is pushed against the blade. Eggplant might appear firm, but the flesh has a spongy texture that will not stay intact when it is turned on the spiralizer; it will tear. Pears will work if they are firm, even if they are on the juicy side.
— Produce with lots of seeds or one big seed in the middle. The exception to this rule is thick-fleshed bell peppers. I use the spiralizer for peppers often, but I only spiralize a little more than halfway up the vegetable, until the blade reaches the seedpod.
— Produce that is narrow, like thin carrots and celery.
— Produce that is irregular, like cauliflower and broccoli florets, that are difficult to secure and will fall apart.
ALSO
How to throw an Israeli-SoCal mezze party
Food truck report: Pico House brings grain bowls made by a quartet of serious chefs
You can do way more than make agua fresca with jamaica, or hibiscus, flowers: Try making tacos or a pavlova
---
Get our new Cooking newsletter.
You may occasionally receive promotional content from the Los Angeles Times.