Take Sunday supper easy at great L.A. restaurants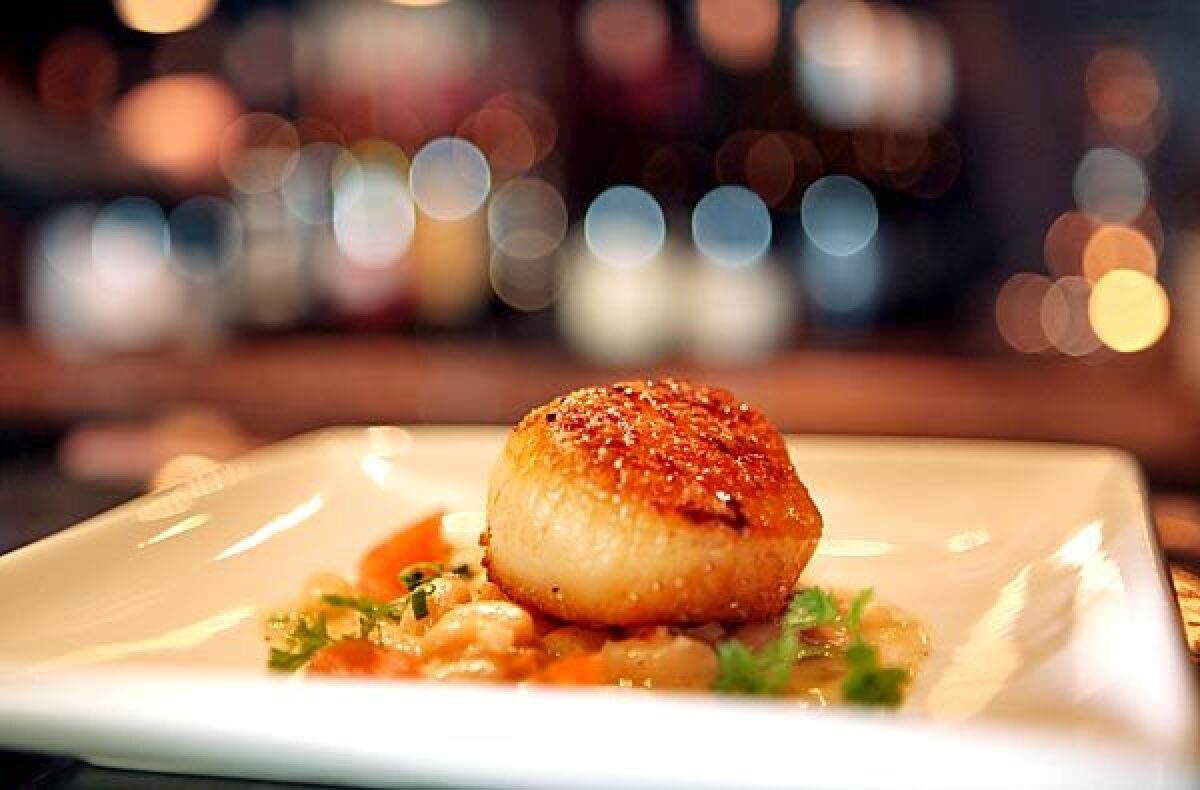 It's Sunday night.
You can go out for Chinese, order in or — radical idea — cook. Some of you might get lucky and have a friend invite you over for homemade Korean barbecue or a paella.
Whatever the plan, Sunday is for relaxing, for sneaking in a last dose of pleasure before the Monday-to-Friday blues start up all over again. That's why they call it "Sunday supper" as opposed to the more formal "Sunday dinner."
Lately, some of L.A.'s best restaurants have been tapping into that desire for something simple and delicious on Sunday night by offering prix-fixe suppers. Suzanne Goin started the trend at Lucques early on, and her relaxed three-course suppers, offered at a relatively modest price, became so popular that you sometimes had to reserve weeks in advance.
Other restaurants have joined the movement. Some took on Sunday suppers for short spurts. Others have made it a permanent feature. And yes, there are Sunday night groupies out there. How better to try out an otherwise expensive restaurant at a bargain price? Other diners just love the festive, familial atmosphere and have become regulars.
It's a good deal all around. With the menu already set (with, at most, a couple of choices), it's easier for guests to focus on the company and the conversation. For that one night, waiters' jobs are less stressful because everybody at the table is basically eating the same thing and sharing the same experience. And by cooking just one menu, the kitchen has only to concentrate on executing a few dishes perfectly. Bliss.
But where to go? Here are our picks of the best Sunday suppers around town, gleaned from several months of Sunday eating.
The rustic Mediterranean menus Suzanne Goin created on Sundays for Lucques eventually made their way into her bestselling 2005 cookbook "Sunday Suppers at Lucques." The tradition is still going strong.
On an early October night, I was surprised to find Goin (who co-owns several other restaurants) in the kitchen. It turns out she cooks on Sundays much of the time. Lucques, after all, is her first restaurant — and home. And after a dozen years, Sunday night supper is still going strong. Each week she sends out an e-mail with the menu.
This one sounded too good to pass up. With a fire in the fireplace, candles glowing against brick walls, and the patio awning cinched back, Lucques looked particularly lovely that night. The trend seekers long ago moved on, and the crowd is a mix of ages and genres, with some romantic couples too. We started with a pretty watermelon and tomato salad with mint, watercress and crumbled feta. The watermelon is juicy and sweet against the acid of the tomatoes — yellow, pink, red, green — and the soft crumbled feta adds its salty note. She always offers a choice of fish or meat for the main course. Wild salmon in a crunchy breadcrumb crust with bacon is wonderful with ribbons of soft cabbage, fresh sweet corn and pickled pink onions.
But even more of a standout is the grilled lamb sirloin served with fat pale-green lima beans and black olives on a bed of skordalia, the Greek garlic and potato purée. I'd be happy with either one: Fortunately, we shared. But we each got our own goat cheese and ricotta tart on a buttery short crust for dessert. Drizzled with honey and heaped with pretty pink-fleshed figs and pine nuts, the tart ended the meal with a flirty, sweet note.
A more recent example: cipollini onion tart with Roquefort, arugula and red flame grapes; steamed clams with green garlic, farro, vermouth and green olive toast or harissa-braised lamb with sweet potatoes, long-cooked kale and pomegranate salsa; vanilla panna cotta with roasted dates, pistachio brittle and tangerine sorbet.
Lucques, 8474 Melrose Ave., West Hollywood; (323) 655-6277; https://www.lucques.com. Three-course menu, $45. Sundays, 5 to 10 p.m.
Mark Gold is in his element at his small midtown restaurant where he seems to be everywhere at once — greeting guests, cooking, carrying out dishes. And on Sundays, it can get very intense. He's been putting out generous, incredibly delicious Sunday night suppers since he opened the restaurant in fall 2009. One toddler comes every week with her parents and eats everything.
It's all served family-style, a platter of this or that set in the middle of the table. His menu is unique in that it includes two offbeat wine discoveries every Sunday, which the sommelier presents with aplomb and pours freely.
It makes for a festive evening, especially if you come with a few friends. In warm weather, there's also seating in the back garden or on the front porch.
The night's menu might begin with a salad of Little Gem lettuce tossed in a velvety green goddess dressing, then a platter of juicy fried chicken and warm, vinegary potato salad. Gold doesn't believe in skimping. He usually sends out a second main course, which could be thick slices of slow-braised brisket and a bowl of creamed heirloom spinach. That's followed, of course, by dessert, maybe a buttered bread pudding drizzled with a caramel sauce or a lemon pudding cake crowned with meringue.
Another example: Caesar salad with garlic bread croutons, spaghetti with long-simmered veal and beef Bolognese sauce, chicken piccata and blueberry buckle cake.
Eva, 7458 Beverly Blvd., Los Angeles; (323) 634-0700; https://www.evarestaurantla.com. Four-course menu, $39. Sundays 3 to 9 p.m. Note: Eva has just added Sunday brunch.
Chef Daniel Mattern and pastry chef Roxana Jullapat are mixing it up at the long-running Ammo on Highland Avenue. The chef couple not only have added a killer Sunday brunch, but they've also started their Sunday night supper option called Ammo Roast, built around a main course from the wood-burning oven. The e-mailed menu arrives every week. I'd gone a couple of times already, but when the supper tribute to the late Southern cooking doyenne Edna Lewis came around in October, I couldn't resist. Southern cooking? Edna Lewis recipes? I'm in.
We started with a puréed watercress soup made with a good chicken stock and garnished with watercress leaves and a swirl of cream. I'd forgotten how deeply delicious this soup could be. It came with a dinner roll on a square of parchment paper. Fragrant with yeast, the rolls are rich and dense, the shiny brown surface slicked with butter. Why doesn't anybody else make these anymore?
The main event was a brined pork roast with black-eyed peas and ribbons of kale, and big dollops of custardy spoon bread. Miss Lewis would have been proud. Dessert was heirloom apples from Windrose Farm halved and baked in a buttery caramel sauce and served with a pitcher of light custard sauce to pour over the top. Not one scrap or drop was left in the bowl at the end of the meal — enjoyed with Ammo's always-great music track.
A more recent menu: warm escarole salad with house-cured pancetta and white beans; beef stew cooked overnight with buttered potatoes, carrots and parsnips; bread 'n' butter pudding with butterscotch prunes. Comfort, pure and simple.
Ammo, 1155 N. Highland Ave., Los Angeles; (323) 871-2666; https://www.ammocafe.com. Three-course supper, $32. Sundays, 5 to 9 p.m.
This nearly year-and-a-half-old Pasadena wine bar is going with the Sunday night program too, this one with a four-course menu. The night I went, a wine dinner was scheduled inside, so we sat outside on the brick patio with a fountain and heat lamps (which work just fine, but you might want to bundle up on cold nights just in case).
The wine will warm you up too. Noir has a great list that is particularly strong on California Pinot and Burgundy and includes some 50 wines by the glass. But the Sunday supper menu offers two glasses of wine from a choice of four. If you prefer to drink something else, you get a $5 discount on the menu without the preselected wines.
The first course is usually a mixed green salad with a balsamic vinegar dressing (fine, nothing special), followed, on a recent visit, by fluffy crab fritters dosed with a Carolina mustard and white pepper aioli. Chef Claud Beltran offers a choice of three main courses, which might include an excellent grilled hanger steak with fingerling potatoes and red wine shallot reduction, a moist Cornish hen with rosemary risotto or terrific pan-seared scallops with chanterelles and cauliflower. (He changes at least one or two dishes each week.) A dessert of classic crème caramel with roasted apples could work with any number of sweet wines; co-owner Mike Farwell will advise on which to choose.
Another recent example: tatsoi, arugula and pear salad with rosemary vinaigrette; pan-seared scallop with white bean ragu; a choice of grilled Australian lamb chops with mashed potatoes and asparagus, pan-seared grouper with rosemary risotto and zucchini or grilled hanger steak with green beans and fingerling potatoes; a choice of poached pears with honey-orange sorbet or panettone bread pudding with hazelnut crème anglaise.
Noir Food & Wine, 40 N. Mentor Ave., Pasadena; (626) 795-7199; https://www.noirfoodandwine.com. Four-course menu, $39, including two glasses of wine. Sundays, 5:30 to 10 p.m. Closed Jan. 23 for a special event.
The great bargain among Sunday suppers is at Dominick's in West Hollywood, where partners Warner Ebbink and chef Brandon Boudet offer a three-course menu for $15. No choices, but you can also order off the a la carte menu. I've been to some Sundays when whole long tables out on the walled patio are taken over by single families or groups of friends. The restaurant's own label, Dago Red (or White), costs $12 a bottle; Moretti beer is just $3, so drink up. And eat up. The menus are usually down-home, red-sauce Italian in theme, sometimes pasta, sometimes not, but meant to evoke the meals the owners' grandparents made for extended family on Sundays. The spirit is festive and familial.
That could be bracciole or lasagna, or, on a November night a finely shaved fennel and Parmesan salad followed by grilled skirt steak, served family-style with roasted potatoes and a piquant salsa verde. And who wouldn't love the dessert — rice balls scented with vanilla, like deep-fried rice pudding.
Another recent example: Shrimp and white bean crostini, penne with turkey meatballs, finished with peppermint chip sundae. Straightforward and simple.
Dominick's, 8715 Beverly Blvd., West Hollywood; (310) 652-2335; https://www.dominicksrestaurant.com. Three-course Sunday supper, $15; bottle of Dago Red or White, $12; bottle of Moretti beer, $3. Sundays, 6 p.m. to midnight.
Get our L.A. Goes Out newsletter, with the week's best events, to help you explore and experience our city.
You may occasionally receive promotional content from the Los Angeles Times.