Checking out the super bloom? Here are four places where you can eat and drink on the way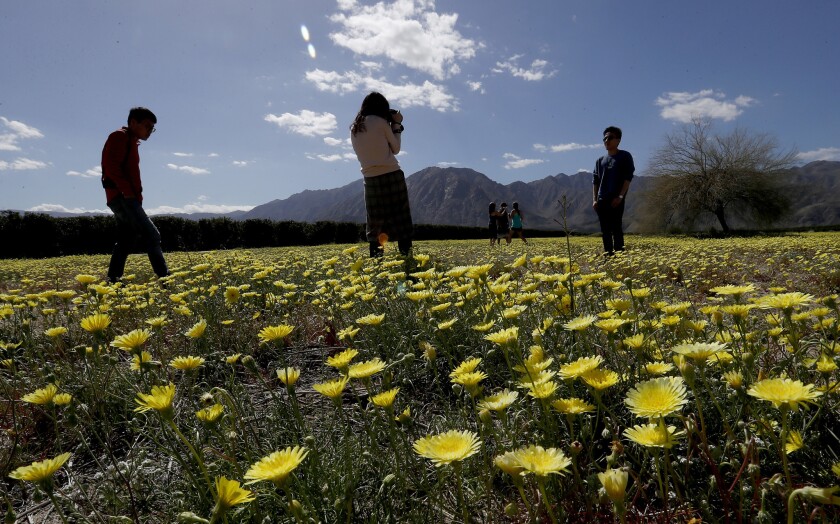 As you know from your poppy-populated Instagram feed, Los Angeles has been in the grips of super bloom mania for the last few weeks.
Anza-Borrego Desert State Park, currently experiencing a top-notch wildflower season, is one of the most popular destinations in Southern California for super-bloom-seeking crowds. Around three hours from Los Angeles, it's also a bit of a trek and you're bound to get hungry.
Where to find the super blooms in Southern California »
Lucky for you, there are no shortage of restaurants, bars and bakeries along the way to try. Here's where to stop on your drive: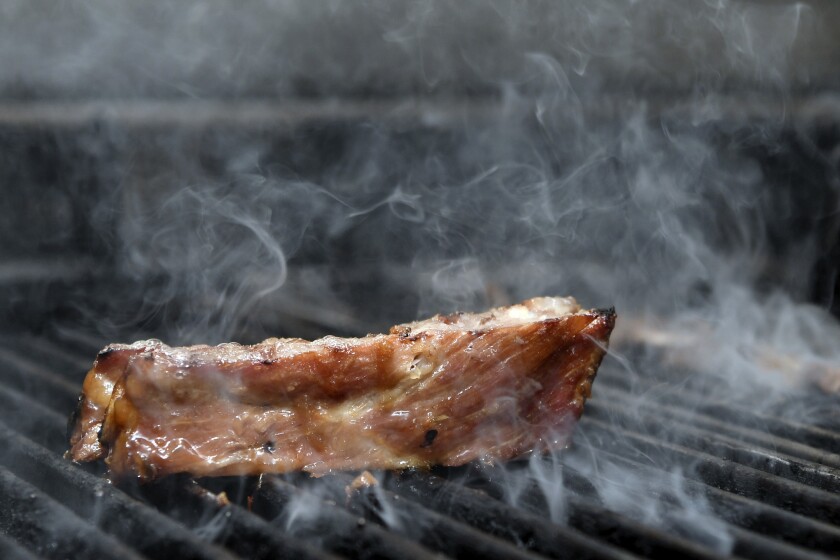 Kra Z Kai's: As Times restaurant critic Patricia Escárcega noted in her February review, this is (probably) the only Laotian barbecue spot in Southern California. The small counter-service restaurant, situated at the edge of a strip mall, specializes in Laotian-style barbecued meats. Escárcega recommends ordering dishes such as the Laotian sausage, papaya salad, beef dip and barbecue chicken. After a long day of wildflower hunting, you're going to need some protein.
Kra Z Kai's, 1218 Magnolia Ave., #110, Corona, (951) 268-6968 instagram.com/kra_z_kais_bbq/
Oak Mountain Winery: What's more quintessentially Californian than the California poppy? California wine. Oak Mountain Winery, just a 10-minute detour off Highway 79, serves wines grown and produced in Temecula. Stop by before 5 p.m. for a hard-earned post-hike wine tasting. Or schedule a tour of the winery's caves, the first of their kind in Temecula.
Oak Mountain Winery, 36522 Via Verde Road, Temecula, 951-699-9102, oakmountainwinery.com
Yes, you still have time to see the super bloom — if you know where to go »
Padua Pasta Makers: Passing by Upland on your way down to the wildflowers? Padua Pasta Makers is known for its freshly made pasta but also offers boxed lunches that include a sandwich, side dish, pickle and chocolate hazelnut truffle for dessert. Between the drive and the inevitable crowds, it's bound to be a long day. Having lunch ready to go will help. (Hat tip to Daily Bulletin reporter David Allen — Escárcega passed along his recommendation.)
Padua Pasta Makers, 300 E Arrow Hwy, Upland, (909) 985-4900 paduapastamakers.com
The Mission Inn: After a day spent in the great outdoors, battling the selfie-obsessed hordes it attracts, you're going to need a drink. Up for a slight detour to Riverside? In 2011, Jonathan Gold listed the Reagan Martini at the Mission Inn's Presidential Lounge in a roundup of "L.A.'s Best Cocktails" for L.A. Weekly, calling it "as strong, undiluted and unpalatable as the man himself." With a long day in the wildflowers and a few Reagan Martinis under your belt, you might want to book a room for the night. Trust us on this one.
The Mission Inn, 3649 Mission Inn Avenue, Riverside, (951) 784-0300 missioninn.com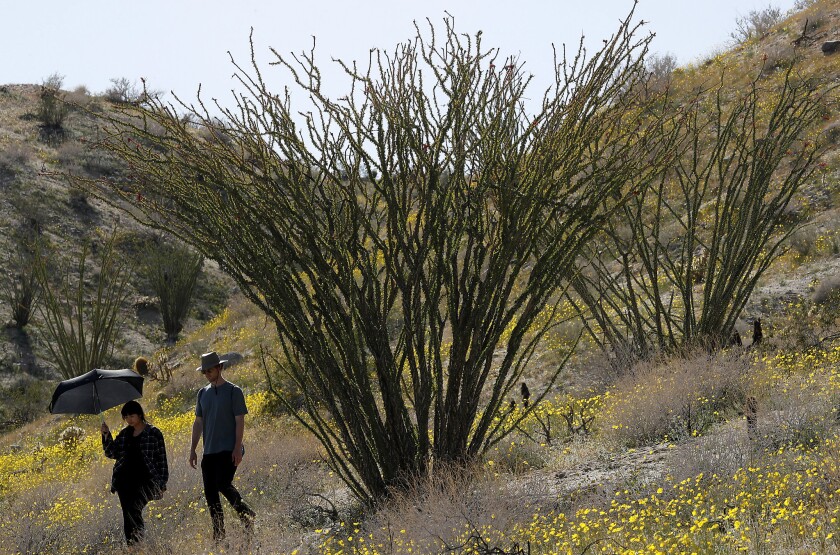 ---
Get our weekly Tasting Notes newsletter for reviews, news and more from critics Bill Addison and Patricia Escárcega.
You may occasionally receive promotional content from the Los Angeles Times.