Recipe: Shrimp tacos with pumpkin seed sauce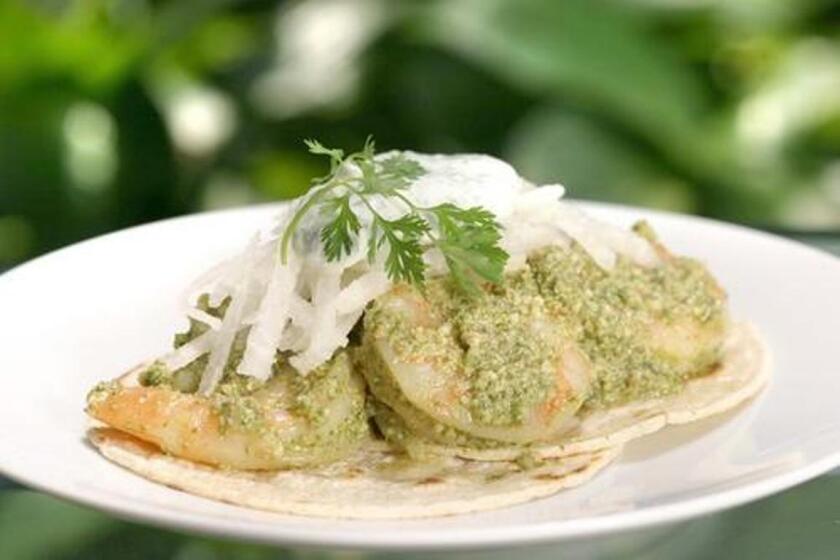 Total time: About 50 minutes
Servings: 4
Note: If you would like a spicier pumpkin seed sauce, double the amount of chiles.
1 bunch cilantro
1/2 cup sour cream
1/2 cup raw pumpkin seeds
2 tablespoons olive oil
2 cloves garlic
1 1/2 teaspoons kosher salt
1 serrano chile, seeded and inner ribs removed
1 jalapeno chile, seeded and inner ribs removed
1/4 large jicama, peeled
1 pound medium raw shrimp, peeled and deveined
8 small corn tortillas
Lime wedges
1. Finely chop about a third of the cilantro to yield 2 tablespoons, setting aside the rest. In a small bowl, mix the chopped cilantro with the sour cream and set aside.
2. In a medium sauté pan over medium heat, toast the pumpkin seeds until they pop and turn slightly golden, 8 to 10 minutes; do not let them brown. Set aside briefly to allow to cool.
3. In a food processor or blender, place the pumpkin seeds, olive oil, garlic, salt, chiles, remaining cilantro and one-half cup of water. Blend to a smooth paste.
4. Return the mixture to the sauté pan, add one-half cup of water and cook over low heat for about 20 minutes to develop the flavors. Stir frequently to make sure the sauce doesn't burn and add more water if the sauce thickens too much or too quickly. Meanwhile, shred the jicama using a box grater. Refrigerate until needed.
5. Increase the heat to medium-high and add the shrimp. Cover and cook until the shrimp are pink, about 5 minutes, stirring and turning the shrimp occasionally for even cooking.
6. Heat a skillet or griddle over medium heat and warm the tortillas. Arrange two tortillas per plate, slightly overlapping. Divide the shrimp among the tortillas, add shredded jicama and a spoonful of cilantro sour cream. Serve immediately, with lime wedges.
Each serving: 471 calories; 32 grams protein; 33 grams carbohydrates; 7 grams fiber; 24 grams fat; 7 grams saturated fat; 185 mg. cholesterol; 365 mg. sodium.
---
Get our weekly Tasting Notes newsletter for reviews, news and more.
You may occasionally receive promotional content from the Los Angeles Times.