What we're into: Sea bass ceviche, cheese and Seville oranges
Sea bass ceviche
Los Angeles is an unusually good place to eat ceviche, from the Guatemalan ceviche at La Cevicheria down on Pico Boulevard, to the Valencia ceviche at smoke.oil.salt, to the ceviche tostadas at the Mariscos Jalisco truck in Boyle Heights. Nobu Matsuhisa made an international reputation with his take on the Nikkei-style ceviches from Peru; you can try a more direct version at Kotosh in Lomita. And then there's the most unlikely great ceviche in town — the fragrant, citrusy Peruvian ceviche from Lonzo's in Culver City, a ceviche made more remarkable by the fact that it is served at one of a couple of tables crammed into a bakery foyer.
So you're going to have some hot rolls with a dab of the chile sauce aji; you are going to contemplate an order of the lomo saltado; and you may end up with a plate of the cilantro-laced lamb stew. Lonzo's Peruvian cooking is unusually good. But you need to find a way to the sea bass ceviche, which is a little expensive but comes with Peruvian corn nuts and boiled giant corn, slivered red onion and a marinating liquid — leche de tigre — so good you understand why it is occasionally served as a beverage on its own.
Cheers for Seville oranges
"I remember peeling the first one and taking a taste. It was awful," said my friend, Cary. There was a Seville orange tree in his backyard, and he gives me a bag or two full of the fruit every season. A Seville orange, a type of bitter orange, can easily be mistaken for a regular orange with its bright color and sweet fragrance, if a little smaller. But this isn't a fruit you eat out of hand, unless you're a fruit masochist. Still, it's magic in the kitchen, in marinades, marmalades and vinaigrettes; it's a classic flavoring in cochinita pibil. You won't find the orange at your regular supermarket, though you might find it at the occasional farmers market or Latin grocery — or if you're lucky, someone's backyard. But my favorite use is infusing gin.
More cheese, please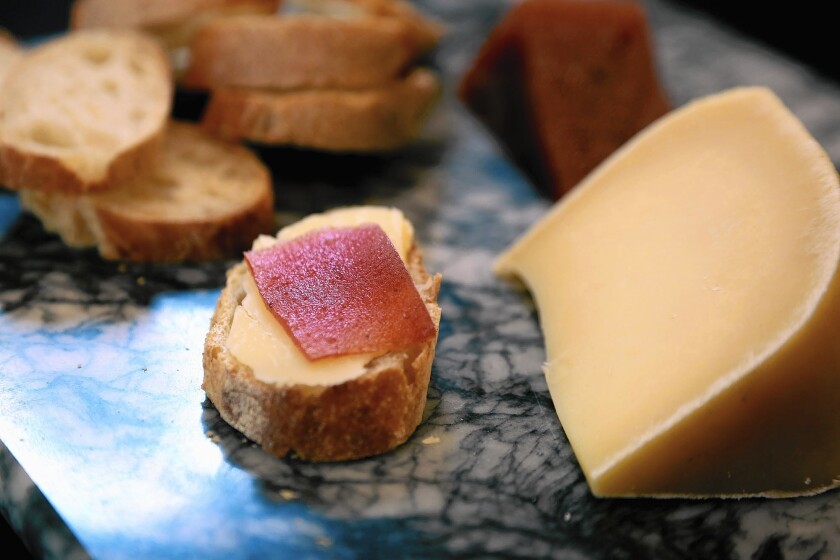 When you find that one cheese (or 10) that you can't live without, you'll find ways to incorporate it into every meal of the day, including a couple afternoon snacks. Such is the case with the Bishops Peak cheese made by Central Coast Creamery. It's an Alpine-style cow's milk cheese made using propionic bacteria, which means it doesn't have the small holes found in other Alpine cheeses. It's aged for seven to eight months before hitting the cheese counter. The result is a cheese with an assertive, nutty flavor that gives way to a buttery texture at room temperature, like a mellow cross between the best Gruyère and an aged Gouda. To bring out a slight sweetness in the cheese, serve it with a sliver of membrillo and some good bread. The cheese is currently only available at DTLA Cheese at Grand Central Market, the Cheese Cave in Claremont and the Patio on Goldfinch in San Diego, but Central Coast Creamery cheese maker Reggie Jones says you can expect to see a lot more Bishops Peak come August and September, due to its production of a new aging space.
Drink this now:
The mango con chile from the new Playa Amor in Long Beach is like the cocktail version of one of those bags of chile-dusted fruit you'll find sold on the beach in the middle of an L.A. summer. Thomas Ortega, chef-owner of Amor y Tacos in Cerritos and Ortega 120 in Redondo Beach, has just opened his latest concept, Playa Amor, in the Market shopping center in Long Beach. If you're a tequila drinker, you'll want to check out the chef's selection of tequila, as well as the cocktails. The mango con chile, also one of the more popular drinks at Amor y Tacos, is a fruity mix of fresh mango purée, house-made limeade, house-made chamoy, agave, tajin and plenty of Avion blanco tequila. It's served with a piece of chile-dusted mango on a stick and a house-made chile salt rim, which each serve as a palate reboot between sips. The drink tastes even better when sipped alongside an order of Ortega's tater tots covered in mole negro. Despite all the house-made ingredients in the cocktails, Ortega requests that you don't call him, or anyone in his crew, a mixologist.
Cookbook of the week:
If the name of the author of this cookbook sounds familiar, and it probably should, that's because Roux's father opened one of the most famous restaurants in England. Albert Roux and his brother Michel Roux (Roux Jr.'s uncle) opened Le Gavroche in London and the Waterside Inn in Bray. Le Gavroche was the first restaurant in Britain to earn three Michelin stars, and among the notable chefs who cooked there are Marco Pierre White and Gordon Ramsay. The Roux family legacy has continued unabated, as Roux Jr. has run Le Gavroche since 1991. His new cookbook, published this month, is a tribute to that rich French-Anglo tradition, with 200 recipes featuring dishes from the chef's childhood and long career. (It is Roux's third cookbook but the first to be published in the U.S.) Thus there are classics, but many of them with a lighter, more modern twist than might have been customary in his father's and uncle's days, and with ingredients that cover more international ground. There are boeuf bourguignon and terrines in aspic (aspic!), but also a simple recipe for baked eggs that's a spin on eggs en cocotte with the addition of corn, paprika and chorizo. Unsurprisingly, there's also a great dessert chapter — Albert and Michel Roux both began as pastry chefs — loaded with clafoutis and soufflés and mille-feuilles, as well as fritters and simple peaches and cream. Filled with classic French cooking, but also user-friendly, Roux's book is eminently approachable. After all, how many cookbooks have recipes for both cockscombs with truffles and beer soup?
MORE
What we're into: Slurping zhajiangmian, hunting duck and reminiscing with Thrifty ice cream
What we're into: Congee, fresh-baked bread and tofu tacos
---
Get our weekly Tasting Notes newsletter for reviews, news and more.
You may occasionally receive promotional content from the Los Angeles Times.