Recipe: Wild rice porridge with apricots and pistachios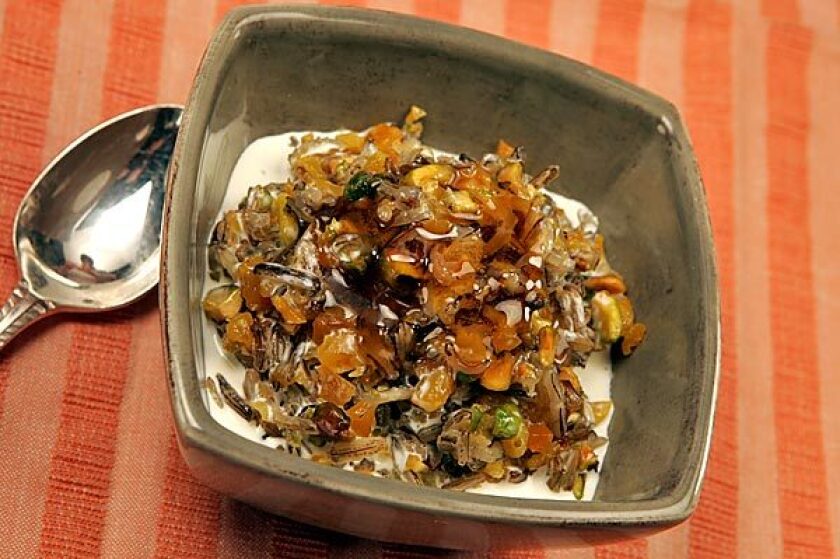 Wild rice porridge with apricots and pistachios
Total time: 15 minutes
Servings: 2
2 cups cooked wild rice
1/2 cup heavy cream or half and half, plus more for garnish
1 tablespoon maple syrup
1 tablespoon honey, plus more for drizzling
1/2 cup dried apricots, chopped into small bits
1/2 cup toasted pistachio nuts, roughly chopped
In a small saucepan, combine the rice, cream, maple syrup and honey, and cook over medium heat, stirring frequently, until the cream has thickened a bit and the entire mixture is heated through. Add the apricots and crushed nuts and stir to combine. Cook an additional minute or two until the apricots have softened and are warm. Spoon into bowls and serve hot, with an extra splash of cream and a drizzle of honey on top.
Each serving: 679 calories; 15 grams protein; 80 grams carbohydrates; 8 grams fiber; 37 grams fat; 16 grams saturated fat; 82 mg. cholesterol; 36 grams sugar; 326 mg. sodium.
---
Get our new Cooking newsletter.
You may occasionally receive promotional content from the Los Angeles Times.