The feast's perfect match: Beaujolais crus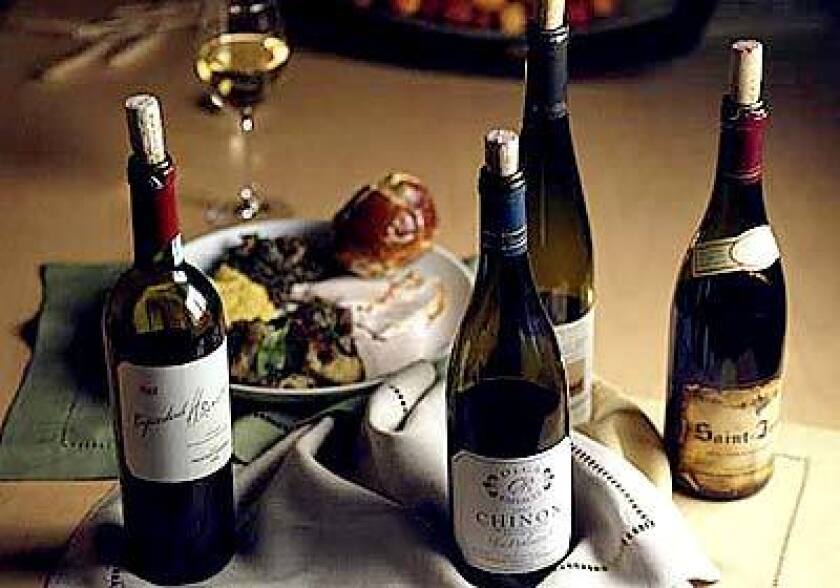 Times Staff Writer
Appealing aromas, vibrant fruit flavors, good acid and soft tannins make Beaujolais crus the perfect match for the flavor free-for-all that is the Thanksgiving feast. Go ahead, slather on the butter and pour on the heavy cream; Burgundy's "other" wine can handle the heavy lifting.
These are not Beaujolais Nouveaux — the very fresh, juicy wines that are bottled and sold right after harvest. Nor are they Beaujolais-Villages, which age a bit longer. Though all Beaujolais wines are made from the Gamay grape, the crus are the wines from the area around specific villages. They have more individual character than Beaujolais-Villages wines, which can come from anywhere in the region.
Beaujolais is part of greater Burgundy, but it is south of Mâcon, far removed from Burgundy's celebrated Côte de Nuits and Côte de Beaune. There are 10 crus in a 15-by-7-mile strip in northern Beaujolais: Saint-Amour, Brouilly, Chénas, Chiroubles, Côte de Brouilly, Fleurie, Juliénas, Morgon, Moulin-à-Vent and Regnié. You might want to jot them down, because the words "Beaujolais cru" are frequently left off the label.
More available in recent years, the Beaujolais crus are known for their friendliness at the table — as well as their light touch on the wallet. The best bottles cost $12 to $20.
A panel of Los Angeles Times writers — columnists David Shaw and Russ Parsons, restaurant critic S. Irene Virbila, assistant editor Laurie Winer and food editor Leslie Brenner — blind-tasted 15 Beaujolais crus purchased from Los Angeles area wine stores last week. Eight of the 10 crus were included, with bottles representing the 2000, 2001, 2002 and 2003 vintages.
The panel agreed that nearly all of the wines would be delightful at the Thanksgiving table. One of the favorites was a 2002 Morgon, Côte du Py, but there was a lot to like about all of these wines.
The Wine House in West Los Angeles and Woodland Hills Wine Co. in the San Fernando Valley boast the best selections; both have stocked up on the terrific 2003 vintage. France's too-hot summer that year goosed the sugars in the typically difficult-to-ripen Gamay grapes.
A new crop of small producers is generating the current excitement in Beaujolais crus, says Steve Goldun at Woodland Hills Wine Co. "They are lending a hand-made elegance to the wines and pushing the region to greater heights. The potential is there for better and better wines."
Here are the panel's recommendations, in order of preference:
2002 Domaine de la Chanaise Morgon, Côte du Py. Well-balanced, garnet-like and eminently drinkable, with chiseled edges, bright fruit and a velvety texture. Available at the Cheese Store of Silver Lake, about $17.
2003 Daniel Bouland Morgon. Smooth and delicious, with generous red fruit aromas, crushed raspberry and cassis flavors and soft tannins. Available at Wine House, about $18.
2003 Trénel Fils, Côte de Brouilly. A nice example of the terrific 2003 vintage, delivering well-balanced acids and bright fruit flavors. Available at Wine House, about $17.
2000 Domaine du Granit, Moulin-à-Vent. Ripe plum and cassis aromas tinged with new leather, and plenty of mouth-watering acid. Available at Wine House, about $20.
2003 Domaine du Vissoux Fleurie, Les Garants. Intriguing red fruit nose, followed by earthy, Pinot-like flavors. This is a wine with personality. Available at Wine House, about $18.
2003 Earl Alain Michaud, Brouilly. One of the more extracted wines in the tasting, with black fruit aromas and juicy, ripe flavors. Available at Silverlake Wine, about $17.
2003 Calot Morgon. Pretty flavors, with a smoky nose and good acid — a happy addition to the big holiday meal. Available at Woodland Hills Wine Co., about $21.
2002 Georges Duboeuf Domaine des Rosiers Moulin-à-Vent. A delicate nose, with light spices and strawberries. Available at Du Vin, about $12.
---
Get our weekly Tasting Notes newsletter for reviews, news and more.
You may occasionally receive promotional content from the Los Angeles Times.