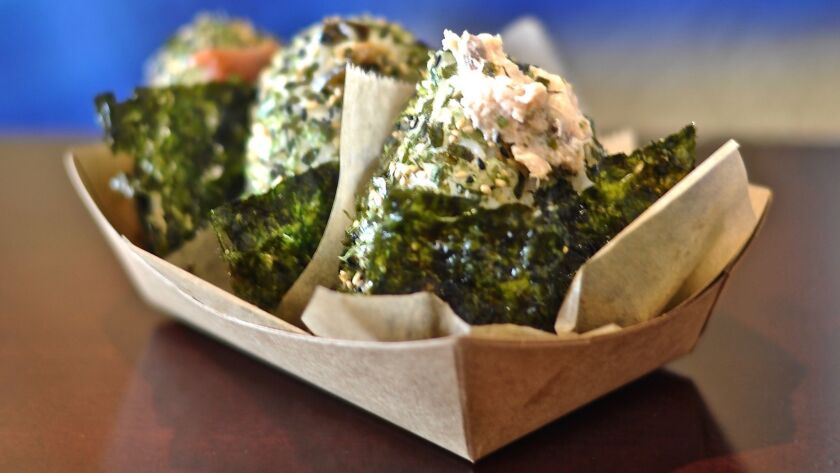 Given that we're in the midst of a street food renaissance, it's surprising that onigiri isn't easier to find in this country. The Japanese rice and nori snacks, also called musubi, are portable, inexpensive, endlessly variable and, yes, delicious. In Japan, you can get excellent iterations of the stuff everywhere, even in department stores.
Rice & Nori, a casual counter restaurant in downtown L.A.'s Little Tokyo, is the debut project from two longtime restaurant chefs, and it specializes in the addictive triangular finger food.
Mika Nakata Shenefelt and Regina Chen opened Rice & Nori the day before Thanksgiving, next door to the sprawling Marukai market in Weller Court. A light and spacious dining room surrounds the counter, where you order from a menu of onigiri, hand rolls, sashimi, salads, pickles and desserts (matcha tiramisu!). Specials lately included oden, the homey Japanese one-pot dish; and tonjiru, a pork and miso soup.
"It's comfort food," said Shenefelt on a recent morning. "It's mostly stuff we like to eat."
Shenefelt and Chen met at the Pasadena French-Japanese restaurant Maison Akira; both chefs are former corporate chefs and graduates of the now-closed Le Cordon Bleu in Pasadena.
The onigiri at Rice & Nori are meticulously shaped packages of rice, often still warm, wrapped with sheets of nori. What's inside can vary among a long list of fillings, including salmon with yuzu miso, Spam and egg, umeboshi (sour plum) and others.
Onigiri may be finally starting to gain more traction in Los Angeles, thanks to this shop and a few others, including farmers market pop-up Mama Musubi, and the Santa Monica casual restaurant Sunny Blue.
"There's an onigiri place in Japan that has a Michelin star," said Shenefelt, smiling.
123 Astronaut Ellison S. Onizuka St., Suite 103, Los Angeles; (213) 628-3114; rice-nori.business.site. Instagram: @riceandnorirestaurant.
Instagram: @AScattergood
---