Recipe: Key lime coconut scones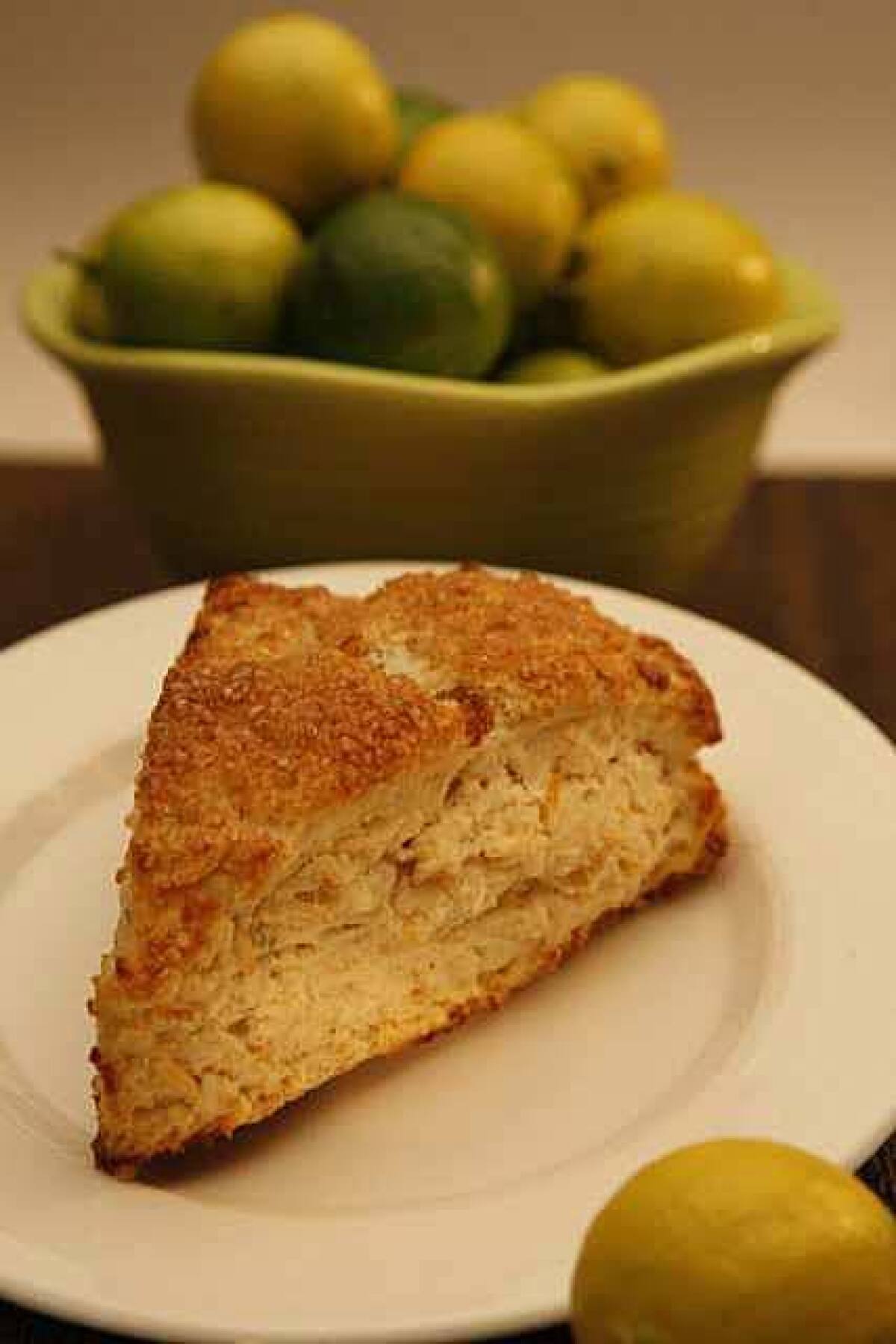 Key lime coconut sconesTotal time: 50 minutes, plus cooling timeServings: 8Note: To toast shredded coconut, spread it out on a baking sheet and toast at 350 degrees, checking every couple of minutes and shaking the pan as needed, until coconut is golden, about 5 minutes.3 cups (12 3/4 ounces) flour4 teaspoons baking powder 3/4 teaspoon salt 1/4 cup sugar1 tablespoon Key lime zest8 tablespoons (1 stick) cold butter, cut into 1/2 -inch pieces 1/2 cup plus 2 tablespoons toasted shredded sweetened coconut 3/4 cup cold coconut milk 1/4 cup cold Key lime juice2 tablespoons cream1 teaspoon turbinado or coarse decorating sugar1. Heat the oven to 375 degrees. In a large mixing bowl, whisk together the flour, baking powder, salt and sugar. Whisk in the lime zest. Then cut in the butter until the mixture is crumbly. Stir in the toasted shredded coconut, then stir in the coconut milk and lime juice just until incorporated; the dough will be crumbly and look dry. Knead in the bowl a few times to bring the dough together into a single mass.2. Turn the dough out onto a lightly floured work surface and press into a circle roughly 7 inches in diameter and 1 inch thick. Cut the dough into 8 wedges, and place the wedges on a parchment-lined baking sheet.3. Brush the wedges with the cream and sprinkle over the turbinado sugar. Bake on the center rack until golden, about 25 to 30 minutes. Remove the scones to a rack to cool slightly. Serve warm or at room temperature.Each scone: 397 calories; 6 grams protein; 49 grams carbohydrates; 2 grams fiber; 20 grams fat; 15 grams saturated fat; 36 mg. cholesterol; 11 grams sugar; 488 mg. sodium.
Get our L.A. Goes Out newsletter, with the week's best events, to help you explore and experience our city.
You may occasionally receive promotional content from the Los Angeles Times.