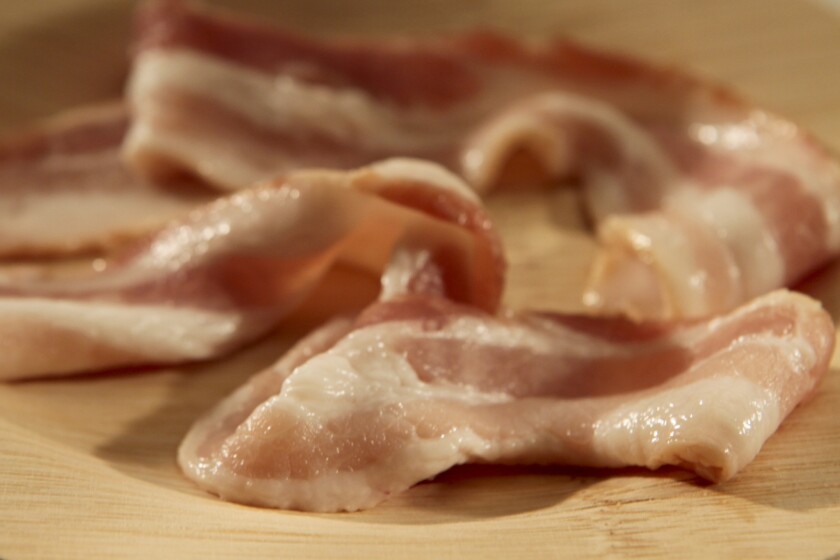 What could be better than a Vegas buffet with all the seafood, prime rib and dessert your heart could desire? An entire bacon buffet, of course. On Sunday night's "Next Iron Chef," the remaining four chefs were asked to create a bacon Vegas buffet for the chairman's challenge of transcendence. What I would have given to be a judge!
The chefs were divided into two teams: Nate Appleman and Amanda Freitag on one, and Marcel Vigneron and Alex Guarnaschelli on the other, and given two hours to cook for 30 people. InStyle magazine fashion director Hal Rubenstein acted as a feisty guest judge.
Appleman and Freitag jelled as a team, winning the challenge with what judge Geoffrey Zakarian called the best thing he'd had in the competition: A banana brulee with peanut butter pudding and bacon peanut brittle. Other highlights included crepes with lobster and bacon and braised pork belly with bacon cheddar biscuits,
Watching Guarnaschelli and Vigneron on the other hand, was painful. Among their least successful dishes were undercooked leeks with eggs and bacon and a bacon chocolate mousse.
For the secret ingredient showdown, Vigneron and Guarnaschelli were given chocolate candies and asked to make one savory dish with a holiday theme. Vigneron made a white chocolate curry risotto with undercooked lamb, but it was no match for Guarnaschelli's duck breast and fried duck heart with shaved chocolate and fennel, endive and red wine onions. So it was goodbye, Marcel.
Best moments:
Freitag singing, "My crepes will bring all the boys to the yard ..." She just gained 10 points in my book and became that much cooler.
Never having to hear Vigneron say "bacon-wrapped bacon" with that smug head tilt of his again.
ALSO:
New Barbershop Ristorante Italiano pop-up at A.O.C.
'Top Chef' recap: Three cheers for L.A. girl Brooke Williamson
The holidays are upon us: celebrate with these three special meals
---