Umami Eggnog from Matthew Biancaniello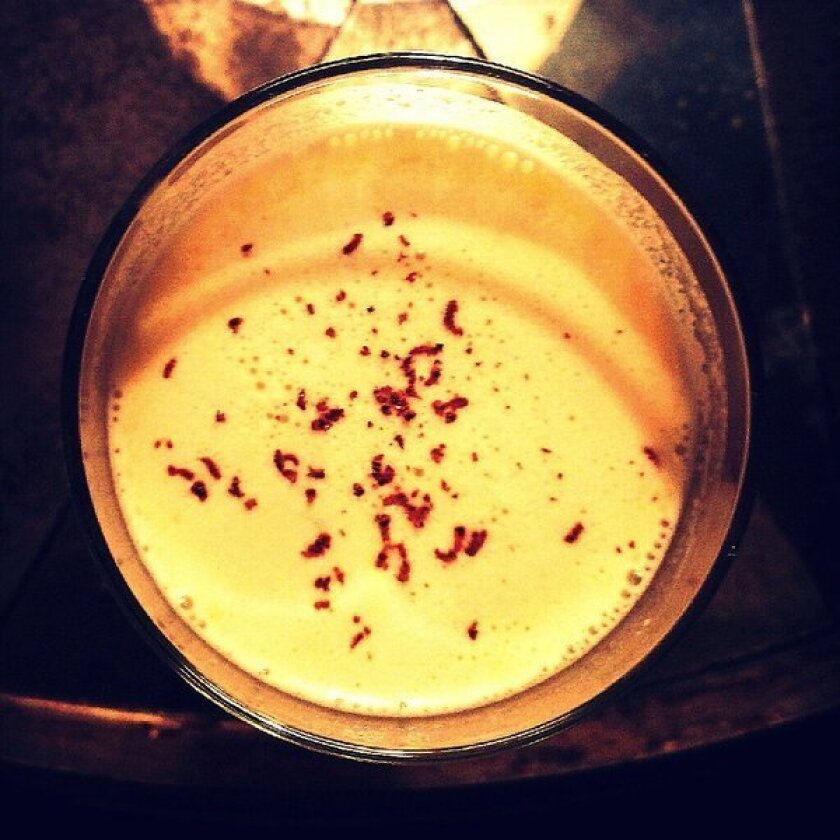 Matthew Biancaniello, often referred to as a cocktail chef, recently left his post as head bartender at the Roosevelt Hotel's Library Bar in Hollywood. But he and his cocktails haven't vanished.
"I'm taking a break and using this time to really tap into my creativity," Biancaniello said at a recent one-night-only appearance at Soho House, where he notably applied his farmers market approach to holiday eggnog.
Using candy-cap-mushroom-infused bourbon and chanterelle-infused cream, he shook up a savory, just-sweet-enough, frothy eggnog cocktail, topped with a grating of fresh nutmeg and served in a crystal coupe.
"You got the eggnog?" asked one drinker hovering at the bar. "It's like nothing I've ever tasted before. It's insane!"
Umami Eggnog
Note: From Matthew Biancaniello. For the candy cap bourbon: For every ounce of bourbon, use 1 ounce of candy cap or shiitake mushrooms to infuse for 5 to 7 days; then strain. For the infused cream: Heat 1/2 ounce chanterelles and 2 pints cream in a saucepan over low heat until the cream just begins to bubble; set aside for 20 minutes, then strain. Candy cap and chanterelle mushrooms are available at farmers markets and www.lafunghi.com. To make agave syrup, mix equal parts agave nectar and hot water.
2 ounces candy cap mushroom bourbon
2 ounces chanterelle-infused cream
1 ounce agave syrup
1 egg
Freshly grated nutmeg, for garnish
In a shaker with ice, vigorously shake the mushroom bourbon, chanterelle-infused cream, agave syrup and egg. Pour into a cocktail glass, grate fresh nutmeg over the top and serve immediately.
ALSO:
The holidays are upon us: celebrate with these three special meals
New Barbershop Ristorante Italiano pop-up at A.O.C.
---
Get our weekly Tasting Notes newsletter for reviews, news and more from critics Bill Addison and Patricia Escárcega.
You may occasionally receive promotional content from the Los Angeles Times.