Dinner tonight! Basic rice congee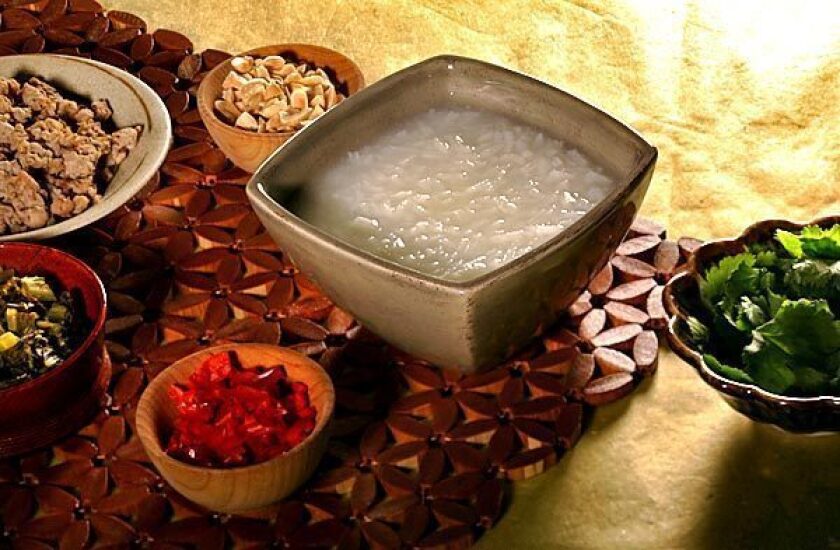 Basically nothing more than rice cooked in a lot of water until it has a softened, almost porridge-like consistency, congee is a simple meal to fix and an excellent way to use up other leftovers in the kitchen. Flavor the dish with whatever you have on hand -- garlic, vegetables, meat or fish, spices, even nuts -- turning it into a meal fit for any time of day.
For more quick-fix dinner ideas, check out our video recipe gallery here. Food editor Russ Parsons and Test Kitchen manager Noelle Carter show you how to fix a dozen dishes in an hour or less.
ALSO:
Go behind the scenes at the Test Kitchen
Browse hundreds of recipes from the L.A. Times Test Kitchen
You can find Noelle Carter on Facebook, Google+, Twitter and Pinterest. Email Noelle at noelle.carter@latimes.com.
Basic rice congee
Total time: About 1 hour
Servings: 4 to 6
Note: Adapted from "The Seductions of Rice" by Jeffrey Alford and Naomi Duguid. They write, "Some people like their congee thin, with the rice grains cooked until broken and somewhat shapeless. We prefer it the consistency of a thick soup, with the rice grains intact. You can adjust the consistency by adding extra water. The list of accompaniments given here is meant as a guideline. Sprinkle them on top of your congee or stir them in; feel free to add other textures and flavors to the array of garnishes and condiments you set out on the table."
8 cups water, plus extra boiling water as necessary
1 1/2 cups whole or broken long-grain rice (Thai jasmine or Chinese- or American-grown long-grain; not basmati or any parboiled rice)
3/4 teaspoon salt, divided
1 tablespoon peanut or vegetable oil
7 to 10 cloves garlic, coarsely chopped
1/4 pound lean ground pork
1/4 cup lightly dry-roasted unsalted peanuts, coarsely chopped
1 to 2 red cayenne or other medium-hot fresh chile, finely chopped
3 to 4 green onions, finely chopped
1/2 cup loosely packed fresh cilantro leaves
1/2 cup Chinese pickled vegetables, finely chopped (optional)
Soy sauce
Salt and freshly ground black pepper
1. In a large pot, bring 8 cups of water to a boil. Add the rice and stir gently until the water returns to a boil. Lower the heat to a gentle boil, add one-half teaspoon salt and continue to cook for 15 minutes. The rice should be cooked but still firm. Remove from heat and set aside, uncovered, for 15 minutes, up to an hour. The rice will continue to soften and absorb water as it sits. (If you want the grains very soft and broken, use a little more boiling water and boil for 30 minutes rather than 15.)
2. While the rice is cooking, heat a skillet or wok over medium heat until hot. Add the oil, and when it is hot, add the garlic and stir-fry until it begins to color. Add the ground pork and one-quarter teaspoon salt and stir until the pork is cooked through, 3 to 4 minutes. Remove from heat, place in a bowl and set aside.
3. Place the garnishes (roasted peanuts, chopped chiles, chopped green onion, cilantro and pickled vegetables) in small bowls or in separate piles on a platter.
4. Just before serving, stir the cooked rice gently. If you find the congee too thick, add boiling water one-half cup at a time to achieve the desired consistency. Transfer to a serving bowl. Ladle the hot congee into individual soup bowls at the table.
5. Place the bowl of sauteed pork and garlic on the table, along with a small bowl of soy sauce, salt and pepper, and the platter or bowls of other accompaniments so that the guests can help themselves as they please.
Each of 6 servings: 282 calories; 9 grams protein; 45 grams carbohydrates; 2 grams fiber; 7 grams fat; 2 grams saturated fat; 10 mg. cholesterol; 1 gram sugar; 306 mg. sodium.

---
Get our weekly Tasting Notes newsletter for reviews, news and more.
You may occasionally receive promotional content from the Los Angeles Times.