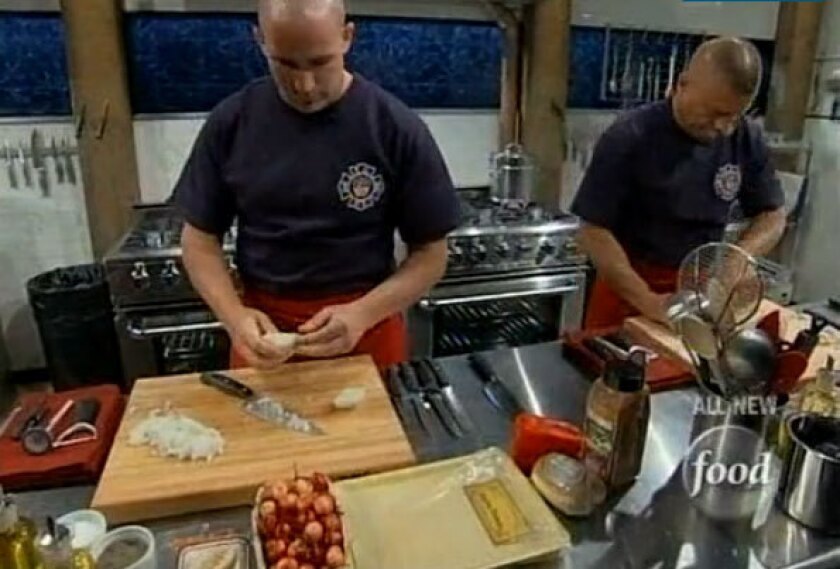 Firefighters in the kitchen? What's not to love? Tuesday night's "Sound the Alarm" episode on Food Network's "Chopped" was quite a feast for the eyes -- and I'm not talking about the food. The episode, which originally aired in March, is an all-time favorite. Instead of the usual lineup of eager chefs fighting for bragging rights, four male New York City firefighters stepped up to the chopping block.
Hunks Paul Rut, Dan Gardner, Walter Lewis and Robert Painter dressed in their engine company shirts for the challenge. The big, burly men may have looked a little out of place, but they knew their way around a kitchen; each is the resident chef at his respective firehouse.
The appetizer round introduced the men to pasta sheets, Rainier cherries, hot dogs and smoked mozzarella, a decidedly easier basket than "Chopped's" usual combination of items. The men moved methodically around the kitchen, but in true "Chopped" fashion a contestant nicked his finger, eliciting close-up shots of Painter's bloody glove and wincing (and pretty) face.
The judges seemed to go a little easier than usual on the guys. Scott Conant was still critical -- I don't think he's capable of being any other way. But Aarón Sanchez seemed a little soft, and Alex Guarnaschelli was practically butter in their hands.
Each chef presented a decent plate. Let's just say presentation is not a priority in the firehouse kitchen. Painter's hot dog egg rolls and good looks weren't enough to get him to the second round, though. Laters, handsome.
I expected a harder basket in Round 2. Yes, these are firefighters, but it's insulting to give them ingredients that aren't "Chopped"-worthy. So I was disappointed yet again when they opened the entree-round basket: fire-roasted tomatoes, bison sirloin steaks, spinach and Italian hot peppers. Come on! Fire-related ingredients in every round? And fire engine sounds blaring over the "Chopped" clock? The show hit a new level of cheeseball.
Lewis' level of doneness for his bison pieces pushed him out, so Gardner and Rut continued to the dessert round and opened their baskets to find cinnamon-flavored candy coal, crescent roll dough, sour cream and hot chocolate mix -- yet another easy basket.
The third round always poses a challenge to contestants, but having to create a dessert from scratch for the first time ever in the "Chopped" kitchen? That's a first. Gardner embarrassingly proclaimed that he'd never made a dessert that didn't come from a box. Seriously? It's not like the dessert round is a surprise. Every episode has one.
Rut's crescent moon pie with chocolate mousse took the edge over Gardner's fruit salad, and he was crowned the champion. His first-round dish of cannelloni passed Conant's pasta test and his coffee-crusted bison with mashed blue potatoes were clear winners over the others.
"Chopped" can make you a little teary-eyed at the end, and regular viewers know it always makes Guarnaschelli cry, but saying goodbye to the firefighters after each round was tough. It wasn't some bitter know-it-all you were ready to see go. The men were humble and the words "big teddy bear" come to mind.
In the end, Rut, the 31-year veteran with a gnarly mustache, proudly said he would give the $10,000 to the charity Autism Speaks, inspired by a cousin with an autistic child. Best "Chopped" champion ever? I think so.
ALSO:
Reader photos: Halloween pumpkins and spooky treats
Barbrix all-night happy hour; Kings Row pig roast; truffles at Saam
Jonathan Gold Quiz: A tale of two cities that participated in a recent athletics competition
Follow Jenn Harris on Twitter or Google+
---