Pie practice makes Nicole Mournian nearly perfect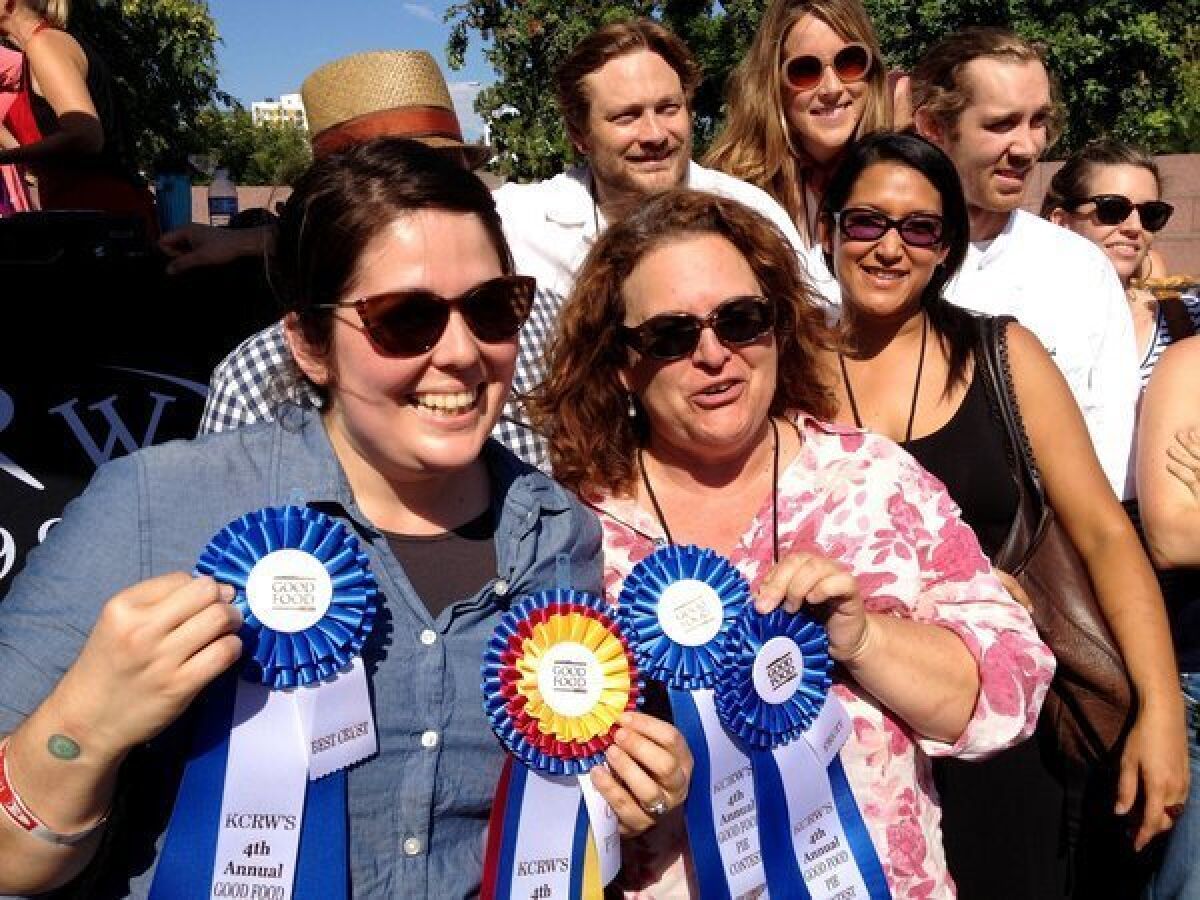 The only way to get good at making pie is by making pie. Making lots of pie. For the last five months, Nicole Mournian has been making at least eight pies a day. And Saturday it paid off big. She took home four blue ribbons in the fourth annual Good Food Pie Contest put on by public radio station KCRW and "Good Food" host Evan Kleiman.
Of course, it helps that Mournian makes pies at work – she's the general manager at Gjelina Take Away in Venice and helps out in the pastry kitchen. "I've been in training," she laughed.
Mournian won best fruit pie with her Blackberry Huckleberry Ginger and best savory pie with her Pork and Peas, which also won best crust and best-of-show. More than 200 pies were entered.
Indeed, it was probably Mournian's crust that put her over the top. At one point in the blind judging, Spago pastry chef Sherry Yard, one of Los Angeles' reigning pie queens herself, pointed out that the Blackberry Huckleberry Ginger and Pork and Peas pies had to be from the same baker. How could she know that, when there were no names available? Yard just rolled her eyes. One pie queen can recognize another just by the pastry.
Indeed, there were several pros sprinkled among the entrants. Besides Mournian, cookbook writer Nancy Mehagian took a second place in savory pies with a beautiful Bistilla, and caterer Robyn Poarch of Porch Pies, took a second in nut with her Southern Pecan and a third in cream with her Buttermilk Custard.
[UPDATED]: In an earlier version of this story Morgan Simons was not included as a professional baker, and her name was misspelled Simmons. She runs Pi Bake Shop. Also, Tonya Dooley is a professional baker at the "micro-bakery" Cutie Pie That.
Fruit: 1. Nicole Mournian, Blackberry Huckleberry Ginger; 2. Gretchen Putnam, Freeform Apple; 3. Jess Filippi, Blueberry.
Savory: 1. Nicole Mournian, Pork and Peas; 2. Nancy Mehagian, Bistilla; 3. Claudia Choi, OMG Pie.
Cream: 1. Morgan Simons, Key-Lime Coconut Cream; 2. Jessica Kubel, Salted Caramel Peanut Butter; 3. Robyn Poarch, Buttermilk Custard.
Nut: 1. Morgan Simons, PB&J; 2. Robyn Poarch, Southern Pecan; 3. Sarah Culver, Maple Chocolate Pecan.
Metropolis: 1. Tonya Dooley, Chocolate Cappuccino Brownie; 2. Jennifer Wang, Taro Pie; 3. Mira Green, Auto-Pie-A.
Best in Show: Pork and Peas, Nicole Mournian; Best Crust, Pork and Peas, Nicole Mournian.
---
Get our L.A. Goes Out newsletter, with the week's best events, to help you explore and experience our city.
You may occasionally receive promotional content from the Los Angeles Times.