Right now, the hottest free agent in town isn't a star athlete coveted by the Dodgers or Lakers — she's a 69-year-old waitress from Nate 'n Al's.
Gloria Leon, a 41-year veteran of the delicatessen, has found herself without a job after the sudden closure of the beloved Beverly Hills restaurant Sunday amid the coronavirus outbreak.
Almost immediately, offers from rival delis rolled in.
Factor's Famous Deli and the Nosh have reached out, Leon said, and there could be others, but she hasn't made her way through 50 or so voicemail and text messages left for her in recent days.
Leon isn't sure what she'll do, but she has high-profile advisors: Talent agents at William Morris Endeavor recently offered guidance during a video conference call. Several of the power brokers were her longtime customers.
And the attention, Leon said, has made her feel like a star.
"I felt like I was Tom Brady," she said.
Leon possesses a unique kind of celebrity in a city filled with them. Her regulars have included titans of show business — Lew Wasserman, Bruce Willis, Jodie Foster, Steve Tisch, Jeffrey Katzenberg and Larry King among them. She has charmed, counseled and consoled each of them, one bowl of matzo ball soup at a time.
The intimacy of those connections, established within the sanctity of worn brown leather booths, has led to friendships that transcend the confines of the deli. And with those relationships comes influence.
"There is no politician, there is no City Council member, there is no billionaire, who is more influential in Beverly Hills than Gloria. Period," said Steve Soboroff, member of the Los Angeles Police Commission and a longtime regular at Nate 'n Al's. "And if you don't believe me, ask any of them."
While he was fundraising for his unsuccessful Los Angeles mayoral bid in 2001, Soboroff saw Leon during a visit to Nate 'n Al's. She asked how much money an individual could contribute and, armed with the information that there was a $1,000 ceiling, took his elbow and walked him from table to table.
"She tells people, 'I want you to give this guy a thousand bucks,'" Soboroff recalled. "It was $60,000 in one hour from people I don't even know. It was better than any fundraising event I had."
There is no politician, there is no City Council member, there is no billionaire, who is more influential in Beverly Hills than Gloria. Period.
— Steve Soboroff, Los Angeles Police Commission member
Even before the closing, the Beverly Drive restaurant, which opened in 1945, had endured a period of tumult. Last year, the descendants of Nate 'n Al's co-founder Al Mendelson sold the deli to a group of investors including Irving Azoff, the former Live Nation Entertainment chairman. The new owners soon announced plans to move the restaurant around the corner to a city-owned property, where they signed a 10-year lease.
Then, as the COVID-19 pandemic swept through L.A. last month, Nate 'n Al's shifted to a takeout and delivery business. That lasted just a couple of weeks before the owners announced the deli would shut down in order to "keep our customers and our staff safe and secure."
A spokesman for the restaurant's owners said Sunday that their "goal is to keep the Nate 'n Al's tradition alive" but offered no specifics. And the spokesman added that the owners have "encountered major difficulties with the city of Beverly Hills" over the deli's prospective new space — a statement that, in the eyes of many fans of the restaurant, has cast doubt on a reopening there.
Leon was eyeing retirement before the unexpected closure — but she's certain about what type of waitress gig she'd take on if she continues working.
"Honey, I've been a deli server for 41 years, and I am just going to die a deli server," she said.
Becoming an institution
Leon began working at Nate 'n Al's in 1979, nine years after she immigrated to the U.S. from Mexico.
Four years into her tenure, Leon's daughter Megan was born and she found her footing at the deli, where she and her colleagues "more and more became like a family," she said.
Before long, Megan was a fixture at Nate 'n Al's too. As a little girl, she relished 6 a.m. breakfasts among the staff before the restaurant opened. Her order: corned beef hash with scrambled eggs and a scooped-out bagel with cream cheese.
"I would walk to school afterward, smelling like Nate 'n Al's," said Megan, 36, a food writer based in Bangkok. "I always felt like it was a second home to me."
That sense of family was instilled in part by Leon's mentor, Kaye Coleman, who for years was the restaurant's senior waitress, known for her quick wit and motherly demeanor.
"Kaye always said to me, 'Gloria, when the customers come in ... think about them coming to your house. Don't think about the tip,'" Leon recalled.
And Leon's style resonated with Lew Wasserman, the late agent and executive behind media company MCA, whose headquarters were a few blocks from Nate 'n Al's.
She would wait on the mogul and his grandson, Casey Wasserman, every Saturday and Sunday. She recalls how, in her early days there, the doting grandfather would prepare bagels for his young grandson, crumbling bacon atop the smeared cream cheese.
And Casey Wasserman remembers Leon too. "Between Kaye and Gloria, they were like surrogate mothers. ... They were like family, and still are," said Wasserman, 45, chief executive of a namesake sports marketing and talent management firm. He and his family grew so close to Leon that she has attended several of their important gatherings, including his children's bar and bat mitzvahs.
"I can't believe there won't be Gloria to go and see at Nate 'n Al's," said Wasserman, whose go-to order was matzo brei, a plate of which he had on Saturday, a day before the closure. "She's not just an incredible person but an institution in our community."
By 2002, Leon was, indeed, an institution — so much so that Vanity Fair photographed her, Coleman and another waitress, Arlene Malmberg, for the magazine's annual "Hollywood" issue.
Two years later, following Coleman's death, Leon became the deli's senior waitress.
Power and purpose
Leon is known for her anticipatory grace — she would set out regulars' grapefruit halves or slices of melon right before they'd arrive — just one special touch that helped her develop a devoted following. With only five tables in her section, some patrons would wait 45 minutes or more to sit with her.
And she didn't mind telling her regulars when they had ordered incorrectly, recalls Larry King, who, for a time, ate at Nate 'n Al's nearly every day.
"I loved the way she would decide what you're going to eat," King said. "I would say, 'Today I'm going to have a bagel with lox,' and she would say, 'Eh, try it with eggs and onions.' She is one of the great, great restaurant workers anywhere. I can't think of anyone in her league."
Honey, I've been a deli server for 41 years, and I am just going to die a deli server.
— Gloria Leon
As with King, Leon was never afraid to speak her mind with other customers — and not just when it came to food. William Morris Endeavor partner Richard Weitz described the waitress as perhaps "the most well-connected non-entertainment person in all of L.A."
"She knows writers, directors, executives, and she watches every show — and she has opinions," said Weitz, a Nate 'n Al's regular, who also organized Leon's recent call with the agents. "She'll say, 'I liked that show, I didn't like that show, that one needs to be picked up.'"
Like Wasserman, Weitz and his family grew so close to Leon that she attended his children's bar and bat mitzvahs.
As for the call with Weitz and other agents, he said that it is emblematic of "the community she built" and "the love that people have for her." (And if anything comes of that conversation, will the agents charge a commission? "No, they better not!" said Leon, laughing.)
In a company town where access to executives is as valuable as tickets to a movie premiere or a Lakers game, there may be no better testament to Leon's effect on people than this: It was easier to get telephone calls returned for this story than perhaps any other.
"It's her heart," Soboroff said. "Because of that, that's how she got to be — it's such a strange word — so powerful. In Beverly Hills, she's at the top; she has the ability to influence more people on more issues than anybody in Beverly Hills, with apologies to the current and past mayors."
Processing the end
While Leon's spirits have been lifted by well wishers offering their support, without a job to get up for, she expects that soon enough, the melancholy will set in.
She's been thinking about her old routine: She'd arrive at Nate 'n Al's by 6:40 a.m. and prep her tables.
"I'd check my salt and peppers, my sugars; I'd be sure I had fresh decaf ... ," she said, trailing off.
On Saturday, Leon visited the deli for the last time. She took some photographs and then walked outside, where she ran into some longtime customers. Soon enough, she found herself in tears. She is thinking about those patrons and others, like one from London who'd come to the deli for turkey bacon, a scooped-out pumpernickel bagel and English Breakfast tea with milk.
Leon said she remembers 100 or more regulars' orders just like that one. "I won't ever forget them."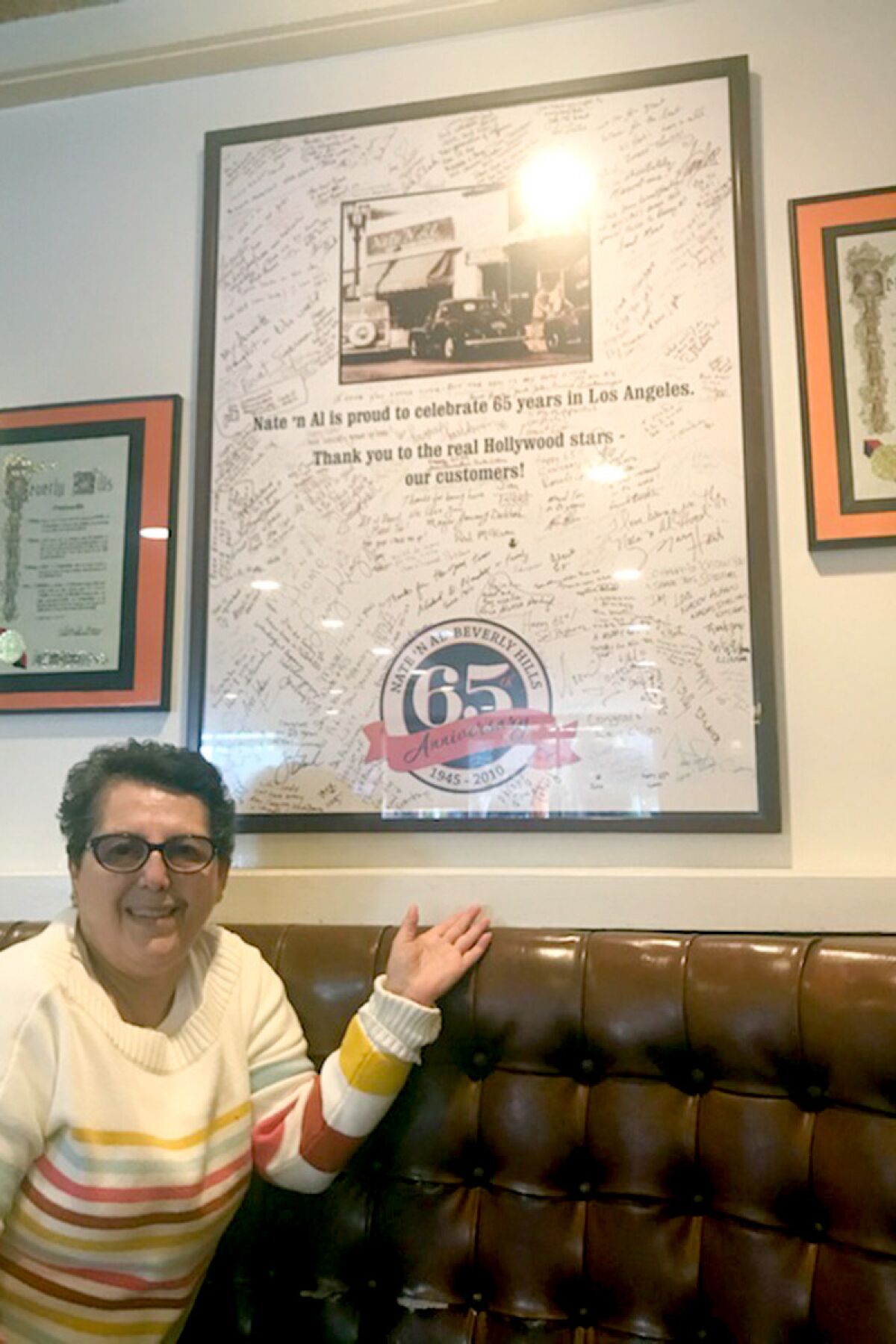 The new job prospects aside, Leon said the sudden closure of Nate 'n Al's robbed her of the chance for a proper goodbye.
"In my mind, I was preparing myself for retirement," she said. "You have to prepare to let go of something that has been with you almost your whole life. I didn't realize it was going to be — boom."
Leon's daughter, Megan, has lived overseas since 2006, and it's been especially hard for her to be apart from her mom during the pandemic — and the restaurant's closure. But she's holding on tight to memories of her mother at Nate 'n Al's.
"Oh, what I would give to be sitting there right now, in an old brown booth eating a sandwich," Megan said. "I miss the counter boys calling out tickets, loading containers of coleslaw and potato salad. I miss the sounds of customers laughing, chit-chatting, or ordering their favorite fish.
"And I miss people asking, 'Gloria, what's good today?'"
---