A Frank Sinatra red-sauce favorite reopens in Beverly Hills
La Dolce Vita
A nostalgic, old-school Italian American restaurant received new life this month when La Dolce Vita reopened under the care of a long-running Los Angeles hospitality group. Founded in 1966 by servers from Hollywood's famed Villa Capri, and counting Frank Sinatra as one of the restaurant's investors, the Beverly Hills bar and red-sauce joint hosted multiple U.S. presidents and celebrities for decades. Now, under new ownership by Marc Rose and Med Abrous of Call Mom (Genghis Cohen, Spare Room), La Dolce Vita has reopened with a new chef and a revamp.
"Every single element, every single piece, every single person that would come and make this place what we believe could be so special was integral in getting this open," said Rose. "It wasn't just Marc and Med quickly painting a place and opening up and being like, 'This has been here forever!' We want to continue to keep it great, maybe even better than it's ever been. We want it to keep evolving."
Nick Russo, formerly of E.P. & L.P. and Nightshade, is the executive chef who's not only riffing on classics but some of his Calabrian great-grandmother's recipes. Russo also says that guests of the old La Dolce Vita might notice more specialty and imported ingredients, and that some of the menu's been lightened up — though the expected, iconic dishes such as meatballs, veal Parmesan and tableside Caesars can all be found. There's still a chopped salad on the menu, though the recipe is Russo's own.
"This place opened up in the '60s, we just have different access to ingredients," said Rose. 'The world is a much different place now, so I think [Russo is] utilizing that."
The beverage program also leans classic and toward the perception of what an Italian American bar should be: There are the staples such as martinis with sidecars, as well as amari, aperitivi and a section of the menu devoted to the Negroni, plus original cocktails devised by Michael Toscano (Dante). The beverage menu — along with tableside dish preparation and custom uniforms — allowed for a bit more of the showmanship that La Dolce Vita's new owners hope they can hark to with their own reimagined take on the red-sauce icon. La Dolce Vita is open Tuesday to Thursday from 5 to 10 p.m. and Friday and Saturday from 5 to 11 p.m.
9785 S. Santa Monica Blvd., Beverly Hills, (310) 278-1845, ladolcevitabeverlyhills.com
La Dolce Vita recalls an era when Frank and his pals savored Italian favorites in a friendly, clubby setting.
Loreto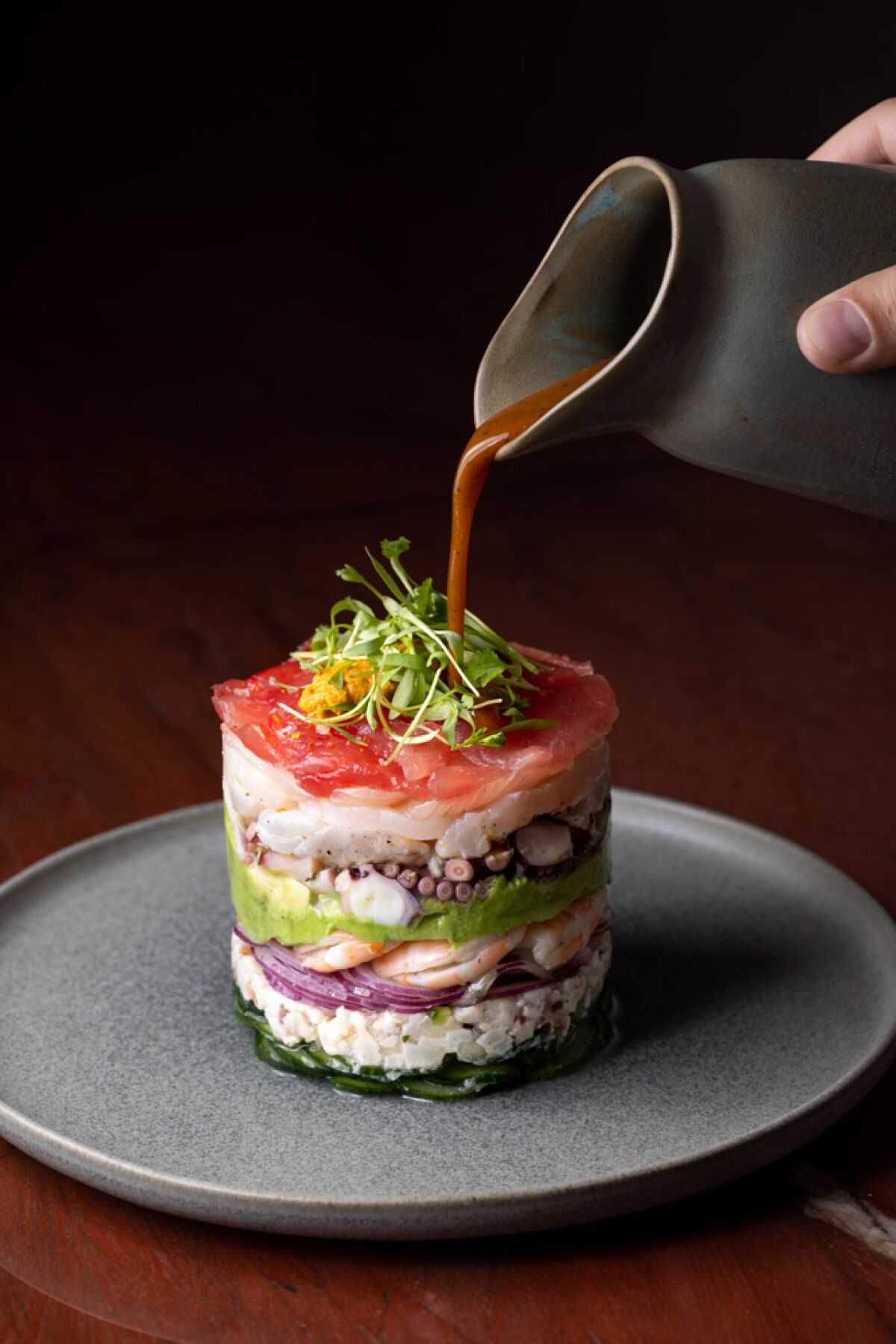 With Baja-imported seafood prepared in tostadas, aguachiles, sopas, botanas, ceviches and more, Loreto — the first of two restaurant concepts that will share the same space — is open in Frogtown/Elysian Valley. The new restaurant from the team behind LA Cha Cha Chá took its inspiration from the region's blend of Sonoran grilling and Sinaloan seafood, and its name from a city that grew to incorporate a range of cultural cuisines. The menu by chef Francisco "Paco" Moran (also of LA Cha Cha Chá) offers scallop tostadas with wasabi aioli, uni and lemon; zarandeados with escabeche and salsas; prawn tacos with a bacon-and-morita aioli; papaya and bay scallop ceviche; and yellowtail tostadas with serranos, green apple and yogurt. Adam Ohler (Equal Parts) heads the beverage program, which offers both citrusy, refreshing cocktails to pair with the mariscos and spirit-forward drinks for the grilled items. Loreto is open Thursday to Monday from 5 to 10 p.m., with Wednesday service to launch in late April. The team aims to open lunch-only sibling concept Mariscos Za Za Zá in April and serve mariscos from a to-go window in Loreto's alleyway.
1991 Blake Ave., Los Angeles, loreto.la
Barra Santos
At 5 years old, Mike Santos emigrated from Portugal to the U.S. Years later Santos — one of the partners and operators behind Found Oyster, Nossa Caipirinha Bar and Red Dog Saloon — has finally opened a restaurant and bar that takes him back to the Iberian Peninsula. Barra Santos, the latest project from Last Word Hospitality, recently opened in Cypress Park with bacalao fritters, shaved Ibérico ham, head-on prawns, spiced almond cake and other signature dishes served alongside Portuguese and other global wines, sherries and ports.
Without many Portuguese restaurants in the L.A. region, Santos and Last Word Hospitality co-founder Adam Weisblatt had long joked about opening a Portuguese restaurant; both grew up in New England and are familiar with pockets of the culture in the region's restaurants and bars, social clubs and markets. Barra Santos marries both old-world Portuguese dishes with those of their New England upbringing.
Cuisine: No Portuguese town is more than 150 miles from the sea, and fish is served at almost every meal.
"The farther away you get from the original country there's always some change," said Santos. "The influence of Portuguese food is not only from Portugal, but obviously Brazil and Angola and Mozambique and Goa and India and Macau and Hong Kong — there's just so much worldwide influence now within Portuguese cuisine, and a lot of that kind of touches New England. New England kind of has its own established Portuguese food."
When European items weren't readily available for New England's Portuguese immigrant community, substitutions resulted in new variants, some of which are now served at Barra Santos. But chef-partner Melissa López (formerly of Bestia and Barbuto) is bringing her own spin to the menu, as well as weaving in tradition — including dish inspiration from Santos' mother. He says she frequently sends them photos of dishes she's cooking at home, asking whether they'll be making them at the restaurant and bar named for her son. Barra Santos is open Wednesday to Sunday from 4 to 10 p.m. The same restaurant group expects to open a casual East Coast-style slice shop, called Shin's Pizza, adjacent to Barra Santos in four to six weeks with a focus on pizzas and a range of vegetarian sides.
1215 Cypress Ave., Los Angeles, barrasantosla.com
Coucou
Reimagining one French-inspired restaurant as another, Coucou is the new bistro in Venice from the duo behind Chez Tex. Jesse and Hayley Feldman first opened their French restaurant along Main Street in 2016 and shuttered it earlier this year; now in its place is Coucou, which the pair see as an evolution of the space and menu. The more "Cali-French" approach of Coucou appears in the form of bistro classics with casual panache and local ingredients, such as zucchini beignets with olive, chevre, honey and mint; steak frites with black-garlic-cognac sauce; merguez-stuffed fried olives with preserved-lemon labneh; and a "haute dog" heirloom-pork sausage draped in cheese fondue, pepperoncini, mustard and onion marmalade. Jacob Wetherington (formerly of Bouchon Las Vegas and Surfrider Malibu) is overseeing the menu as consulting chef. Beverages lean classic with martinis, white Negronis and a house sour, plus aperitifs, beer and wine. Coucou is open Tuesday to Thursday from 4:30 to 9:30 p.m., Friday from 4:30 to 10:30 p.m., Saturday from 2 to 10:30 p.m. and Sunday from 2 to 9:30 p.m.
218 Main St., Venice, coucou.la
For everyone who's been missing the market-driven cooking of pastry chef Roxana Jullapat and her partner chef, Daniel Mattern, since the two left Cooks County, we have happy news.
Friends & Family Pizza Co.
A new slice shop from the team behind one of East Hollywood's best bakeries is open in the Original Farmers Market. A joint venture from Friends & Family's Roxana Jullapat and Daniel Mattern, the new Friends & Family Pizza Co. continues their ethos of artisanal goods made with whole, heirloom grains. That translates to thin-crust pizzas made with a sourdough dough utilizing whole-grain flours milled by Grist & Toll's Nan Kohler. The pizza — tangential to New York style, though with more crunch and structure to the bottom — can be had whole or by the slice, and topped with options such as taleggio, white sauce, pistachio, potatoes, onions and mozzarella; sausage, rapini, black olives, mozzarella and white sauce; and tomato sauce with mozzarella, pineapple, jalapeño and smoked ham; in addition to cheese and pepperoni. Jullapat's signature baked goods also are available, with slices of Key lime pie. The team hopes to expand the menu and offer catering. Friends & Family Pizza Co. is open Monday to Thursday from 11 a.m. to 7 p.m., Friday and Saturday from 10 a.m. to 9 p.m. and Sunday from 10 a.m. to 7 p.m.
6333 W. 3rd St., Suite 310, Los Angeles, ffpizzaco.com
Cena Vegan Long Beach
Some of L.A.'s best plant-based Mexican food can now be found in Long Beach. With vegan al pastor, carnitas, carne asada and more, Cena Vegan launched as a pop-up in 2016, then opened a pickup-only location in Lincoln Heights and a stall at Smorgasburg on Sundays. This month the operation expanded to a commercial kitchen in Long Beach, the only Cena Vegan location other than Lincoln Heights to offer a full menu. The newest outpost offers tortas, tacos, burritos, nachos, tostadas and other vegan Mexican cuisine made using generational recipes primarily from co-founder Carmen Santillan's family. Cena Vegan is open for pickup and delivery in Long Beach Tuesday to Sunday from 11:30 a.m. to 9:30 p.m.
456 Elm Ave., Suite K-7, Long Beach, (562) 317-8258, cenavegan.com
Get our L.A. Goes Out newsletter, with the week's best events, to help you explore and experience our city.
You may occasionally receive promotional content from the Los Angeles Times.