On this cycling Trip in Santa Monica, the scenery is on screen but your workout is real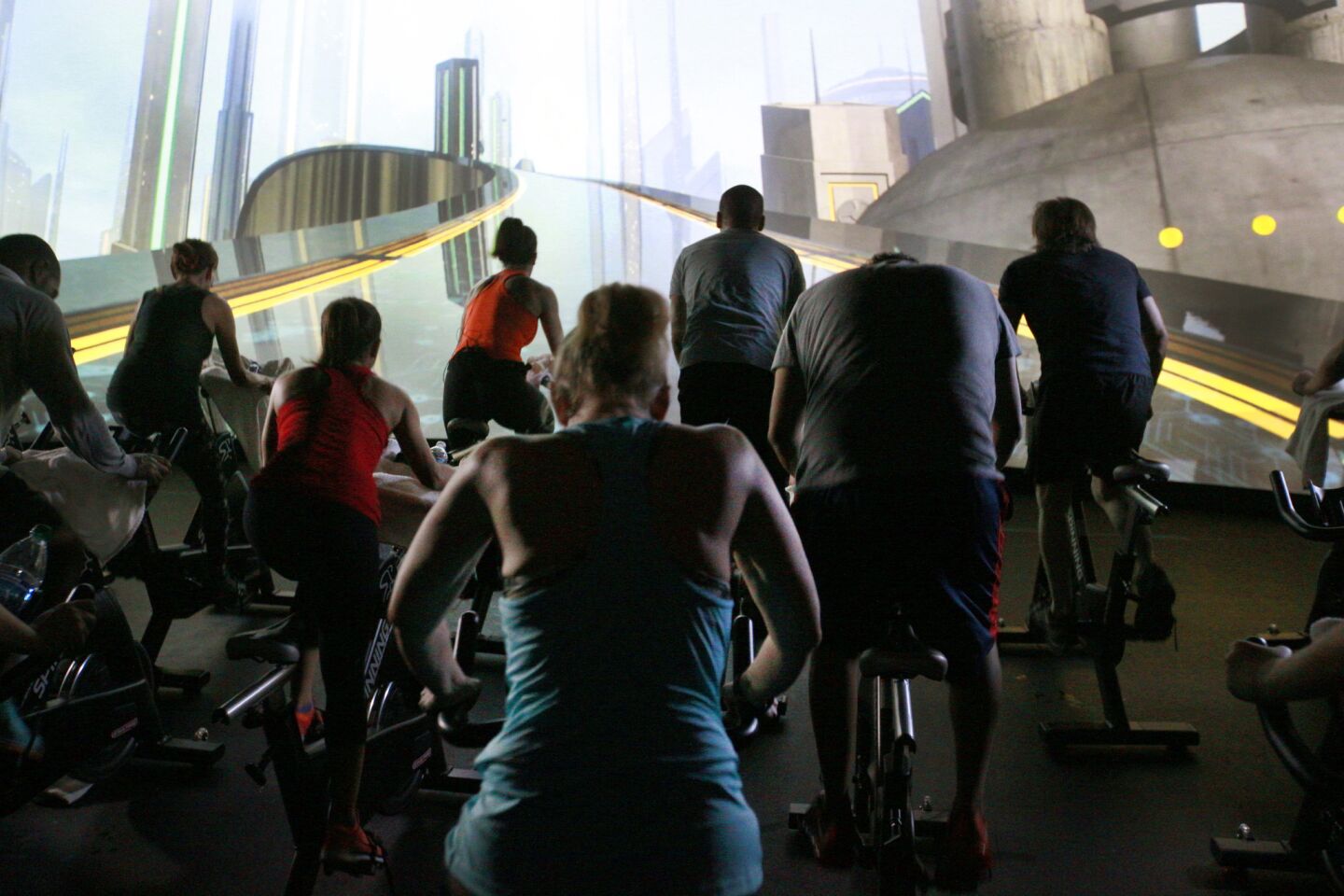 The 24 Hour Fitness Super Sport location in Santa Monica features a class called the Trip, a cinematic cycling workout that's part of the Les Mills company's Immersive Fitness concept.
(Kirk McKoy / Los Angeles Times)
The class has 32 stationary bicycles and a screen.
(Kirk McKoy / Los Angeles Times)
The Trip uses projection and LED technology to give cyclists in a studio class the feeling of traveling through a cityscape.
(Kirk McKoy / Los Angeles Times)
A look inside the Trip class at the 24 Hour Fitness Super Sport location in Santa Monica.
(Kirk McKoy / Los Angeles Times)
A rider experiences the Trip class.
(Kirk McKoy / Los Angeles Times)
Sitting in the front row might not be for everyone.
(Kirk McKoy / Los Angeles Times)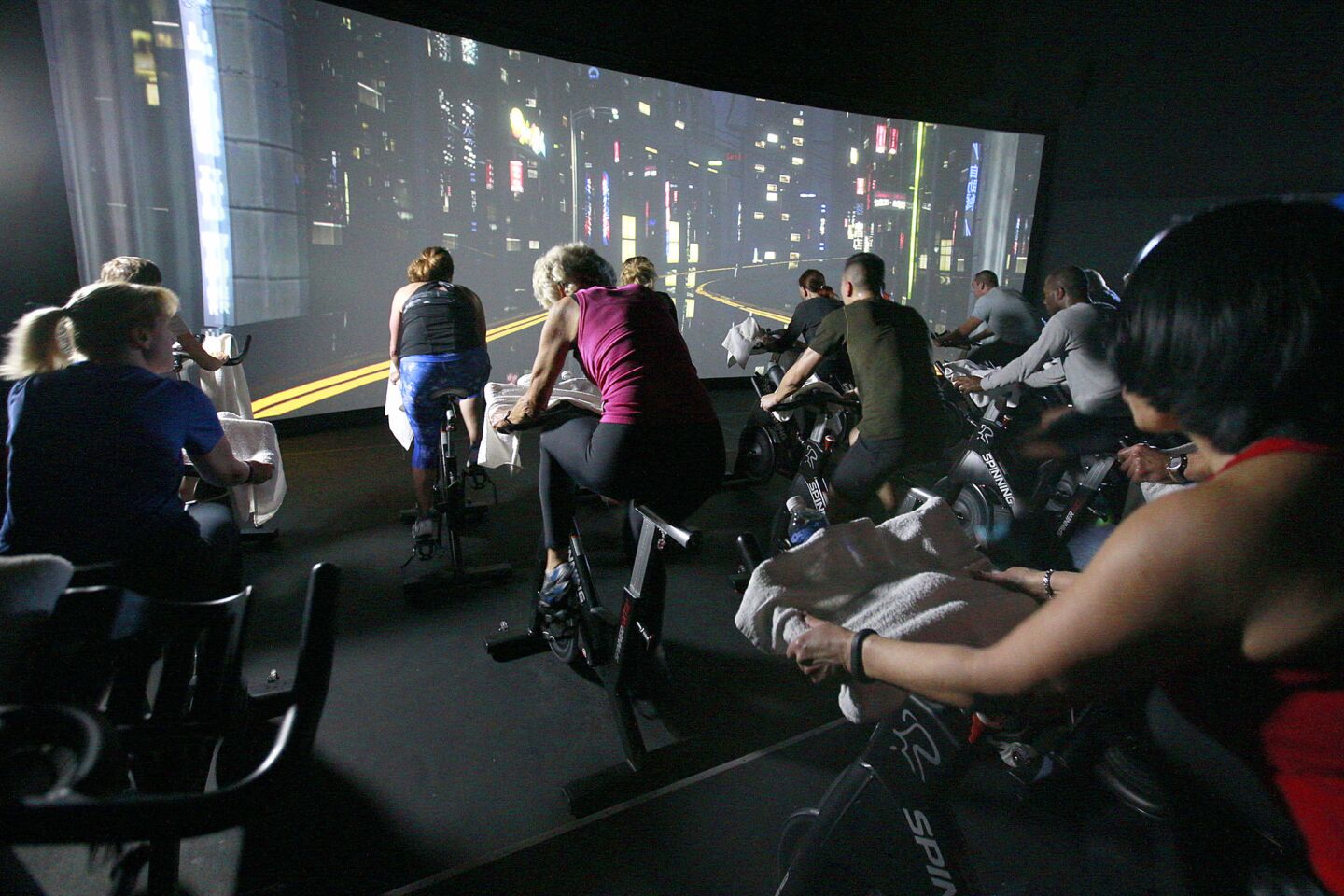 The Trip has participants pedal with virtual scenery ahead, which might distract them from the duration of the workout.
(Kirk McKoy / Los Angeles Times)
Imagine replacing the seats at Hollywood's Cinerama Dome with stationary bicycles. The movie: a road that curves and ascends through an animated cityscape, synchronized with pumped music. Visualize that scaled down to a 32-bike cycling room, and you've grasped Les Mills' Immersive Fitness concept, in action at the 24 Hour Fitness Super Sport in Santa Monica.
The cinematic workout, termed the Trip, creates a "suspension of belief," said Jesper Magnusson, Les Mills' U.S. chief executive. "You get lost in the experience, and so you don't think about the duration of the workout."
Aura
The cycling room resembles a sizable home movie theater; walls, floors and ceiling are painted black. Four rows of stationary bicycles, some placed on tiered steps, afford optimal views of the 32.8-foot radius screen.
Workout classes in and around Los Angeles >>
I chose a front-row cycle — the better, I thought, to become saturated in the blast of graphics screening about 10 feet in front of me. In truth, it was a bit like arriving late for a movie and getting stuck with a front-row seat. The at times fast-moving projections, while fascinating, left me slightly disoriented.
A woman in the second row also said she grew slightly dizzy, adding that it didn't, however, detract from her experience. The second to fourth rows may be a better choice for some, although a bit of that wrap-around feel is sacrificed.
Style
Slick black buildings rose before us as the road — printed with a reflective circuit board — ascended. The yellow-lined highway sped or slowed as we lessened or tightened resistance knobs.
Instructors encouraged us to lean into turns, and later, as an impossibly steep hill loomed, I realized my brain had indeed become tricked. I really felt like I was on that road. The ability to actually see a hill — and moreover the anticipation that visual created — made me push all the harder to ascend it.
After speeding through a tunnel, we entered a futuristic Tokyo City — miles of vivid, vertical neon. At times the video seamlessly loops, so yes, that was the sixth time I passed that hip-looking dry cleaner.
The instructors were bright and friendly. They passed around fist-bumps after especially grueling stints. After the 40-minute workout, we all felt like family.
Effort
The Trip often employs High Intensity Interval Training (HIIT): short bursts of effort amid recovery periods. The workout is polished off with a longer recuperation — amid fluffy clouds. The instructors encourage participants to exceed personal limits — much easier done with those bracing graphics. But in the end, of course, only you control that resistance knob.
Cost
Free for 24 Hour Fitness members at 24 Hour Fitness Super Sport, 2929 31st St., Santa Monica. 24hourfitness.com. Non-members can request a day pass ($25 at the door).
MORE FROM HEALTH AND FITNESS
The gym comes to you with the rolling L.A. workout studio G.I.T. Fit
Run the L.A. Marathon? That's crazy, but he's ready to go -- again
We tried it: The Fixx class at Wanderlust Hollywood, where yoga goes with a musical flow