Tommy Chong's passion for fitness kept his dancing challenge in step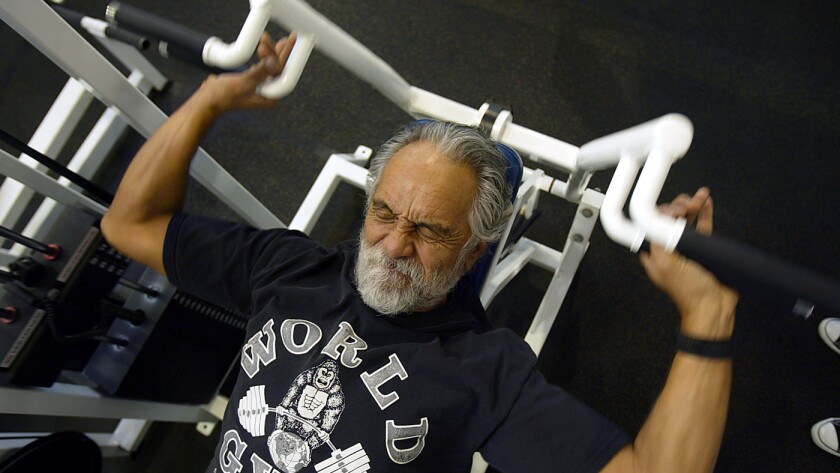 Tommy Chong thinks pumping iron is far out, man. A lifter of heavy things from a young age, the 76-year-old comedian from Canada has put his entire fitness regimen on hold to lift and twirl a professional dancer on the current season of "Dancing With the Stars." Although Chong didn't have much experience with dance, he had the conditioning from regular exercise that made him capable of tolerating the long hours of preparation it takes to look good beneath the mirror ball. He made it through multiple eliminations, all the way to the semifinals, before having to hang up his dancing shoes after Monday night's performance.
How did you get started with working out?
I started weightlifting when I was 16 at the Calgary Y. Then I ended up in Vancouver when I was 19, and that was when I started weight training under proper supervision. I've kept it up ever since, although my approach has changed over the years. One of the reasons I came to Los Angeles in 1968 was so I could live on the beach and train at Gold's Gym in Venice. I was there when Arnold [Schwarzenegger] came.
Gold's was where I got in pretty decent shape. I trained with a famous bodybuilder named Vince Gironda who got me in shape for "Up in Smoke." He was really ahead of his time with his training regimen and his diet.
And you kept on lifting throughout your movie career?
Yes. When I did movies in Europe, part of the deal was that the movie company had to have a fully equipped gym for every location I was at. Sometimes that would be a squat rack with free weights, or other times it would be a machine with all the weights on it. And then I would donate the gym equipment to the various jails in whatever area I was in.
On the subject of prison, did you do any lifting during your nine months of incarceration?
At the time I went to prison, they abolished the weight-training program because the inmates were getting steroids and they were getting so big that the guards couldn't cope with them, so they took out the weights. But they had chin-up bars and a track. During that time, I got a bit out of weightlifting and more into walking. I did some push-ups and sit-ups, though.
What does your regimen look like these days?
About five years ago, I started doing a weightlifting workout that is more aerobic style. I'm doing it with a trainer named Tanner Martty. He puts me through all kinds of aerobic training, balance training, using those heavy ropes, pushing a sled, doing inchworms and burpees. I hate burpees with a passion. It's all stuff that's built more around functionality.
I was also told to walk as much as I could for my health, so I took up golf. I started playing in 2008, and I'm getting pretty good at it. I take the Tommy Chong approach to golf, where it's really a battle with yourself.
How did your fitness regimen help prepare you for "Dancing With the Stars"?
I never felt exhausted because I had those years of inchworms and burpees, and that's really exhausting, so the dancing as a result hasn't been too tough. … I love golf, but I put that on hold. Everything got put on hold for dancing, including smoking dope.
Fell is a certified strength and conditioning specialist and owner of bodyforwife.com.
---