This fitness class is all about glamming up your glutes
I once came home to a roommate who had wrapped her rear end in Saran Wrap and fish oil because YouTube videos had convinced her this would make her behind grow bigger. Like her, Los Angeles is obsessed with butts. Equinox offers a class dubbed "The Best Butt Ever" — aimed at lifting and shaping rears, and the Los Angeles-founded barre class "Pop Physique" has been referred to as butt school by regulars for years because of its tush-toning methods.
After all, many of us grew up to Sir Mix-a-Lot's "Baby Got Back" on loop at every other college party or going to the Grove unable to escape the "Thong Song," Fergie purring about her "lovely lady lumps" or Destiny's Child harmonizing: "'Cause my body too bootylicious for yo babe."
The cheekily titled exercise class "Butt Stuff" is described by its creator, known as HyperBody, as 45 minutes dedicated to the donk and everything below the belt. It is so popular that it had a waiting list when it was first offered at Everybody gym.
"It wasn't my idea; people have been begging for me to teach this," HyperBody said. "And I had to give the people what they wanted."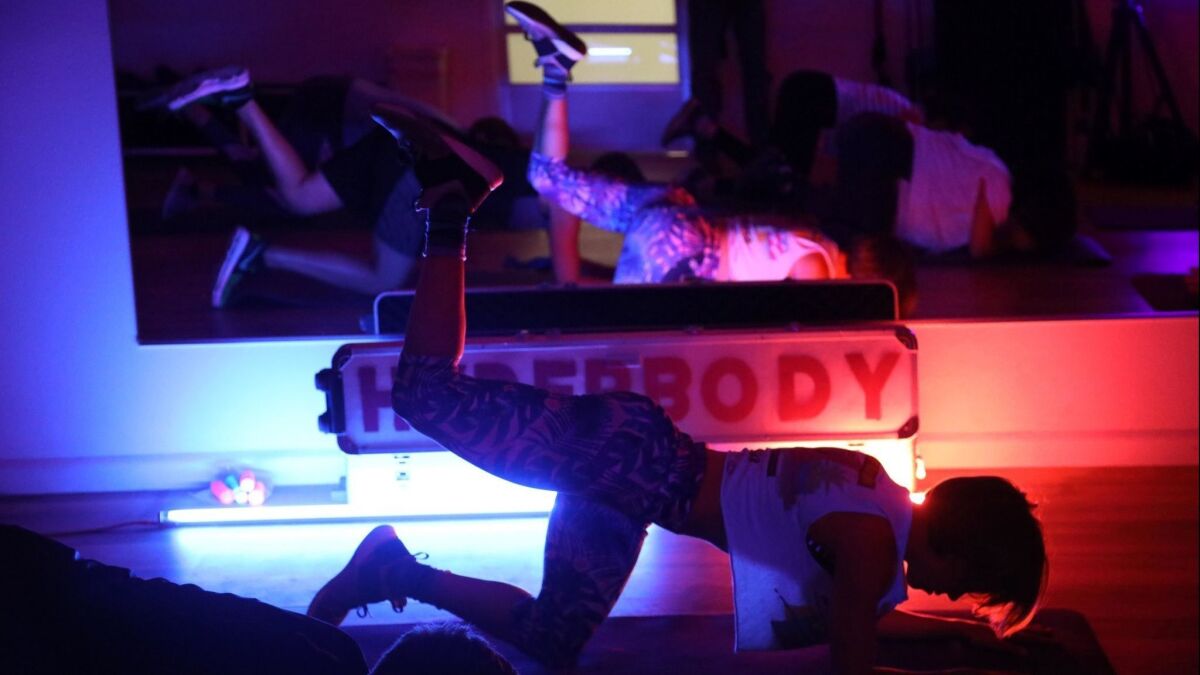 Aura
HyperBody is part performance artist, part aerobics instructor who looks like the love child of Jane Fonda and David Bowie. In a HyperBody class a workout is an occasion: fanciful spandex ensembles are encouraged and face paint is provided. At a recent class, HyperBody appeared luminous with a Grace Jones-style blond fade, alien-green biker shorts and an outfit complete with a black leotard thong, custom fishnets and matching neon lipstick.
The class was quickly transfixed by our leader as we swirled our hips while sprays of neon light flashed on the dimly lighted walls.
"That was a real sexy warm-up. … Hot, hot cross buns," HyperBody told us in a high pitch. The instructor uses a voice filter that allows voice changes from low to high, which adds to the mood that everyone is in a personal music video.
Effort
We got low with sumo squats, a twerking-type movement called the "wiggle," lunges and more squats, which made my hamstrings and glutes hum. But HyperBody's remixes and original jams with the occasional voice-over — "Butt stuff, just can't get enough!" — kept me going, and laughing. Then came the "butt walk," a HyperBody-created move. It's like the clam walk from 5th grade PE: You sit with your legs bent and your hands on the ground, but instead of lifting your hips and behind off the ground, you lift one butt cheek at a time. The act of racing your fellow classmates — minus the 5th grade bullies — across the studio floor is so ridiculous that it's easy to forget how difficult the multi-joint movement is. You'll be grinning your face off.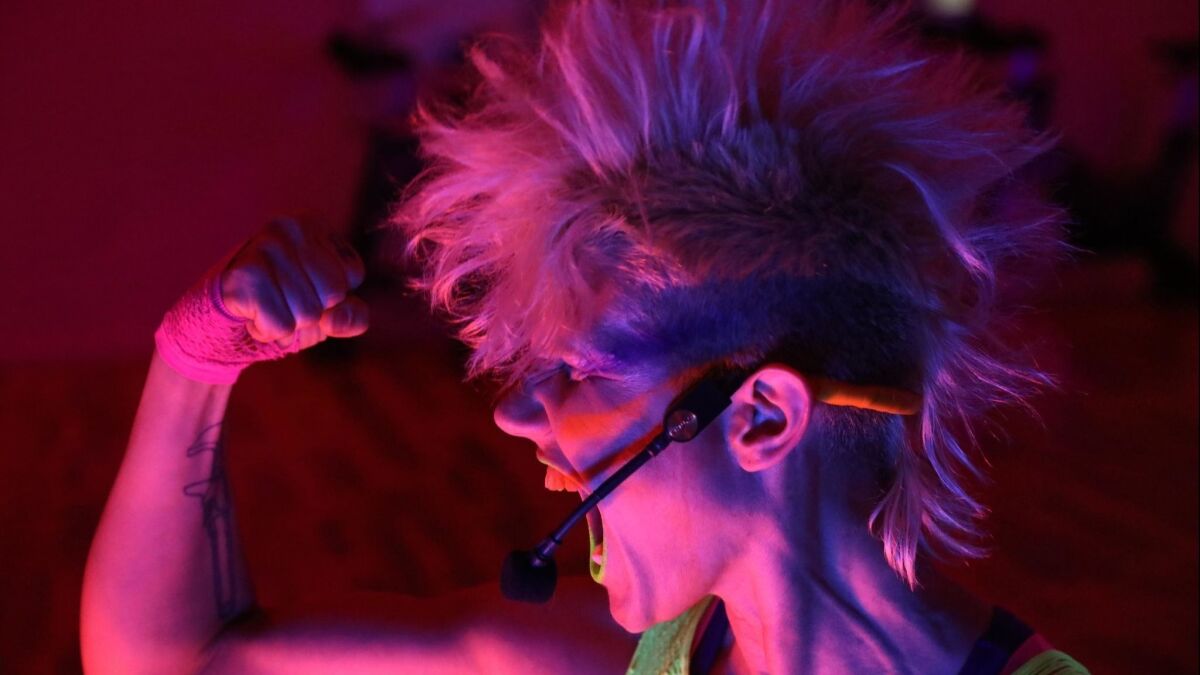 Style
"Butt Stuff" might initially appear as a class aimed at body self-improvement — or achieving a break-the-Internet bum — but as the class finally cools down it's clear it's really about expressing love for yourself, the funky neon-clad people around you and — of course — your booty. In HyperBody's "Butt Stuff," being "bootilicious" is more about attitude — and a sense of a humor — than the size of your curves.
Where: Everybody, 1845 N. San Fernando Road, Cypress Park CA 90065
Cost: $14 per class
Info: (323) 352-8618, hyperbodyfitness.com/classes
READ ON!
Yes, you can eat your way to beautiful skin
10 high-tech gadgets to help you get to sleep
How 'Scandal's' Katie Lowes hid her psoriasis
7 steps to making your health your No. 1 priority
---