Stay fit without leaving the house, with this creative workout gear
Can't get to the gym? Fitness pros have come up with effective and transportable at-home exercise equipment that will counter just about every excuse.
Although Erika Rayman was an avid runner, it wasn't until she regularly performed a series of intense squats with a trainer that she noticed a difference in her body — specifically her posterior. So she set out to develop a device that would help people nail the perfect squat.
"I learned so much about form working out with a trainer, and wanted to make that available to anyone of any level," she said. (The maximum user weight on the device is 215 pounds.)
Earlier this year, she launched the DB Method, which works out the lower body; sit on the tilted seat built onto a resistance system, grab the handrails and start squatting.
"It's a high-intensity, low-impact workout," Rayman said of the tool, which can be assembled in about 15 minutes. It collapses to fold under a bed or to stack against a wall.
The DB Method, $189; thedbmethod.com
Unable to work out after hip surgery, Gorgi Nikkaran developed Gravocore, a portable pulley-and-harness system designed for all ages and levels that can be slung over a door, onto a tree or attached to a bar or pole.
"I'd been fit all my life, but there were many exercises I couldn't do after my surgery, and I needed to find another way to get back in shape," Nikkaran said.
Gravocore works by exercising muscles without compromising the joints, helping to burn fat and build muscle. The regimens used in conjunction with the system work the core, abs, legs and — depending on a user's fitness goals — may replace a gym full of equipment.
"It's about what you want out of your workout," Nikkaran said. "Some people want to be physically stronger. Others want a visual transformation."
Gravocore, $349; gravocore.com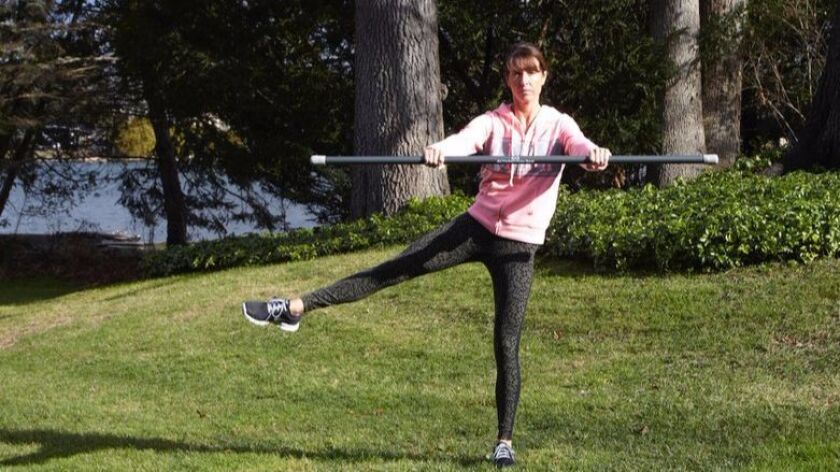 In designing the ActivMotion Bar, Derek Mikulski's aim was to "put resistance that's active or alive into someone's hands."
"It will make them use their brains more, as opposed to using static — or dead — weight," he says of the pole, which enhances squats, lunges and crunches and takes the place of hand weights or a medicine ball.
The ball bearings inside the pole shift when it is held, forcing users to focus on keeping it stable. In addition to encouraging concentration during a workout, more muscles are activated, said Mikulski.
The poles are available in a variety of weights, starting at 3 pounds. Purchases include a digital workout regimen.
ActivMotion Bar, $99 and up, activmotionbar.com
The Pilates Wheel is specifically for those who want to obtain the long, lean look synonymous with the form of exercise but find the cost of classes prohibitive.
Pilates instructor Kristin Anderson and trainer Brian Abercrombie earlier this year launched the wheel, which takes the fundamentals of bulky and expensive Pilates equipment like the Reformer and distills them into a compact, at-home product.
"The machines provide resistance, moving from the core, stabilizing muscles," Anderson said. "When you strip away the metal parts and pieces, those are the main Pilates principles."
Abercrombie said the device — essentially, wheels attached to each end of a rod, with resistance bands, handles and foot loops — is for strength, stretching and cardio and can be used by those who have never taken a Pilates class. The duo runs classes on Facebook Live several times a week.
The Pilates Wheel, starting at $199, which includes instructional DVDs and an eating plan; thepilateswheel.com
READ ON!
Yes, you can eat your way to beautiful skin
10 high-tech gadgets to help you get to sleep
How 'Scandal's' Katie Lowes hid her psoriasis
7 steps to making your health your No. 1 priority
He lost 84 pounds in four months — and kept it off
---