Buzzy happenings on the L.A. fitness and lifestyle scene
Get ready for an obstacle course; embrace your inner feminine power; try some not-so-hot yoga and shake up your workout in 27 minutes. Here's what's happening on the L.A. wellness scene:
If you've ever considered entering one of those obstacle-course races — rolling tires up hills, lugging sandbags down gravelly trails — here's a way to prepare: Los Angeles gym Lock Box Fitness & Performance Center has introduced an OCR Bootcamp class to mimic those challenging requirements.
"It's simulated indoor equipment, so participants learn how to navigate the obstacles in a safe environment," said PJ Stahl, head coach and co-owner of Lock Box. The gym uses equipment from Power Systems, which created the products in a partnership with Spartan Race, organizer of obstacle races.
The three-times-a-week, hour-long classes use foam tires, sandbags, medicine balls and 3-foot high foam barricades — to vault over.
Info: Single class, $25, or 10 for $220. New members signing up in January pay $89 for a month of unlimited classes. Thereafter, $225. 5925 West Pico Blvd. lockboxla.com
::
A class for the times in which we live: App company Yoga Wake Up has teamed up with yoga instructor Emilie Perz for "Embody the Goddess." (The girl-power name notwithstanding, the events are gender-neutral.) The hour-long sessions in Santa Monica will kick off with a short visualization before moving into vinyasa poses. Perz intends to weave in explorations of goddesses in various cultures and to illustrate that "we don't have to be afraid to embody these dynamic qualities." After, probiotic coffee drinks will be served courtesy of Wylder Coffee Co.
Info: 10 a.m. to 11 a.m. Jan. 21 and 28, at Free People Movement, 2925 Main Street. $10. blog.freepeople.com/2018/01/january-fp-sm-events/
::
A new entrant on the East side yoga scene is Madre, which opened recently in Eagle Rock. Owner Natasha Nelson offers an alternative to conventional hot yoga, so installed infrared heating in the room which "heats objects and not the air so it doesn't feel stifling… The room feels comfortably warm but heats the body internally to get more detoxification benefits." Alongside classes in ashtanga, restorative and kundalini yoga, Madre will offer a class called Bounce + Flow, which uses a rebounder — think a mini-trampoline — for cardio. The 2,000-square-foot space also includes a retail section and a healthy cafe.
Info: Drop-in classes are $23; $19 for seniors, students and members of the military. Various packages available starting at $100 for the first month. 1577 Colorado Blvd., Eagle Rock. madrela.com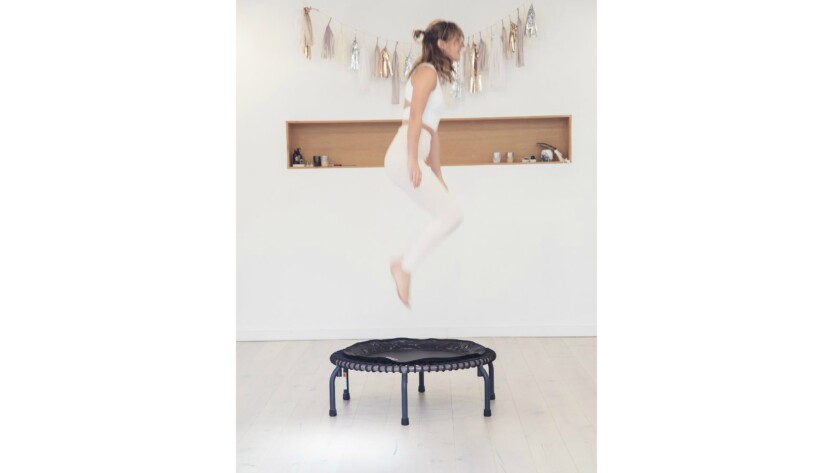 ::
Platefit, which has locations in West Hollywood and Brentwood, has unveiled a 1,200-sq.-ft. Studio City location. Platefit has earned a devoted following by offering a power-packed class that runs exactly 27 minutes. The reason for the truncated time: all workouts are done on the Power Plate, a vibrating medical-grade device that contracts the muscles 30 to 50 times per second, engaging multiple muscle groups simultaneously, and is said to obtain the same results as a conventional workout class in half the time. "Just by standing on it, you are forcing muscle contractions," said founder Rachael Blumberg. "Most people see results in anywhere from one to six sessions. 150 weekly classes range from bootcamp to barre and abs- or glutes-focused high-intensity interval training.
Info: Single classes are $27. Discounted packages available. The first 50 new members at the Studio City location are offered a monthly rate of unlimited classes at $149. The regular price is $199. platefit.co
READ ON!
Yes, you can eat your way to beautiful skin
10 high-tech gadgets to help you get to sleep
How 'Scandal's' Katie Lowes hid her psoriasis
7 steps to making your health your No. 1 priority
He lost 84 pounds in four months — and kept it off
---