L.A. Walks: City views from Baldwin Hills park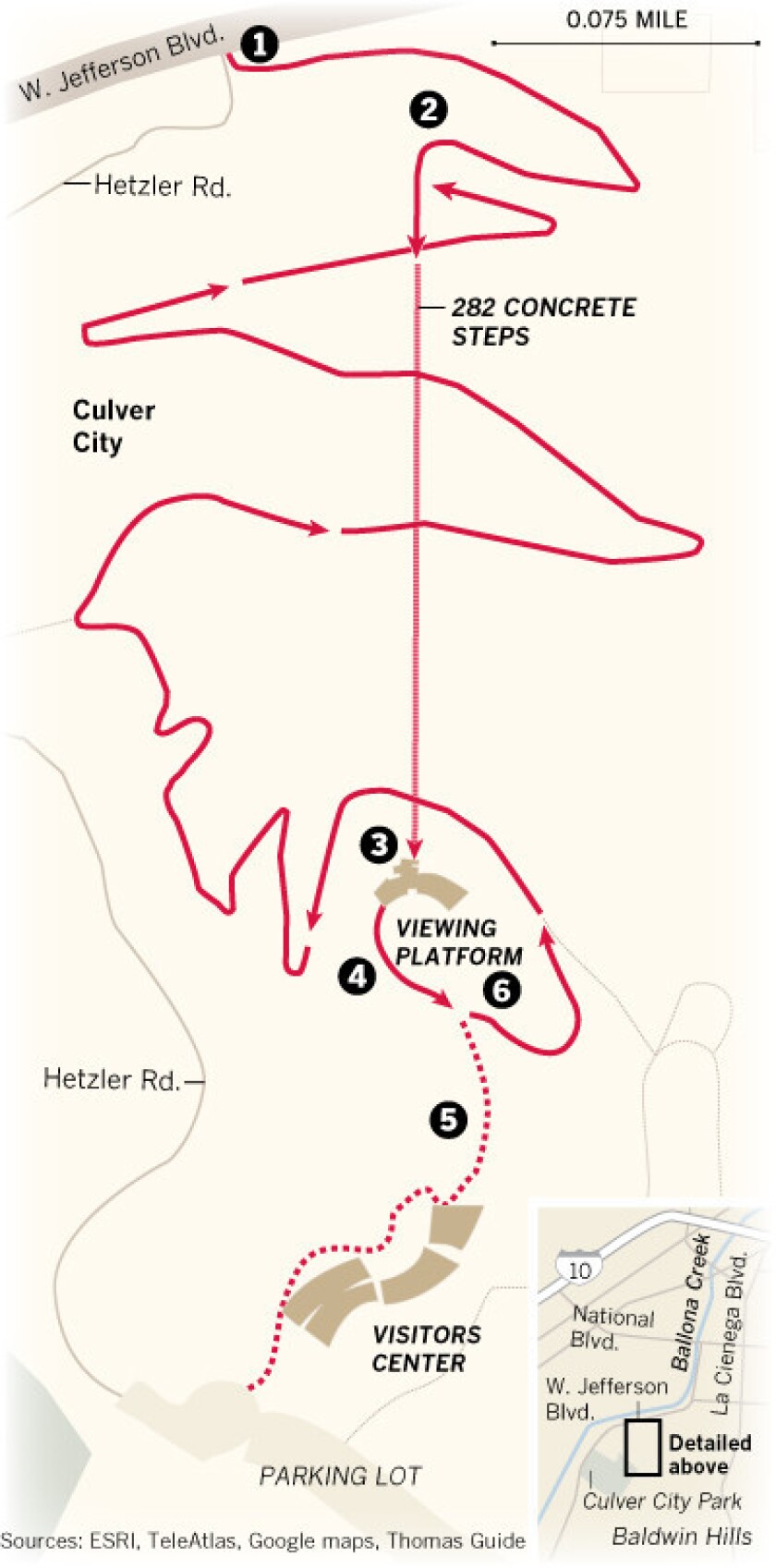 Most folks probably don't look to Culver City for hiking trails with majestic city views. But the 57-acre Baldwin Hills Scenic Overlook State Park has them, plus a set of stairs massive enough to be visible, like the Great Wall of China, from outer space. The huge workout is matched by the heavenly scenery.
1. Begin walking from Jefferson Boulevard at Hetzler Road, west of La Cienega Boulevard. Look for the sign that says "Baldwin Hills Scenic Overlook" and follow the gravel path marked "Trailhead" as it begins sloping uphill.
2. After a couple of turns up the trail, find the base of the giant staircase. It contains 282 steps — challenging for even a veteran stair master because they're uneven and giant, many as big as two or three normal staircase steps. But the gentler pathway crisscrosses the staircase, so you can always bail to the trail if the steps prove too tough.
3. The wide concrete platform at the top of the hill makes the climb worthwhile, with an unimpeded view that stretches from the Chino Hills and Mt. Baldy to the east, through downtown L.A. and past the Miracle Mile and the Hollywood sign, all the way to the coast, with Malibu visible at the top and Palos Verdes at the bottom — and Catalina Island in between.
4. Walk downhill from the platform, away from the steps. Helpful interpretative signs describe the native coastal "shrubs and scrubs," from the red-berried toyon to blue lupine to white and purple sage.
5. Check out the visitors center, where you'll find water fountains and bathrooms, and beyond that the $6 self-pay lot, up a long driveway from Jefferson. The space is also available for weddings and events.
6. From the concrete viewing platform, bear left to pick up the trail heading downhill. Take the opportunity to be humbled by the people jogging, the people jogging with weights and the people jogging with weights and doing multiple laps up and down the mighty hill.
Update: Good news for fans of the Southwest Museum (L.A. Walks, April 28, 2012): The grounds of this historic Mt. Washington building are open to the public once again, though only 10 a.m. to 4 p.m. Saturdays, including the path up from Marmion Way and the undergound elevator from Museum Drive up to the museum lobby.
---
Distance: 1.5 miles stairs/trail; 2.5 miles trail only
Duration: 45 minutes stairs/trail; 1 hour trail only
Difficulty: Stairs: 5 (on a scale of 1 to 5). Trail: 2.
Details: Park open 8 a.m. to sunset. No dogs allowed. Free street parking available, with a pay lot at the top of the hill. Bus: Culver CityBus route 4.
---

Charles Fleming is the author of "Secret Stairs: A Walking Guide to the Historic Staircases of Los Angeles."
---