How Mario Lopez trains to stay in Mario Lopez shape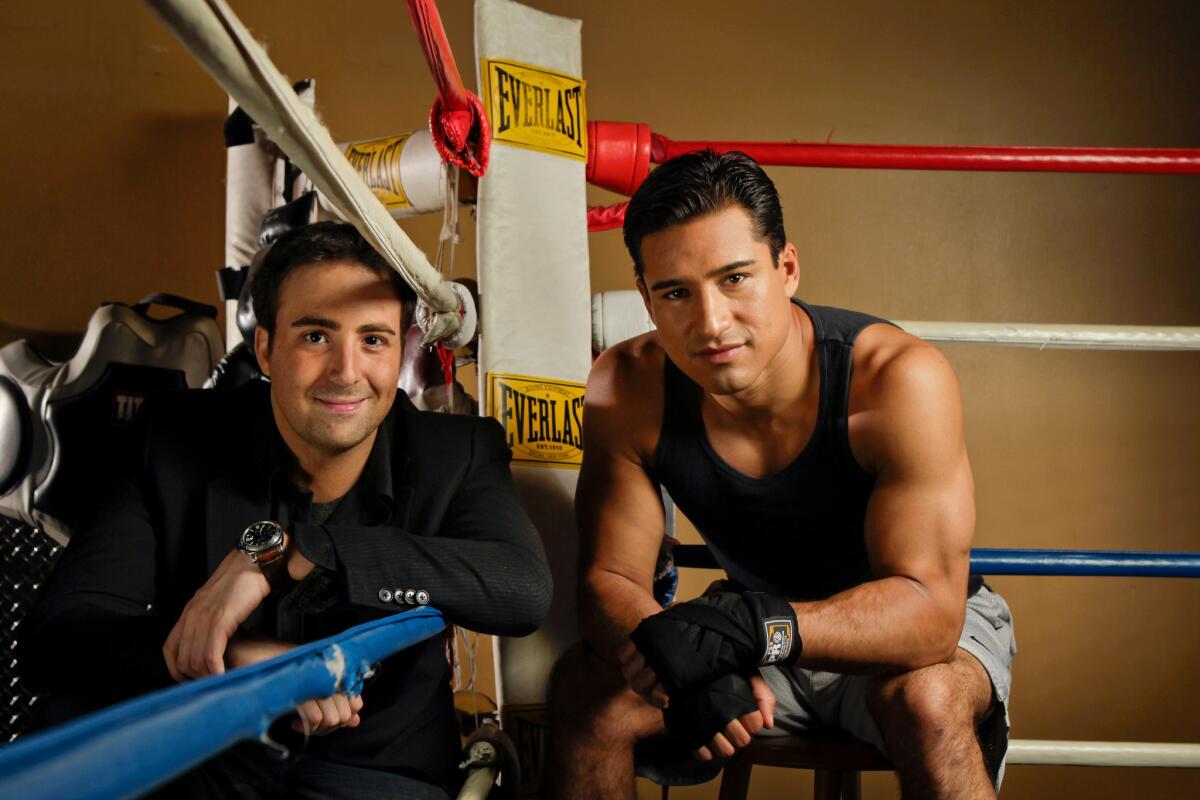 At 42, Mario Lopez has compiled a unique body of work.
He hosts a celebrity TV news show ("Extra") and daily syndicated radio show ("On With Mario.") His show business career began at age 10 and has included acting ("Saved by the Bell"), dancing ("Dancing With the Stars" and Fox's upcoming "Grease: Live"), stints as a boxing announcer and ringside analyst for HBO International, and writing (several fitness books and a memoir, "Just Between Us").
And of course, there's his other well-known body of work: his buff bod.
The former high school wrestling star from Chula Vista, Calif., stays ripped with daily workouts, including hiking, running, strength training and his favorite, boxing. On Sunday, he hosts the inaugural Run to Remember — Los Angeles 10K and half-marathon runs starting at 7 a.m. at the Grove to honor fallen law enforcement officers, firefighters and other first responders
You're amazingly busy. When do you get in a workout?
Pretty much every day. I just try to get it in when I can fit it in. I like to get out on the trails at Griffith Park at 6 a.m. but wasn't able to do it today because I was up so late training for "Grease" and have a long day ahead with my radio show and TV show. Later today, I'll do some boxing. In a typical week, I'll go to the Wild Card gym [in Hollywood] for some sparring on Monday, Wednesday and Friday. Last Tuesday and Thursday, I did circuit training at home, then an arduous hike up a hill. On the weekend, I went running, pushed the jogging stroller with the kids and the dogs, played a little basketball, did a little strength work. I like to mix it up.
Working out doesn't seem like work for you.
I like to say I train more for sanity than vanity. I feel awake, I de-stress. It's very therapeutic for me.
What advice do you have for people who want to get in shape?
Set goals, involve your family, and have a partner to help keep you accountable — so even when you don't feel like going, you don't want to let the other person down. That's why I was happy to help my buddy Rick Caruso with his Run to Remember — a great cause that honors those who take care of us and a family event with activity for everyone.
Having some fitness gear at home helps. I've got some cardio machines and a small universal gym, so worst-case scenario there's never any excuse.... Find an activity you love. Whatever you like to do, you'll do consistently. For me, it's the physical, I guess more violent sports — so I box, wrestle and am just starting jujitsu with my son.
What are your rules on diet?
I don't really have a diet. I eat whatever I want. I'll crush a whole pizza if I want to sometimes; had a burger the other night. Generally, it's all in moderation. I don't believe in calorie counting or in depriving yourself of anything. Use a little common sense. Every plate should have proteins, carbs, fat on it. Eat a little throughout the day, and just practice portion control — probably the most important.
Many celebrities write an autobiography later in life. Why'd you write yours, "Just Between Us," at 40?
I hope I have a couple more in me. I'd been in the business 30 years when I wrote it. It was more about the mistakes I've made, what I've learned, and how I've changed priorities, built more spiritual strength, and got to the point where I'm happily married with a couple of kids, hopefully more on the way. It helped me make a plan for the future, and of course fitness will be a key part of it. It makes me feel fast, strong and young. No matter how old I am and what I'm doing, I want to feel 25, like I do right now.
ALSO
Why 'Billions' star Malin Akerman has no need for a personal trainer
Why John Stamos dropped the weights to get lean for 'Grandfathered'
Christie Brinkley keeps on smiling with daily exercise and relaxation