Gym rat: Pharos gives Echo Park and Silver Lake a stylish local hangout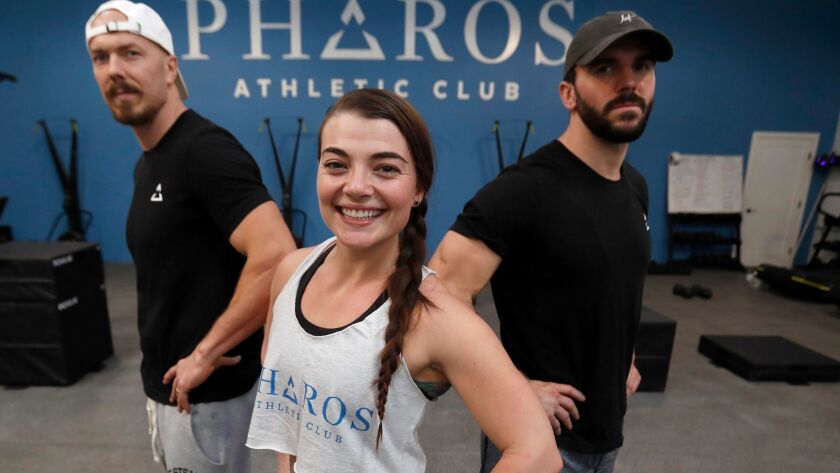 Echo Park and nearby Silver Lake can't compete with the fitness-laden Westside. It's not uncommon for Echo Park locals to trek to Glendale or downtown Los Angeles just to break a sweat in a nice gym with easy parking. But the sleek Pharos Athletic Club, which opened its doors this winter, is changing that.
The boutique gym, in the heart of Echo Park, features high-tech machines and weights along with a series of classes that vary from spin to Olympic weight-lifting.
Among the classes, available for members and nonmembers alike, is the high-intensity conditioning class Work, which is inspired in part by Pharos co-founder and coach Pieter Vodden's experience whipping actors into shape for film roles.
Recently, he helped train svelte Amazons for "Wonder Woman." But you don't have to be superhero-strong to try a Work class; it's designed for beginners and experienced gym-goers.
Aura
The Pharos space is part airport hangar, part downtown loft, with skylights that flood the gym space with natural light and green plants that frame large windows.
Vodden said that instead of guests being greeted by people slamming barbells they wanted them to enter a comfortable space, and they have created a warm environment with brick walls, coffee and leather couches for lounging.
There's also a pristine white locker room with showers, a towel service, on-site massage therapy and chiropractic care.
Effort
The Work class is especially good for weight loss and building strength. If you've ever taken a CrossFit class, you will recognize a few similarities, but Work's calorie-busting movements are safer and easier to pick up.
The intimate classes are made up of stretching, high-intensity cardio — often rowing, running on a treadmill, or skiing on fun, high-tech machines — as well as resistance training (think kettlebells and free weights).
Be prepared to be pushed to your limits, but no one will scold you if you need to take a break. The coaches give personal attention to each attendee and coach/co-founder Jeff Scarborough is especially patient with beginners.
Style
Co-founders/coaches Vodden, Scarborough and the kind and energetic Emylee Covell live within a few blocks of the gym, and are champions of making Pharos a neighborhood spot where they host the occasional barbeque at the gym and members hang at the nearby Semi-Tropic bar/cafe.
They have created a welcoming and friendly vibe. There's a high price point for membership, a sign of the gentrifying neighborhood, and it also attracts a crowd that's serious about fitness. It's not unlikely for a 10 a.m. Work class to be abuzz with young professionals that include artists, musicians, producers and other creatives.
"Whether it's performing or working out in a gym, it's all just an expression of self," Vodden said.
Pharos Athletic Club
Where: 1316 Glendale Blvd., in the Echo Park neighborhood of Los Angeles. Free parking accessed through Sunset Boulevard across from the Echo.
Cost: $25 per class; $240 for 10 classes; $460 for 20 classes; $125-$275 for membership.
---