How prayer beads can enhance your meditative lifestyle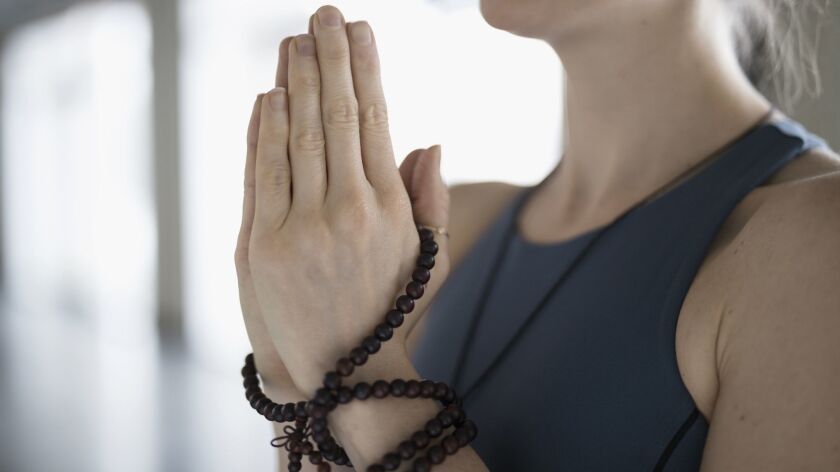 Walk into many a meditation or yoga studio here in Los Angeles and beyond and you'll see a treasure-trove of malas, made from all variety of gemstones and crystals.
At heart, these prayer beads are a mechanical device for counting off a set number of prayers, said John Kieschnick, religious studies department chair and a professor in Buddhist studies at Stanford University.
Technology has ushered in the era of digital rosary and mala apps, but, for many, it's the tactile encounter with analog beads that enrich a spiritual practice.
Go figure, your iPhone isn't always your best connection to God.
Prayer beads can be used by many religions, including Buddhists, Muslims and Christians, or anyone else looking for ways to mark off and keep track of prayers, or a meditative practice.
"I think the tactile quality of the beads is a big part of the attraction," Kieschnick said. "They can calm the psyche and concentrate the mind."
For others, the beauty of prayer beads is also alluring. Some wear them as jewelry.
For some spiritual seekers — and the Pew Research Center says Americans are increasingly describing themselves as "spiritual" rather than "religious" — prayer can also be worn as intentional jewelry, serving as a moment-to-moment reminder of a higher power or refocusing their intention back on love, peace or happiness during a challenging day.
In spring, the season of renewal and Easter's promise of second chances, it's a beginning.
How to make a mala your own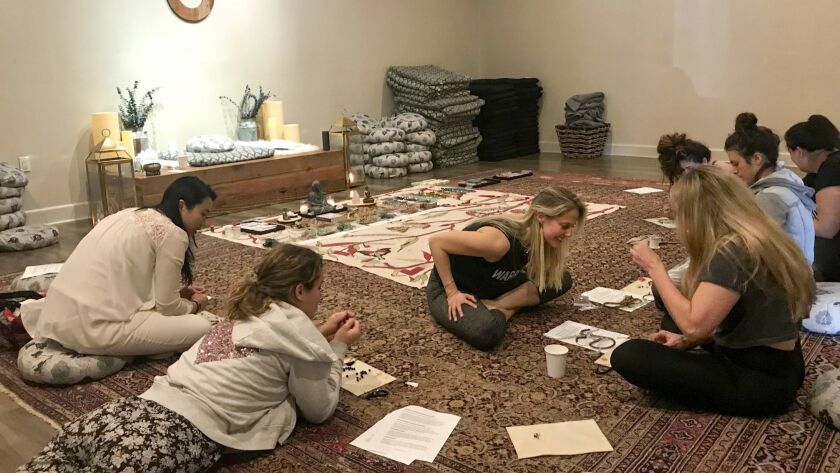 Part of what makes a mala special is personalizing it with an intention, and making it a part of your own meditation practice.
There are a range of mala-making classes and experiences that can cost as little as $30 or as much as $1,500 and beyond, held at meditation studios, workshops, temples — even high-end, destination properties like the St. Regis in Aspen. There, they've offered a "Mala Creation and River Blessing" wellness experience that included a one-on-one consultation with a master yogi and spiritual guide/coach to discuss intentions to create a personalized mala.
Closer to home: Jeanne Verger, owner of Jeanne Verger Jewelry, specializes in mala beads, and is leading a mala-making class Aug. 26 at the Den Meditation studio in Studio City. She offers private classes as well. (They are popular with bridal parties, she said.)
Here, she shares some tips for personalizing a mala: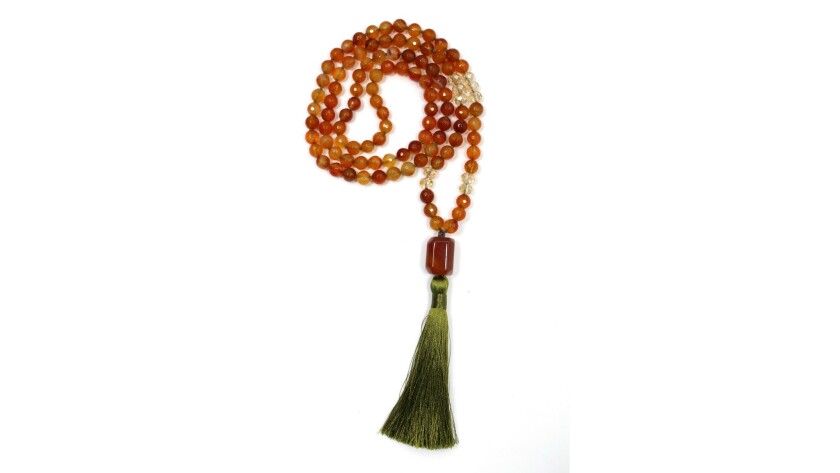 When choosing or designing a mala for your spiritual practice, you first want to think about an intention that you would like to step more fully into.
Ask yourself, "What is it that I'm needing in this moment? Is it more love, more patience, more peace, more abundance?"
From this answer you can then choose the perfect gemstone bead that will be the body of your mala, Verger said. Proponents say gemstones can be a powerful energy source, and when infused with your own specific intention, they can help promote health and healing.
So, which gemstones to choose?
Rose quartz, garnet and jade bring more love, Verger said.
Citrine, aventurine and moss agate are said to attract abundance. Turn to agate, goldstone and hematite stones for strength and courage, she said. Turquoise and quartz help promote peace and tranquility, she said.
Now close your eyes, hold your mala in your hands, Verger said, and infuse it with love.
Repeat an affirmation that speaks to you. (Maybe, I possess the strength to deal with this, or I let go of anxiety and embrace calm.) You can repeat your mantra again and again as you count off the beads on your mala, or it can be a quick and gentle visual reminder of your intention.
READ ON!
Yes, you can eat your way to beautiful skin
10 high-tech gadgets to help you get to sleep
How 'Scandal's' Katie Lowes hid her psoriasis
7 steps to making your health your No. 1 priority
He lost 84 pounds in four months — and kept it off
---