Even if you're not racing in the Los Angeles Marathon on Sunday, the mere sight of so many fit, active people ought to inspire you to bump up your running routine.
Sometimes, all it takes to improve your performance or motivation is an upgrade in gear. Athletic supply companies know this and have the goods to get you going.
Here's a few of the latest standouts:
1. Socks with stylish support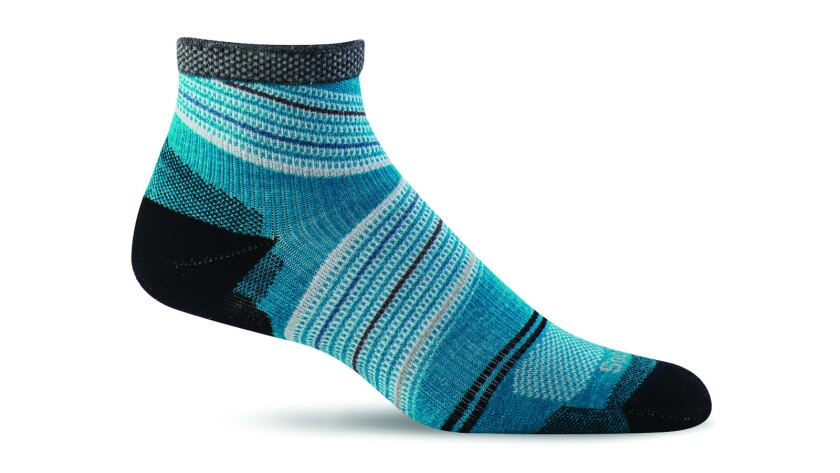 Sockwell says it built elements of athletic taping into its Pacer Series socks to enhance performance, aid recovery and reduce fatigue. The socks hold snug to support muscles, tendons and ligaments in the injury-prone arch and ankle. The merino wool and bamboo blend regulates heat and manages moisture and odor to help prevent blisters. The company says the colorful socks can be worn post-run to extend the therapeutic compression. $19. www.sockwell.us.com
2. Keep a cool head
The makers of a new line of performance trucker caps want to add some fun to your run. They've embroidered Bigfoot into a series of quirky outdoor scenes that adorn their five-panel trucker cap. An interior terry headband wrapped in a proprietary technical fabric wicks sweat and dries quickly. The mesh-top hat keeps athletes feeling cool during a workout, and, one hopes, looking cool after. Our SoCal fave? Bigfoot toting a surfboard to hang 10 very big toes. $25. www.headsweats.com
3. Collapses so you don't have to
If only someone would invent a soft insulated bottle that collapses as you drink and comes in a hand-held carrier. Wait! Someone did. CamelBak tucked its 17-ounce Quick Stow Chill Flask into a mesh cage with reflective stripes, a zippered smartphone pocket, a slot for gel packs andelastic straps that fit over your hand so you don't have to grip (and warm) the bottle. The soft-bite spout twists to close, preventing leaks. $45. www.camelbak.com
4. A rub-on rash guard
Like they say about avoiding dehydration, drink water before you feel thirsty. Same goes with blister protection — prevention is key. The longtime favorite Body Glide offers a compact, portable .35-ounce stick of Foot Glide ($5), and dual benefits with the simply named Sun ($10), an SPF 30 stick with a water-resistant UVA/UVB protection formula that also helps prevent chafing, raw skin and sunburn. $3 to $10. www.bodyglide.com
5. Swiss engineering for your feet
With a growing cult following, the Swiss athletic gear maker On touts a sole made of 18 pods that act like little stability balls. The pods cushion and propel your foot, softening impact from horizontal and vertical forces. The pods also contract to form a solid base for a strong liftoff, a feeling the makers liken to barefoot running. The uppers are made of an antimicrobial mesh to keep things cool, fresh and snazzy in vivid colors for men and women. $84 to $170. www.on-running.com
6. A little squeeze lets you go a long way
Compression braces and garments are being touted as a kind of instant-fix-it that helps performance by reducing swelling, supporting tendons, preventing shin splints and speeding recovery by increasing blood circulation. Now, Vantelin knits the effects of athletic taping into knee braces that come in pastels such as pink, yellow and green. Dirt-hiding black and navy tape-replacing braces also are available for other body parts, such as ankles, calves and elbows. $25 to $35. store.kowahealthcare.com
7. Cleaner water on tap
Your reward for getting up, getting dressed and getting on the road for a workout shouldn't be a bottle of plastic-tasting water that may make you sick. The Puribloc company offers a winecork-sized water purifier, the GoPure Pod, that drops into the vessel of your choice — even your coffeemaker's water reservoir. The capsule's high-tech ceramic core is said to adsorb impurities onto its porous surface, clearing potable water of potential lead, E. coli, chlorine, fluoride and contaminants that can sicken international travelers. One pod is said to replace 2,000 plastic water bottles. $25. gopurepod.com
8. A shirt that's a cooling radiator
Known for offering lifetime warranties, the Outdoor Research company now offers the Gauge, a T-shirt made of Polartech's Delta fabric, which wicks moisture without making the fabric completely dry. The mix of hydrophobic yarns that repel moisture and hydrophilic yarns that retain some act to keep bodies cool without saturating the shirt. It's also designed to stand away from skin to reduce chafing when you're sweating buckets. $59. www.outdoorresearch.com
9. Like nature intended?
For those runners who believe less is more, the Vivo Barefoot brand mimics shoeless running and aims to develop runners' natural movement and foot strength. The company's lightest shoe, the 6-ounce Primus Lite, is designed with an unlined mesh upper, thin sole and foldability — a bonus for travelers. For runners new to barefoot styles, the makers suggest transitioning slowly by wearing the shoes during regular activities before running in them. $125. www.vivobarefoot.com
READ ON!
Why midnight snacking is the worst
7 reasons why you can't lose the weight
Actress Sofia Vergara's secret? Lifting weights
---