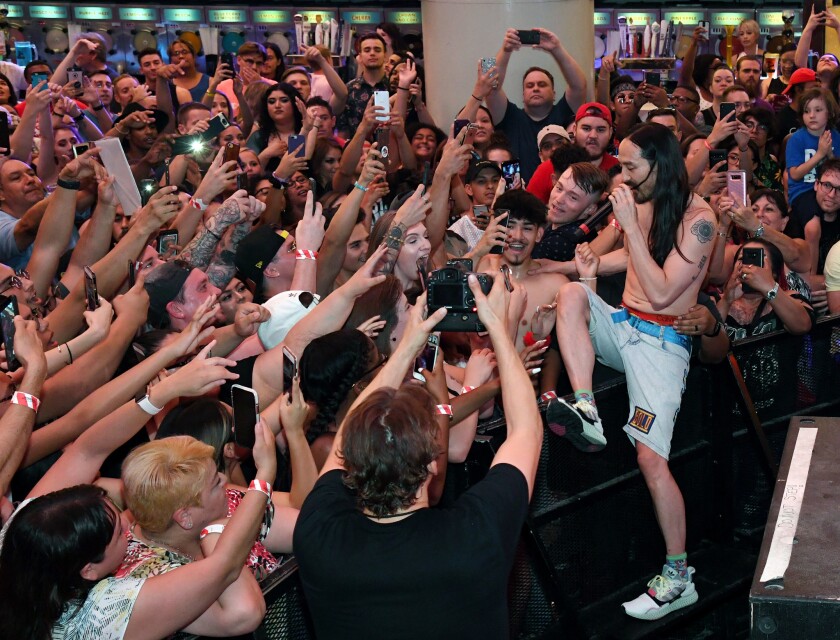 When you're on the road up to 300 days a year and trying to stay fit, you have to be adaptable, says Steve Aoki. That's why the Grammy-nominated electronic dance music superstar, record producer and deejay of the recent smash hit "Waste It on Me," once found himself doing push-ups and burpees in the middle of a Polish cornfield at 3 a.m. — the only time he had to work out that day.
In March, after years of inventing dozens of workouts he could do anywhere at any time, the 41-year-old Las Vegas resident, known for rushing into the audience and "caking" a fan (smashing him in the face with a giant cake) to charge up the crowd, released "Aoki Bootcamp," a program on the NEOU digital fitness platform that features many of his homegrown workouts, done to his music, of course.
Why do you need fitness activities at all when your job involves running around onstage for two hours every night?
I go all out at my shows, and noticed early on that I'd be running on empty at the end of them. Also, I was getting physical ailments, like shin splints. So about 10 years ago, I read the Ray Kurzweil anti-aging longevity book "Transcend" and thought, "I'm pushing myself to the limits, doing a marathon 200-300 nights a year. Can I use his ideas to extend my stamina?" First, I tried yoga, and it made me feel better and even perform better. That convinced me that I had to work out — that I had to look at my job as an athlete if I wanted to stay in the game as I got older.
So you hit the gym?
Well, at home I'd do some CrossFit and on the road use the hotel gym if there is one — treadmill, bike, weights. But often there isn't a gym, so I had to think differently. I came up with CrossFit-like body-weight exercises that use my body as my "weights" and the environment as my gym — whether it's a bathroom, a closet, an airport, a cornfield. I started with the basics: 100 push-ups, 100 sit-ups, 100 squats. A superset body-weight workout. Then changed it up from there.
What are the most unusual places you've worked out?
I've done workouts in the stage area, using scaffolding to do pull-ups. Once, we got done with a show in Rome at 4 a.m. — so I worked out at 5 a.m. at the Trevi Fountain and ran the Spanish Steps right before the sun came up, when no one was there yet. Two or three years ago in Poland, at 3 a.m., I told the van driver to pull over. I needed to get in a workout. There were cornfields, no cars on the road. We did 100 push-ups, high knees and burpees that night — one of many body-weight WODs (workouts of the day) I'd put together. They help me stay disciplined on the road. Because I know I can work out in any place, any time, anywhere."
How did those workouts become an app?
I started posting my WODs online, and amazing things started to happen. My fans started doing them. Once, as I was moving through the audience after caking someone, a woman, in tears, came up and told me, "I've lost 40 pounds doing your WODs!" It was an amazing moment for me. When I began hearing similar things from other fans, I decided to get serious about it and teamed up with a trainer to create an app, the Aoki Bootcamp WODs. It uses all my music. EDM is great for workouts.
If you had to recommend one workout, what would it be?
I'd go with my basic routine, which I'll often do before or after a show: 100 squats, 100 push-ups and 100 sit-ups followed by a 1-mile run to burn some calories. That gets everything, cardio and strength, just using your body. It's easy to say you don't have time to work out. This removes that excuse.
---