Actor Mark Wahlberg's two-workout, seven-meal day starts at 3:15 a.m.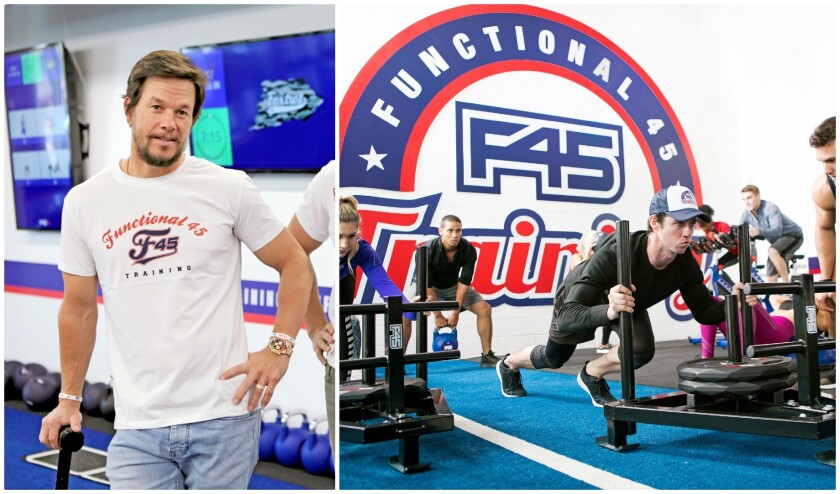 Actor Mark Wahlberg schedules everything to the minute, from his wake-up at 3 a.m. — yes, 3 a.m. — to his bedtime at 7:30 p.m.
After all, the chiseled 47-year-old father of four, a high school dropout who leveraged his 1991 hit rap song "Good Vibrations" and a subsequent Calvin Klein underwear commercial into a long career as a movie star and producer, has a lot to do in an average day: Work out twice, pray, get cryotherapy, play golf and manage his investments in various companies, including the family-owned 27-store Wahlburgers restaurant chain, a Chevy dealership in Columbus, Ohio, and a supplement maker. His newest venture has been taking part in a reported $450-million investment in F45, an Australian functional fitness boutique that preaches fast, intense 45-minute workouts for fast, intense results, and is rapidly expanding in the U.S.: Wahlberg says F45 is now his go-to workout in between role-specific training.
He eats seven meals a day, has a gigantic home gym outfitted like a 24-Hour Fitness and strictly limits interviews to allotted times. This one went exactly 10 minutes.
An Instagram of your daily work schedule posted on CBS last year was a viral sensation. Guess you don't watch a lot of late-night TV.
Yeah, I like working hard and need that seven and a half hours of sleep for recovery and healing. During the week, I like to be out of the gym, showered and have breakfast by 7 a.m to take the kids to school. Or if I golf in the morning, I'll schedule my cryo and lunch meetings before I pick them up and head off to workout number two at 4 p.m.
How do you eat six or seven meals a day?
Easy. At 3:15 a.m., I start out with egg whites, almond butter, Ezekiel bread, and avocado for breakfast — or maybe steel oats, peanut butter, blueberries and eggs. Post-workout is a salad, turkey burger, sweet potato and a protein shake — a Vanilla Latte Shake from Performance Inspired Nutrition [his company]. At 10:30, I might have 10 turkey meatballs or a grilled chicken salad with two hard-boiled eggs, olive, avocado, cucumber, tomato, lettuce. For lunch at 1 p.m., I'll go for three turkey burgers, five pieces of sweet potato or a New York steak with green peppers. At 3:30, before the second workout, it might be grilled chicken with bok choy. Then the post-workout family dinner at 5:30 or 6 o'clock might be a beautiful piece of halibut or a cod or sea bass.
Your videos show you and your longtime trainer Brian Nguyen doing lots of movements that combine strength and functional movements such as reverse lunges with dumbbells extending into overhead presses, and dumbbell curls while standing on one leg. Why and when did you start doing this combination stuff?
When my head stopped being so hard — and I stopped trying to look like a bodybuilder. A few years ago, I realized that I needed to be able to look like a normal person but perform like a professional athlete. From all the super-heavy bodybuilder lifting, I had injuries to my shoulders, trouble with disks in my back ... something had to change. Lifting like that for years takes a big toll on you.
How long had you been training that way?
I've been bodybuilding since 15. I felt like I knew everything. But now that I'm getting a little bit older, I'm learning so much more.
What has changed?
If F45 (his Aussie gym franchise) had been in my life 20 years ago, I don't think I would've had half the ailments. But at least it helped clear them up.
These functional movements and smart exercise allow me to run, jump, keep up with my kids. I still have roles where I have to bulk up — like right now, I'm preparing to play a big musclebound priest who died of a rare muscular disease — but I have to be smarter about how I do it and take better care of my body.
Sometimes, I don't take enough time to stretch, warm up or cool down. I run out of time. I spent three to four hours in the gym when I was doing "The Fighter" [in 2010]. From F45, I know now I could have done it in 45 minutes.
Since you train differently for each movie, describe your workout for some of your best-known roles, starting with the recent "Instant Family" (2018)?
I had just come off "Mile 22," where I had to be in great shape, so I did a lot of functional movement stuff and stayed in the early-bird 4 a.m. club at the gym in Atlanta, where we filmed.
"Daddy's Home" (2015)?
I put a picture of Will Ferrell on my wall and started training like a crazy man. Did a strict diet, no drinking, nothing.
"Pain & Gain" (2013)?
I just went into the gym and lifted every weight I could. I had more aches and ailments than ever. I got the heaviest I ever was: 220 pounds [he's 5 feet 8].
And finally, your classic role as Dirk Diggler in "Boogie Nights" (2001)?
No workouts. A Budweiser and minestrone soup diet and smoking cigarettes.
---