Skyrobics, a jump-start for the heart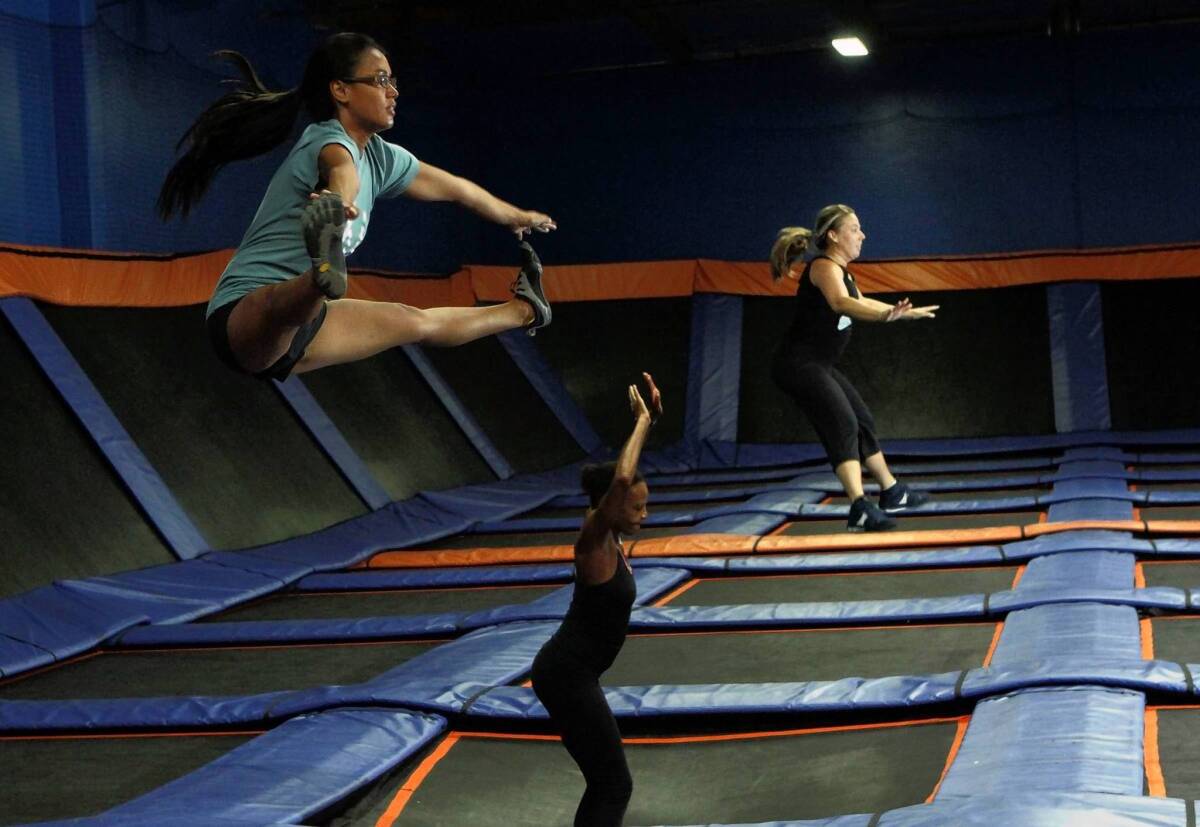 There's something comical about a bunch of middle-aged women leaping like gazelles across an open plain of trampolines. Bouncing, after all, is largely the domain of the preschool set, for which jumpers are pretty much de rigueur. But why should 4-year-olds have all the fun?
I, like so many mothers of a certain age, had gotten into a workout rut. Walk. Weightlift. Repeat. After years of the same old same old, I was eager for a change. So I decided to channel my inner kid and try Skyrobics, a trampoline aerobics class offered through the indoor trampoline park franchise Sky Zone.
Trampoline fitness has existed for at least 50 years. What's different about Skyrobics is that it doesn't take place on just one trampoline but 18, which are strung together in an enclosed "court," or rectangle pattern, allowing users to jump from one trampoline to another and literally bounce off the walls.
It takes 30% more energy to run across a trampoline than a hard surface because it moves and rebounds, offering more resistance. It's also easier on the joints. The instability of the trampoline surface works core and lower back muscles as well, because it requires balance.
I experienced this high-intensity, low-impact routine in all its sweat-enhanced glory on a recent night, when I joined six women in a court across the way from a bunch of teenagers going wild in a game of trampoline dodge ball. Two of the women, who've been taking Skyrobics since Sky Zone opened in Gardena in the spring, joked they come together so that one of them can carry out the dead body of the other when the class is over. It's that challenging.
The one-hour class, which can burn as many as 1,000 calories, starts out deceptively low key, with stretching exercises, jumping jacks and push-ups. Our enthusiastic and ridiculously buff instructor then had us take turns "rouncing" — a combination of running and bouncing — back and forth to get our hearts racing, before restricting us to individual trampolines for jumping skyward. Then we rounced some more.
We rounced, before dropping for push-ups. We rounced again, followed by leg lifts. And in a sort of rouncing finale, we flew across the trampolines only to park ourselves for sit-ups and more stretching exercises, which were far more difficult at the end of the class than at the beginning. All of us were drenched and heaving. And this, apparently, wasn't even the hardest class. The instructor of a six-week Skyrobics boot camp likes to have his students crawl in, through and out of a pit of foam cubes.
Next time.
Skyrobics classes at Sky Zone in Gardena, Anaheim and Riverside are $15 per session, $125 for 10 or $150 for a monthly membership with unlimited access. https://www.skyzonesports.com