Gluten-free markets spring from personal need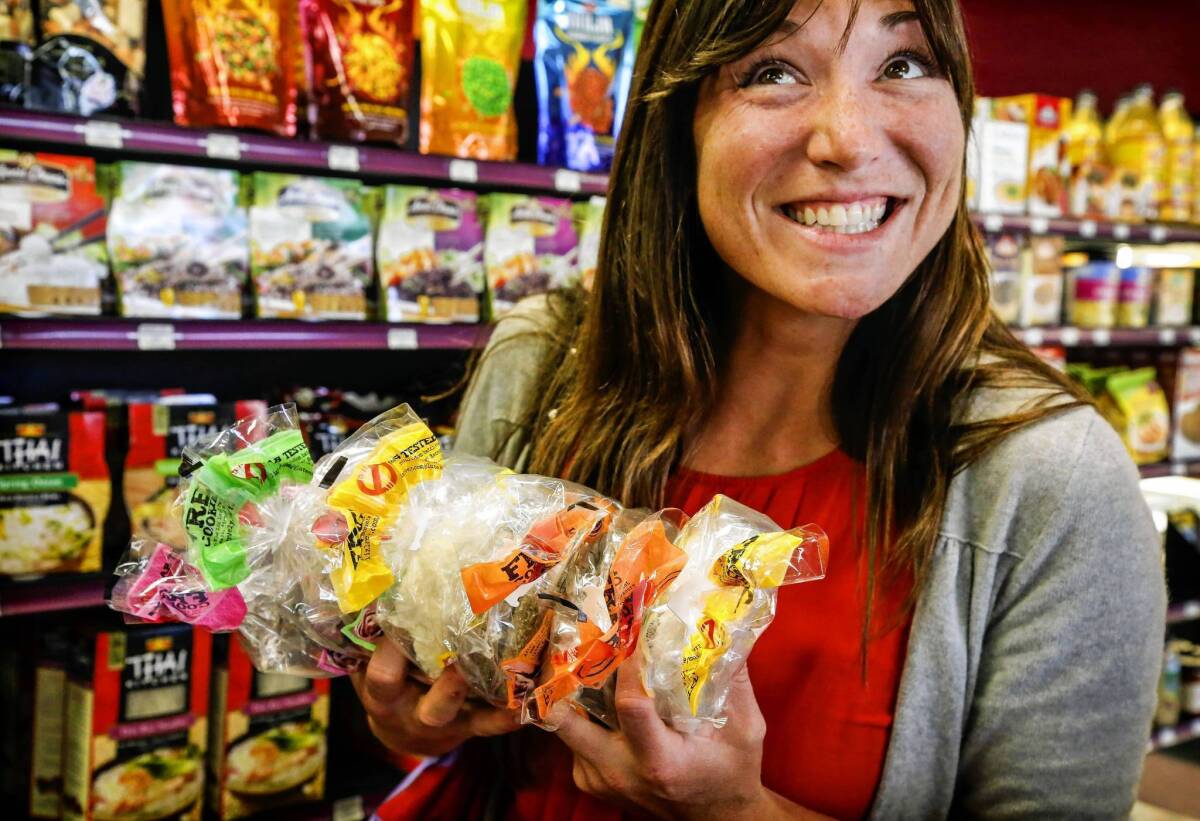 When Bridget Reilly and her young son began eating gluten-free, she also began to find grocery shopping a real headache. So many labels to read and so much food that her family didn't really like and that she didn't really like feeding them.
"I was driving around to four different stores every week and reading all the labels," Reilly says.
Her alternative was to open a store, which she did. It's called the Bite Market, and everything is gluten- and dairy-free. It sits in the Orange business district, among the antique shops and not far from Chapman University, the source of some of her business.
Her store is one of the few in the area that stock all gluten-free food. Another, Pam Mac D's Gluten-Free Market, is in Burbank, just a short stroll from a well-known temple of gluten, Porto's Bakery & Café. And in a small shopping center in Woodland Hills, people looking to avoid gluten and other ingredients have Sugar Free Markets. Owner Moshe Groshkowsky bakes his own pita bread, cookies, cakes and other items.
PHOTOS: Gluten-free cake options
Pam MacDonald opened her store more than two years ago. She has been gluten-free since 1996 and shares Reilly's frustration with label vigilance. She recalls shopping for gluten-free bread years ago and being stuck with "some little loaf of bread in some odd little store in the back of the freezer."
She tastes everything and refuses to sell foods she thinks are not good enough. Breads can be problematic – they're often better toasted, and sometimes they fall apart depending on the sandwich ingredients.
"It's a mousetrap that still needs some improving," MacDonald says.
Reilly tried a gluten-free diet and found relief from headaches, joint pain and other problems. Her son, at age 3, had a cold that just wouldn't go away. He's 12 now, and after giving up gluten and dairy, feels fine.
Reilly says she tries to stock as many local products as possible and carries the bigger gluten-free brands, such as Udi's baked goods. She got a permit that will allow her to soon stock what she bakes at home.
Groshkowsky sells lots of baked goods: fruit-topped cakes, several varieties of cupcakes, pita bread, blintzes and cookies. The general contractor and artist had long baked for his family. As a diabetic for three decades, he also had long avoided sugar.
A few years ago, he took baking classes and then adapted what he learned to gluten- and sugar-free recipes. And a little more than a year ago, he opened his store with his wife. It stocks many gluten-free brands as well as products from Israel and Asia.
The baked goods are full of Groshkowsky's secrets, but he says he has dozens of flours in his kitchen and can customize products for just about any allergy. There's even a poppy seed and apple danish that he proclaims "fantastic."
For customers who like to bake, he is a storehouse of information on what to use to produce the best outcome and still avoid gluten or sugar.
It's estimated that 1 in 130 people have celiac disease, which can cause them to become very ill if they eat gluten. But as many as a third of Americans avoid gluten, which is found in wheat, barley and rye, because they feel better without it or have decided they feel healthier that way.
The landscape for gluten-free food has greatly improved, but it's not perfect, MacDonald says. "I would kill for a croissant. I would give the Nobel Peace Prize for one."
---
Here are a few Los Angeles area shops that specialize in gluten-free foods:
The Bite Market, 162-B N. Glassell St., Orange; (714) 643-2483; https://www.bitemarket.com
Pam Mac D's Gluten-Free Market, 3516 W. Magnolia Blvd., Burbank; (818) 843-5800; https://www.pammacds.com
Sugar Free Markets, 23164 Ventura Blvd., Woodland Hills; (818) 538-5181; https://www.sugarfreemarkets.com
ALSO:
17 ways to fight the inertia, step by step
TV producer Arthur Smith keeps his 'Kitchens' in balance
Hiking Chantry Flat to Sturtevant Falls in the Angeles National Forest

Get our L.A. Goes Out newsletter, with the week's best events, to help you explore and experience our city.
You may occasionally receive promotional content from the Los Angeles Times.