Four Hours: A Civil War outpost in SoCal? Head to 'Wilmas' for that. And peacocks!
The Drum Barracks Civil War Museum is one of the last remaining Civil War-era military facilities in the Los Angeles area.
(Dania Maxwell / Los Angeles Times)
The Drum Barracks Civil War Museum grounds are said to be haunted and special October spooky-themed tours are on offer.
(Dania Maxwell / Los Angeles Times)
The powder magazine is a Los Angeles historic-cultural monument that was used to store ammunition and was originally part of Camp Drum, a facility built during the Civil War.
(Dania Maxwell / Los Angeles Times)
Historic graffiti dating back to the 1800s is seen on the brick of the powder magazine, including initials made by Wilmington founder Phineas Banning's three sons.
(Dania Maxwell / Los Angeles Times)
Christian Barradas, who lives across the street, stands by the mural at El Mercado Market in Wilmington.
(Dania Maxwell / Los Angeles Times)
A bicyclist zips past the mural at El Mercado Market, originally painted in 1979.
(Dania Maxwell / Los Angeles Times)
An Indian peacock walks along one of the homes in the Wilmington historical district.
(Dania Maxwell / Los Angeles Times)
A wild Indian peahen in the historical district of Wilmington.
(Dania Maxwell / Los Angeles Times)
Wild peafowls were initially brought to Wilmington by residents in the Victorian Age.
(Dania Maxwell / Los Angeles Times)
The Banning Museum is the 23-room Greek Revival home of Phineas Banning, a key figure in the settling of Los Angeles, and features interior decorations in Victorian-era fashion.
(Dania Maxwell / Los Angeles Times)
Steven Robles and his mother Oralia Robles have lunch at Red West Pizza in Wilmington.
(Dania Maxwell / Los Angeles Times)
A jalapeño, pineapple and pepperoni pizza at Red West Pizza.
(Dania Maxwell / Los Angeles Times)
Wilmington's Red West Pizza is a favorite gathering spot for locals.
(Dania Maxwell / Los Angeles Times)
From afar, you might not think there's much to see in Wilmington. Oil refineries, storage tanks, harbor cranes and freeways enclose the industrial, blue-collar L.A. neighborhood.
Up close, the tightknit community known as Wilmas has worked hard to preserve its rich history, which includes two remnants of SoCal's little-known role in the Civil War, the mansion of a key figure in the settling of Los Angeles — Phineas Banning, who left his Delaware home at age 13 with 50 cents in his pocket and would go on to help create the Port of Los Angeles — and a classic 1970s Chicano mural that captures the community's history in three vivid acrylic panels.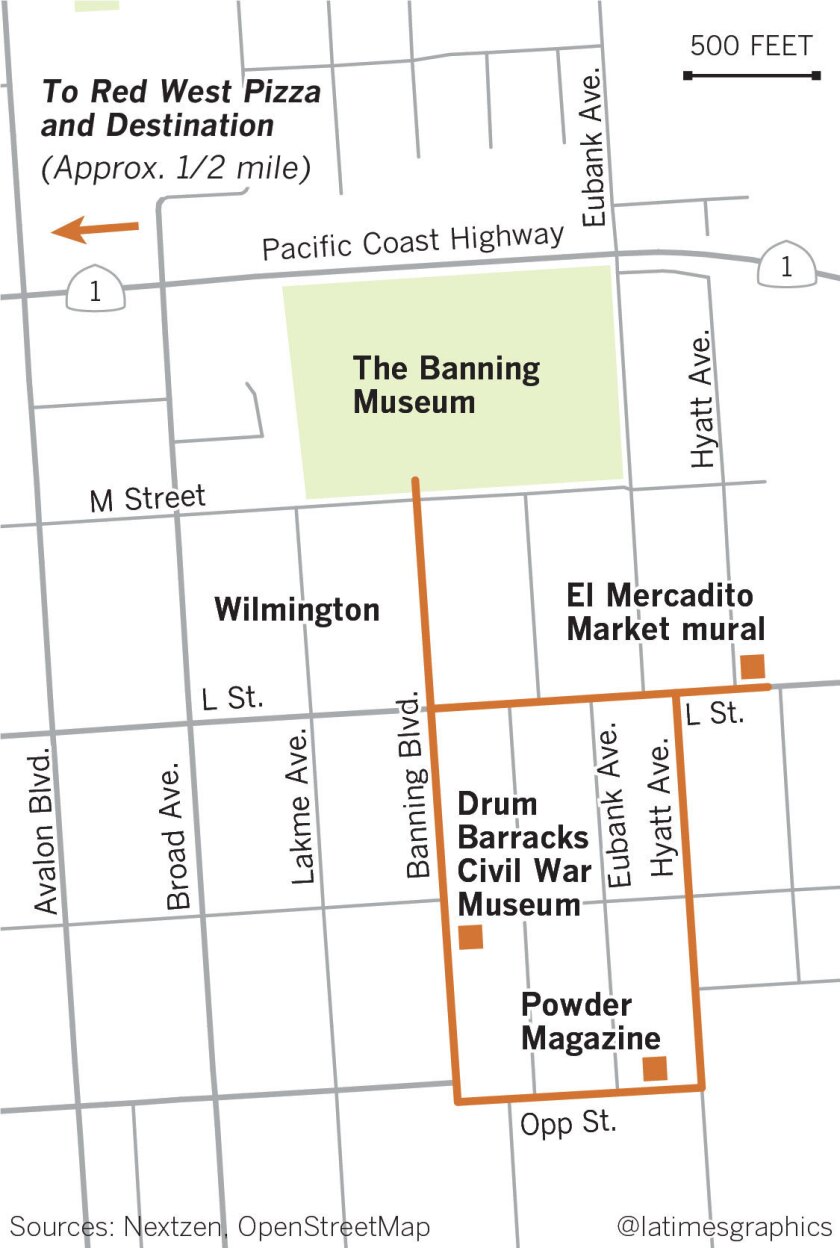 And don't be surprised if you cross paths with wild peacocks. So keep that smartphone handy.
11:30 a.m.-12:30 p.m. Get started with the Drum Barracks Civil War Museum at 1052 N. Banning Blvd. The building is one of two remaining structures of the 60-acre Civil War post, occupied by Union Army soldiers in a location full of Confederate supporters. "Even though Southern California was part of a free Union state, it had strong Confederate sympathies," according to the museum website. "These Confederate ties were due to the large number of Southerners who had transplanted to the Southern California region. This partiality was evident in the 1860 presidential election; Lincoln received only 25% of the Los Angeles vote." The grounds are said to be haunted and were featured in the show "Unsolved Mysteries." Check out their website, banningmuseum.org, for special events like an October haunted tour and Halloween trick-or-treating. For regular tours, a $5 donation is requested per adult and children under 12 are free.
12:40-12:50 p.m. Walk southeast to the corner of East Opp Street and Eubank Avenue to see the second remaining Civil War structure: a powder magazine. It was used to store black powder and ammunition in the 1860s. During the 1920s, a grocery store built around the magazine used it as a meat locker. Then, it was modified as a bedroom in a house. It was rediscovered in the 1980s during a demolition project. Now, it's a cultural city monument surrounded by a fence, but you can still get a glimpse of the haunting structure and its historical graffiti. Banning's three sons carved their initials various times. The oldest visible graffiti dates back to 1873 with the initials LAB, according to the Drum Barrack Museum's research library, which is open to the public by appointment.
1-1:15 p.m. Piece together more parts of the past by walking northeast to the corner of East L Street and Hyatt Avenue. A landmark mural, painted by artists Mario Falcon, Javier Moreno and Mario Uriarte in the 1970s, wraps around El Mercadito Market. The imagery captures a chunk of history starting with pre-Columbian figures, a map of 1810 to 1821 Mexico (which included Southern California), Mexican revolution heroes, labor movements and local rival gang members. It was restored by Banning High School teacher Arnoldo Vargas and the United Wilmington Youth Foundation in 2013.
We asked artist Karla Diaz and Mario Ybarra Jr., the husband-and-wife team who run the Wilmington-based art studio Slanguage, what makes the mural important. (Ybarra has used the neighborhood's landscape in his art, including the powder magazine and the mural.) He says "it's interesting that even though there is a history that relates to the Civil War, [the neighborhood] has been engaged in a war in terms [gangs] of the two sides of town for many years." The last image of two gang members embracing peacefully while holding books is an aspirational image of transcending violence through education. "We have reached what the mural is trying to get us to aspire to," says Ybarra. "My next line of questioning would be: What is next?" For Diaz, the mural's labor themes rendered through farmworkers stand out. She says it's a nod to the deep labor history of Wilmington, known for its influential unions established in the 1950s.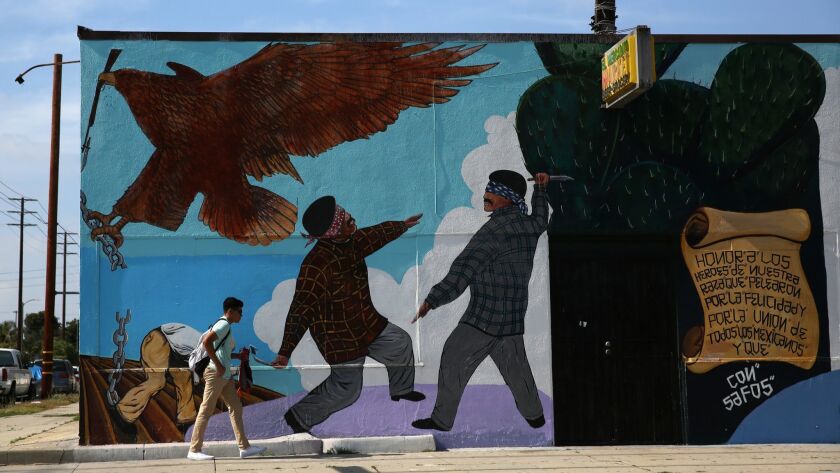 1:30-2:30 p.m. Time to turn back time from the 20th century to the Victorian Age: Stroll west back to Banning Boulevard and head north to visit the Banning mansion-turned-museum at 401 E. M St., in the center of public parkland. (Guided tours request a $5 donation for adults and $1 for children 12 and under.) In its heyday, the mansion was a pit stop for business meetings with influential figures and celebrations in the basement ballroom. The stagecoach barn re-creates the horse carriages that gave Banning the nickname "King of Transportation." The walk lets you catch glimpses of wild peacocks, initially brought to Wilmington during the Victorian Age, lounging on a historic suburb that boasts an architecture mix that includes Spanish colonial, Craftsman, ranch homes and cottages.
The park is beloved and well-used by the community. If you are lucky, the outdoor portion of your Greek Revival mansion tour will be serenaded by the jams of the Wilmington Car Club, whose members barbecue and line the park corner with their classic cars and lowriders. If you parked at the Drum Barracks, continue to give your fitness tracker a workout and head back to your car.
2:40 p.m. Drive to Red West Pizza, 614 Pacific Coast Highway, Wilmington's go-to parlor to celebrate birthdays, Communions and Little League wins. You can easily feed four hungry people for $50 and still have leftovers. A selection of pizzas, calzones, wings and beers are available but the highlight is the self-serve salad bar. There are no refills, so watch in-the-know customers stack their plates as high as they can with fresh veggies, fruits and pasta salad — and balance it all on the way back to the table.
3:15 p.m. Walk a few doors past Red West Pizza and you've reached Destination. The skateboard shop sells gear and clothing, including Wilmington T-shirts and ball caps. Not every nook in Los Angeles County can pull off selling neighborhood pride merch, but Wilmington can.
---
The essential weekly guide to enjoying the outdoors in Southern California. Insider tips on the best of our beaches, trails, parks, deserts, forests and mountains.
You may occasionally receive promotional content from the Los Angeles Times.