It's time for spring garden tours: Are we missing yours?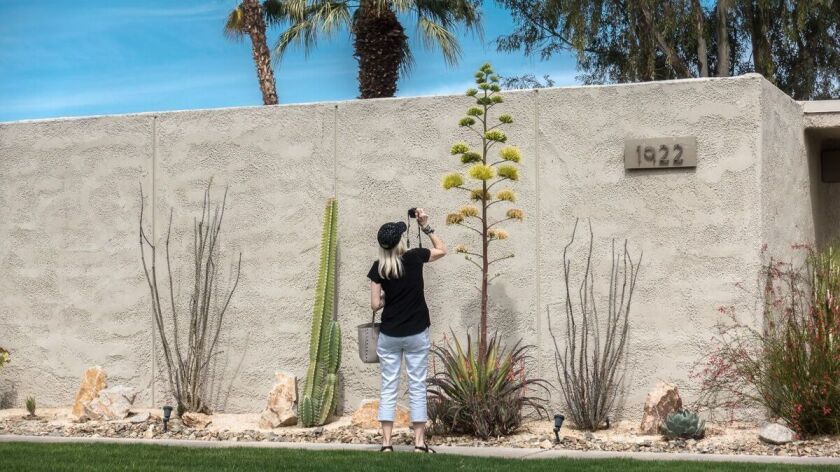 Who hasn't been tempted to peek over a garden fence to discover the mysteries beyond?
Well, yearn no longer. Garden tour time is about to begin in Southern California, when a handful of gorgeous gardens open their doors to the public — and just might inspire you to do a little gardening of your own.
It's starting in the desert, natch, where temperatures get hot pretty early in the year, setting off spring blooms.
First up on our calendars is the 14th annual Desert Garden Tour, which takes place March 17. Hosted by the Desert Horticultural Society of the Coachella Valley, the tour is designed to introduce low-water and habitat-friendly garden ideas to desert gardeners.
We plan to publish a detailed guide in late March highlighting additional garden tours taking place in April around Southern California.
If you have a garden tour you'd like us to consider, email details to jeanette.marantos@latimes.com and we may include it.
14th annual Desert Garden Tour
When: Noon to 4 p.m. March 17
Where: Tours start at Sagewood Central Pool Area, 1943 East Sandalwood Drive, Palm Springs.
Cost: Register online in advance, or in person between 11:30 a.m. and 1:30 p.m. the day of the tour, cash only onsite. $20 for nonmembers, $5 for students, members are free.
Info: deserthorticulturalsociety.org
---
The essential weekly guide to enjoying the outdoors in Southern California. Insider tips on the best of our beaches, trails, parks, deserts, forests and mountains.
You may occasionally receive promotional content from the Los Angeles Times.