Leather crafters showcase their blend of past and present in vintage studio space
Made Solid's Art Deco building on Fountain Avenue in East Hollywood balances both vintage and contemporary. Beneath the restored wood bowstring truss ceiling and exposed brick walls, everything under the Made Solid brand is "100% by hand, right here," co-founder Peter Maxwell says of his studio and shop.
Peter and his wife, Mia, founded the business in Angelino Heights in 2014, then opened the new space last summer. The Oregon native, who has Los Angeles roots, worked in social services and as a DJ before getting into leather crafting. (He regularly updates the Made Solid website with his latest playlists and sells vintage vinyl in the store.)
Mia became involved in the vintage-goods hunting and resale world in L.A. when she moved here from Japan two decades ago. It's been years since she's sold anything at the Rose Bowl flea market, but "I still go to look around and get inspired," she said.
American heritage goods, updated
The Maxwells began crafting leather goods together with an American heritage angle — they use Hermann Oak vegetable-tanned leather sides from the St. Louis-based tannery — but also with their signature streamlined, minimalist style.
Peter carefully adorns the wallets, trays, belts, eyeglass cases and other goods with vintage stamps and hand-painted brushwork to consciously leave negative space on his canvases. Mia's specialty is crafted beadwork using vintage materials, such as antique African trade beads and bone buttons.
Traditional touchstones
Except for its e-commerce and social media focus, Made Solid is a low-tech operation. The Maxwells have expanded the company's roster to include woven leather stools on bases made by metal and woodworkers in Baja, and leather-wrapped vases in various neutral shades.
We're "always developing and refining," Peter said. Customer feedback sometimes results in new products, such as Made Solid's sand-filled leather incense burners. (The company also sells Baieido incense, traditionally used in Japanese shrines.)
Made Solid's brand collaborations include Connolly England and Nordstrom, and its items are available in L.A. retail locations such as General Store in Venice, Jenni Kayne and Hauser & Wirth gallery gift shop, as well as in stores abroad.
For their own boutique, the Maxwells select other products they love. For instance, they've sourced handwoven bamboo totes, Hasami porcelain ceramics and ironwork from northern Japan during their travels.
"Everything has a story," Peter said.
Pointing to leather trays splattered with Japanese indigo dyes, some pieces in particular display the Maxwells' shared histories. "Our work reflects who we are," he said.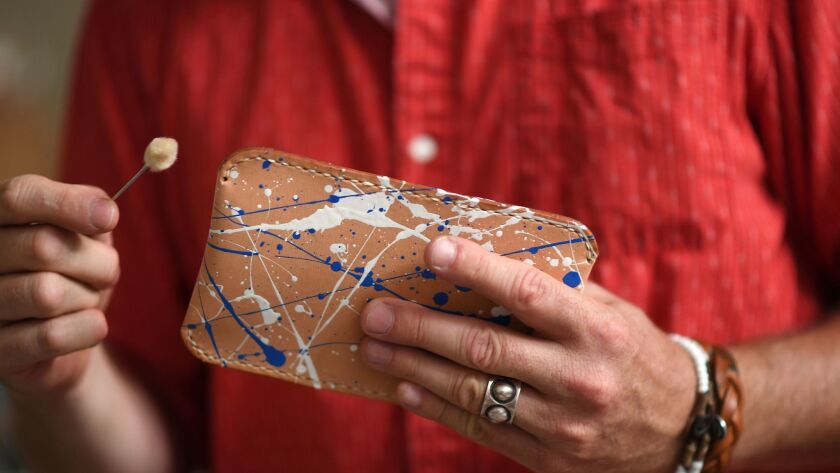 Made Solid
Hours: 11 a.m.-5 p.m. Wednesday-Friday; 11 a.m.-6 p.m. Saturday; 11 a.m.-5 p.m. Sunday
Address: 4855 Fountain Ave., Hollywood
Website: MadeSolidinLA.com
---