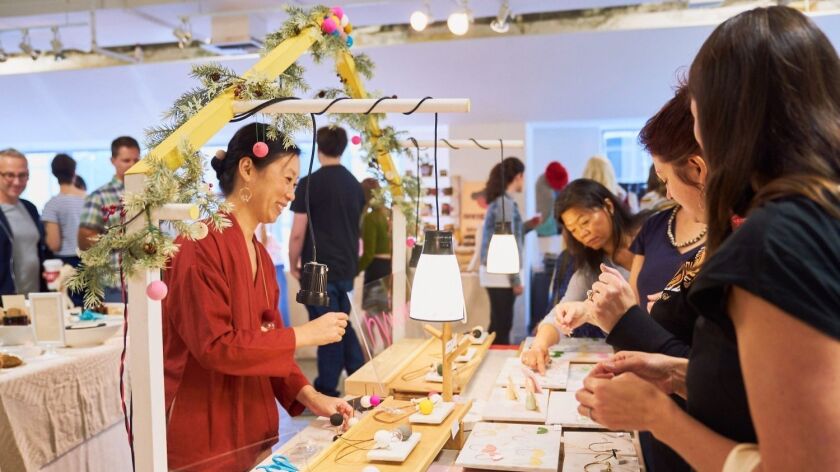 The growing Maker Movement feels like a blessing this Mother's Day when two popular independent markets, focusing on one-of-a-kind items made by mostly local designers, stage pop-ups just in time for last-minute, gift-giving inspiration.
Unique LA, which celebrates its 10th anniversary this year, returns to the California Market Center in downtown Los Angeles May 12-13 with more than 250 independent designers and artists in tow. The festival-like event, which is staged in the cavernous penthouse of the Market, will include free photo booth portraits and DIY area, interactive art installations, DJs and artisanal food vendors. Shop for candles, planters, wall hangings and ceramics as well as jewelry, clothing, leather goods and assorted apothecary items.
"In this tech-fueled world, people are craving an in-person experience of shopping where they can see and touch the products, meet the designers and spend time with friends," says Unique LA founder Sonja Rasula. "That's what Unique LA is all about."
A few miles away in Silver Lake, the Echo Park Craft Fair, which has evolved from a backyard affair to a jam-packed community event, returns to Mack Sennett Studios with more than 120 artists sharing ceramics, jewelry, clothing, woodworking and fabric art, among others.
New additions this spring include a CBD Lounge hosted by HiFi Exchange and men's fashion.
As the fair has grown to a twice-yearly community event, co-founder Rachel Craven says its mission has not changed. "We're women and artists who are supporting each other, validating each other's vision, laughing, creating and struggling together," Craven says. "No matter where it all goes, how much it grows — it has to remain about that sense of community and fostering a greater sense of beauty in the world."
What: Unique LA
When: 10 a.m. to 5 p.m. May 12-13
Where: California Market Center, Penthouse 110 E 9th St., 13th Floor, downtown Los Angeles
Tickets: $15 (kids 12 and under free)
Info: uniquemarkets.com
------------------------------------
What: Echo Park Craft Fair
When: 10 a.m. to 6 p.m. May 12-13
Where: Mack Sennett Studios, 1215 Bates Ave., Silver Lake
Tickets: $10
Info: echoparkcraftfair.com
Twitter: @lisaboone19
For an easy way to follow the L.A. scene, bookmark L.A. at Home and join us on our Facebook page for home and garden design, Instagram, Twitter and Pinterest.
ALSO:
Juggling kids, dogs and a rock band, an L.A. ceramist creates one-of-a-kind objects at home
Leather crafters showcase their blend of past and present in vintage studio space
A new Pasadena boutique is dedicated to nothing but indoor house plants
---