Our 15 favorite smart home devices — each for less than $100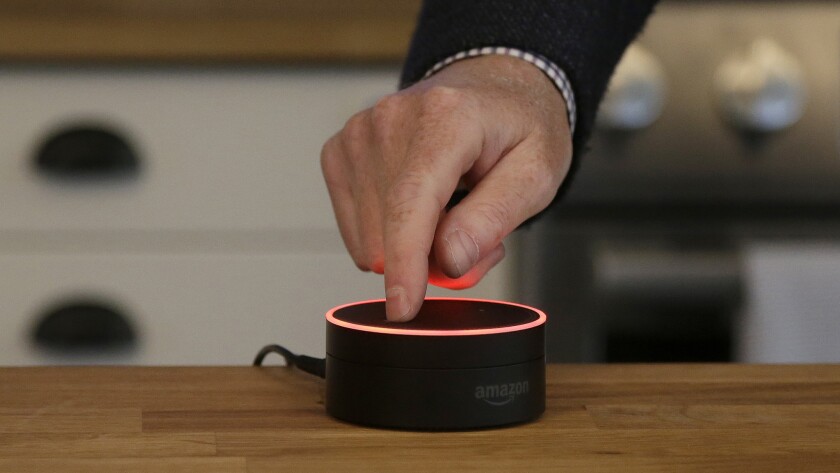 You don't have to be a millionaire anymore to have an interconnected smart home that you can control with the swipe of your finger or the sound of your voice.
Smart home devices are getting more powerful every day as the price of entry continues to drop. All you need to get started is a smartphone and a dash of digital know-how to have a Jetsons-worthy home of the future. All of the recommended devices on our budget buyer's guide satisfy at least one of several needs: convenience, security or connectivity. Most of the gadgets are simple to use, with only a few requiring an involved installation process.
Home automation doesn't have to break the bank. In fact, a quick online search will likely reveal better deals than the retail prices we have listed here with each item.
Here's how to build a smart home on a budget for less than $100 per device:
Intelligent personal assistant
By now you're familiar with Alexa and the other silky voices of the hands-free, voice-controlled personal assistants that can play music and surf the web at your command. They can also control the lights, TV, thermostat, locks, garage door and many more smart home devices. For the price, it's hard to beat the Amazon Echo Dot, which is compatible with many of the other smart home devices on this list. $50.
Smart hub
A smart hub connects the Internet of Things, which means you can control third-party devices with a single smartphone app. CNET calls a hub the "Rosetta Stone for your smart home" because it speaks Bluetooth, Wi-Fi, Z-Wave and Zigbee so you don't have to. The Wink Hub is the consensus choice for budget-conscious shoppers. $50.
Smart outlet
A smart outlet is the easiest, quickest and cheapest way to make your existing gadgets and devices smarter. Anything plugged into the TP Link Smart Plug can be controlled, automated and scheduled via Wi-Fi by a smartphone app. Like many gadgets on this list, TP Link smart products utilize IFTTT integration that allows you to create "If This Then That" web-based programs that automate smart-home tasks with a swipe of a smartphone applet. $30.
Smart light switch
"Hey Alexa, turn off the bedroom lights." Just like that you can flip the light switch without getting up off the couch or rolling out of bed. The app-enabled Belkin WeMo light switch allows for scheduling, combines with other smart devices and can be controlled remotely. Start slow with just one or two lights so you don't blow your limited budget swapping out every switch in the house. $50.
Smart LED light bulb
There are plenty of smart light bulbs on the market, but they can be prohibitively expensive, especially if you're trying to outfit your entire home. The 20-year lifespan GE C-Life smart light bulb lets you create a variety of lighting scenes for reading, movie time and bedtime. The one downside of the budget-conscious price: The C-Life uses Bluetooth rather than Wi-Fi, which means you can only control the lights when you're at home. For beginners, USA Today's Reviewed.com calls smart light bulbs the "easiest way to start dabbling in smart home technology." $15.
Smart lock
The Lockitron Bolt smart lock lets you throw away your house keys and unlock your front door with the automated proximity sensor built into the smartphone app. The smart lock gives you the power to grant temporary access to anybody who needs to get into your home while you're away. If you want to control the lock remotely, you'll need to also purchase the Lockitron Bridge wireless gateway ($60). The Lockitron Bolt was named the budget smart lock choice by the New York Times' Wirecutter.com gadget website. $99.
Wireless security camera
The AA-battery-powered Blink home security camera lets you stream live 720p video from any room in your home to your smartphone screen. With a motion sensor and night vision capabilities, the camera lets you keep an eye on pets and toddlers and watch out for intruders and thieves. Reviewed.com calls the compact Blink camera "insanely easy to use." $99.
Smart smoke alarm
Why buy a smart smoke alarm when you can turn your existing smoke detector into one with a Roost 9-volt smart battery? The Wi-Fi-enabled battery notifies you of danger via a smartphone alert and can silence the alarm remotely. With a five-year lifespan, the battery silently tests itself and sends you status updates. $35.
Smart garage door controller
Don't make breaking into your house easy for criminals by accidentally leaving open the biggest door in your home. Chamberlain MyQ Garage sends an alert when your garage door is left open and gives you remote control capabilities you can use anywhere. MyQ can even turn on the lights and air conditioning in your home as you pull your car into your garage. $99.
Environment sensor
The possibilities are seemingly endless for the postage-stamp-sized Clime sensor, which measures temperature, humidity, light, motion, CO2, pressure and color. Get notified when your bathtub is full, your washing machine is done or it's time to turn on the lights. $30.
Smart water sensor
You never think about your house flooding until it's too late. The D-Link water sensor sends a smartphone alert in the event of a leak and can be paired with a Wi-Fi siren to sound an audible alarm. Put it next to a sink, toilet, washing machine, water heater or dishwasher to avert costly water damage. $60.
Smart TV
There are plenty of inexpensive ways to connect your TV to streaming content. Take your pick from Google Chromecast ($35), Amazon Fire TV Stick ($40) and Roku Express ($30). The latest Apple TV will run you $179 unless you're willing to settle for a $70 earlier generation of the device.
Universal remote control
Tired of having to toggle between three remote controls just to switch your TV from cable to Netflix? A universal remote bundles together your TV, DVR, Blu-ray player and other infrared signal-controlled devices. The Logitech Harmony controls up to eight audio-visual devices with a single remote. $60.
Smart thermometer probe
No need to hang out near the smoky barbecue waiting for your meat to cook to perfection. Why not watch the game on the couch and get a smartphone alert from the Weber iGrill Mini when your steak, hamburger or roast reaches an exact temperature. CNET loves that the Bluetooth-enabled iGrill "removes the guesswork and some of the effort from the grilling process." $50.
Amazon Dash button
The internet is teeming with simple hacks that will let you use an Amazon Dash button for an endless array of tasks beyond buying things at the internet megastore. Call Uber, order pizza or control other smart devices in your home with a push of a button. All you need is a little curiosity and a desire to subvert the online shopping behemoth. Build Your Smart Home calls the Dash button the "most underappreciated piece of technology in the smart home world." $5.
ALSO
Instagram-friendly Jungalow design guru says home decor should make you feel good
These 7 fire-retardant plants may help save your home
More Southern California home tours
---