Stopping the flames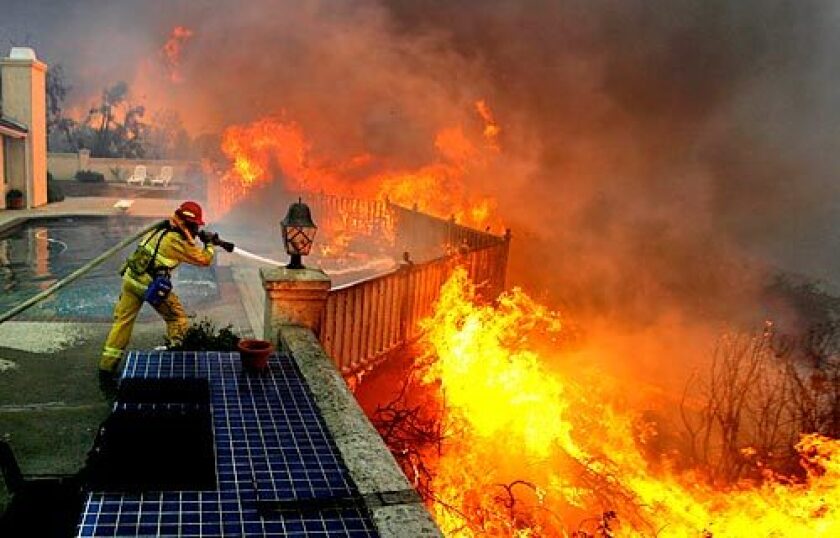 Los Angeles Times staff writer
Jason Falarski was on the books for a 24-hour shift at the Santa Clara Fire Department, starting at 8 a.m. Sunday. But if you were a firefighter in California last week, the books didn't count for much.
Falarski, a 35-year-old captain, had tiptoed out of the house early, letting his wife, daughter and two sons sleep. Then came the long-distance call for help in San Diego County.
By 10 p.m. Sunday, he was rolling south, one of 21 firefighters on five engines from Santa Clara, Santa Cruz and Monterey counties. By 2 a.m., they were racing down the Grapevine, gaping at fires left and right. About the time his shift was supposed to end, he was checking in at Fire Station 80 in Ramona.
By Monday night, he was crouched between the pool and the barbecue grill on a luxurious backyard patio in Poway, throwing all he had at the climbing fire.
A few months ago, Falarski had brought his family to Southern California on vacation. This time, as he entered the disaster zone on Old Coach Road in Poway, San Diego County was lit up like no place he had seen in 16 years on the job.
"Fire everywhere," Falarski recalled. "Hundreds of houses threatened, gazebos and decks going up. We might be able to save one house, but the house next to it would be going up in flames."
Falarski's team moved from house to house, winning some, losing some. They were lucky: No lunch, no dinner, sore feet, blisters, headaches -- the easiest inconveniences of fighting fire.
They reached the house on Sandhill Road about 7 p.m.
"It was on a cul-de-sac. We backed in. When we looked behind the house, there were flames running up the hill. We deployed our hose line to the back. The main objective was to make sure the deck didn't become fully involved, because if the deck became fully involved, we probably would lose the house."
The battle went on for an hour. While his teammates, Andrew Kim, Ray Torres and Gary Agvin, paid out hose and doused other parts of the property, Falarski, who is 6 feet tall and weighs 200 pounds, threw about 100 gallons per minute.
The Hansen family, who own the home, had left that morning, but were watching from a distance. While the fire crew clambered around the backyard, Jim and Maureen Hansen were two miles away, at the home of their grown daughter, Jenny, joined by their son Chris. As the night wore on, the Hansens took turns scanning the television, then stepping into the backyard to look across the canyon.
Then another of their sons called. Michael, a law student on an exchange program in Buenos Aires, had been searching the Los Angeles Times website for clues about his house, and came upon the image of Falarski fighting to save it.
"Our house is on latimes.com and it doesn't look good," Michael told his parents from Argentina.
"The conditions you saw in the picture," Falarski said, "that probably lasted about 30 minutes. The main thing going through my mind is, 'I don't want to lose this house.' "
And then?
"We saved that house. . . . I think all 10 made it on the cul-de-sac. The street over might have lost three or four houses. But I'm not sure." It was Tuesday morning before Falarski and his teammates had a chance to eat and sleep. They had breakfast at Poway High School, then lay on the grass at a park in Escondido. Then they rejoined the fight.
So when is this assignment going to end?
"Could be two weeks," Falarski said. "Could be three."
By Christopher Reynolds
---