Glendale Unified board dismisses superintendent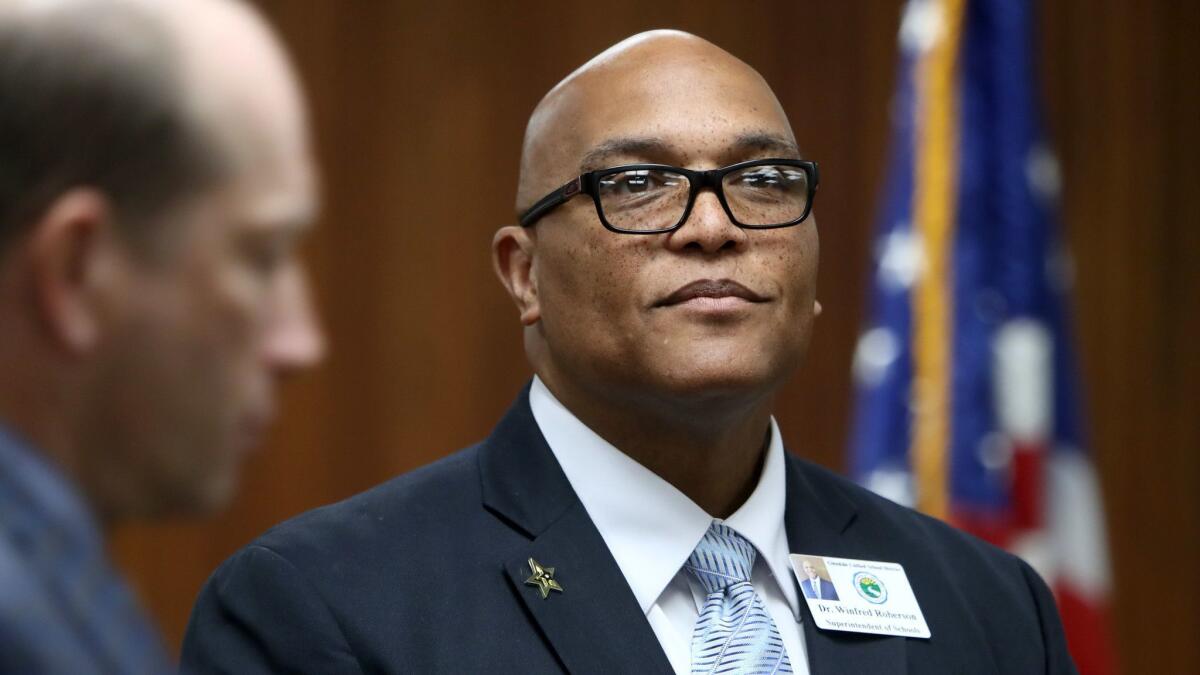 In a 3-2 vote, the Glendale Unified school board ended the almost four-year tenure of Winfred B. Roberson Jr., the district's first African American superintendent.
The closed-door session took place Tuesday evening during a special meeting.
Board President Greg Krikorian and board members Armina Gharpetian and Shant Sahakian voted for dismissal, while board Vice President Jennifer Freemon and member Nayiri Nahabedian voted against the move during the superintendent's annual performance review.
Roberson was released "from his existing contract without cause, effective immediately," according to a statement released by the district Wednesday afternoon.
A clause in the superintendent's contract allows the board to terminate "without cause or a hearing." School board members technically are in charge of only one district employee, the superintendent.
"We did not take this decision lightly, but we are excited about the opportunities we'll be able to provide to our students, our community and to our district," Krikorian said. "We wish [Roberson] well in his future endeavors, but our No. 1 priority is the students, parents, community and our schools."
Roberson's release comes at a turbulent time, with the district dealing with several issues, including declining enrollment, a property transfer proposal denied by the city of Glendale, a recently filed qualified budget that highlighted dwindling reserves and a territory dispute with a La Cañada Flintridge grassroots organization.
Krikorian said Roberson's dismissal had nothing to do with a student brawl at Hoover High School on Oct. 3 that led to dozens of suspensions, a Hoover student walkout, cancellation of the Glendale-Hoover football rivalry game that dated to the 1930s and national negative attention.
"That had no bearing on this," Krikorian said. "A process like this, with so many different aspects, included many things, like looking for new leadership. There are so many different components that went into this decision. The incident 1,000% had no bearing."
Kelly King, who has been with the district for 28 years, will now handle two vital roles within Glendale Unified — she'll assume the title of interim superintendent along with her current role as assistant superintendent for educational services.
"We have an amazing team in Glendale, and it's a strong school district because of the individuals who work here," King said. "While everyone might be chipping in and picking up different pieces, we've always worked so close together, and this is a positive era moving forward."
King added, "We have 80 days left in the school year, and they're going to be 80 great days for our kids."
Board members plan to provide more details about the upcoming job search during their next meeting on Feb. 5.
Roberson did not immediately respond to calls for comment.
He was hired in February 2016 to steward a district with 32 schools and 26,000 students from transitional kindergarten through 12th grade in the third largest city in Los Angeles County.
Roberson arrived in Glendale after serving as superintendent of the Davis Joint Unified School District.
Krikorian said he could not comment on how Roberson performed in past evaluations or if Roberson failed to meet certain expectations. He did say he thinks the community will support the board's decision.
"I know this may be difficult, but the community has had confidence with us in the past," Krikorian said. "I know this wasn't [a unanimous] vote, but the three board members voted for this change, and it's a board directive. We're confident in the direction we're going."
Andrew J. Campa writes for Times Community News.
Sign up for Essential California for news, features and recommendations from the L.A. Times and beyond in your inbox six days a week.
You may occasionally receive promotional content from the Los Angeles Times.