Essential Politics: Trump — Dominating the news cycle, but to what end?
Reporting from Washington —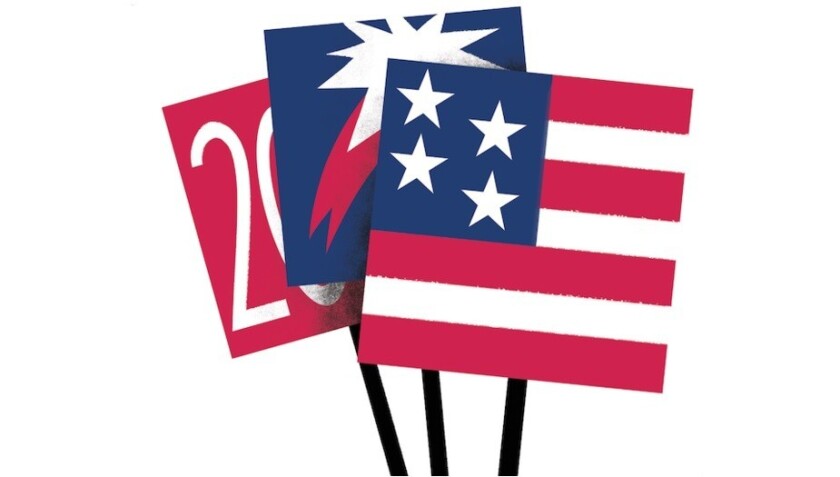 If we've learned one thing about Donald Trump in the 14 months of his campaign for the presidency, it's that he knows how to dominate a news cycle.
Whether all that attention actually gets him anywhere — that's a different story.
Good afternoon, I'm David Lauter, Washington bureau chief. Welcome to the Friday edition of our Essential Politics newsletter, in which we look at the events of the week in the presidential campaign and highlight some particularly insightful stories.
WELCOME TO THE TRUMP SHOW
This was another week in which the campaign was almost entirely the Donald Trump Show.
First, the GOP nominee conducted an elaborate, public tease on the question of whether he would soften his position regarding immigrants in the country without legal authorization. Then he scheduled a rapid trip to Mexico to meet with a clearly unprepared President Enrique Peña Nieto.
Finally, having built attention to guarantee the maximum audience, he delivered a speech in Phoenix setting out his immigration policy. Here's an annotated transcript.
The speech was uncompromisingly hard line, as Noah Bierman and Seema Mehta described. For more detail, check out Lisa Mascaro's explanation of the key elements of Trump's plans.
As Cathy Decker wrote, Trump's speech not only buried any notion of a pivot to a softer policy, it may also have buried the GOP's hopes of attracting Latino and Asian American voters in the future.
Not only did Trump stick to his insistence that current unauthorized immigrants would have to leave the U.S. and apply for reentry, he also broke significant new ground by, for the first time, publicly embracing a series of proposals to substantially cut legal immigration, as Brian Bennett and I reported.
The positions he embraced in Wednesday's speech would fundamentally change the U.S. immigration system, returning it to something that more closely resembles the restrictionist policies that prevailed from 1924 until 1965.
As an exercise in publicity, the week's buildup was masterful. As a campaign tactic? Well, let's say the jury is still out.
By week's end, several members of Trump's Latino advisory group had publicly quit, saying they felt used. The Mexican government was accusing Trump of lying about whether he and Peña Nieto had talked about who would pay for a border wall. And the Hillary Clinton campaign was eagerly touting a new video about Trump's foray south of the border.
Trump aides insisted they had succeeded. The goal, they said, was to deepen Trump's support among those who already back him — the mostly male, white conservative voters who won the GOP nomination for him and who express deep concerns about the impact that immigration — legal and illegal — has had on the country.
WHAT THE POLLS SAY
The Trump campaign's emphasis on preaching to the already converted actually may make sense.
An analysis of eight weeks of data from our USC/L.A. Times "Daybreak" tracking poll, which has been more favorable to Trump than other surveys, suggests that Trump's best shot — maybe his only one — requires motivating white voters who sat out the 2012 election.
The Daybreak tracking poll, which is updated daily, continues to show the two candidates roughly tied, trading small leads back and forth.
Most other surveys show Clinton ahead by an average of six or seven points nationally, with Clinton having lost some ground since the peak that her support hit after the Democratic convention. (Why is the Daybreak poll different from most others? Here are several of the reasons.)
State polls show a similar pattern: Clinton leads in the major battleground states, although her support has declined by a couple of points from where it stood in early August.
Although the race has tightened a bit, it would be misleading to say that the election is close. It may get there — Clinton has clear vulnerabilities, a lot of voters haven't made up their minds and the Daybreak poll shows what Trump's opening could be — but Clinton is entering the Labor Day weekend in the strongest position of any candidate since her husband won reelection in 1996.
DON'T FORGET THE ELECTORAL COLLEGE
State polls become more telling — more likely to predict the outcome — as we move into the fall.
The popular vote is all very well — just ask Al Gore — but gaining the presidency requires winning enough states to get 270 electoral votes. How to get there? We've updated the electoral map with our best estimates. Now you get to play political strategist and try out as many scenarios as you like.
CLINTON SKATING BY
If Trump hadn't dominated media attention for nearly the entire week, here are some of the things that people might have spent more time talking about:
Late Friday, the FBI released a summary report of its investigation into Clinton's email use while secretary of State. Although the report, itself, does not appear to include major new revelations, it's another reminder that the email problem, which has dogged Clinton's campaign since its start, isn't going away.
Clinton's closest aide, Huma Abedin, announced she was leaving her husband, Anthony Weiner, after the former congressman was caught, once again, texting photos of his underwear-clad body to other women.
One of the Clinton Foundation's million-dollar donors, Gilbert Chagoury, was denied a visa to enter the U.S. because of official concerns about alleged unsavory connections in Lebanon, Joe Tanfani reported.
And the State Department announced the existence of more previously unreleased Clinton emails.
Although each of those stories got some attention, Trump's drive to monopolize the spotlight guaranteed that none would stay prominent for long.
Meantime, as Evan Halper reported, Clinton spent most of late August raising huge amounts of money from wealthy donors to pay for the final 10 weeks of the campaign. Sen. Bernie Sanders showed in the primaries how a candidate could use that fundraising success against Clinton; Trump has failed to do so.
TRUMP'S MAN IN HOLLYWOOD
Long before he became Trump's campaign chairman, before he headed Breitbart.com, before he emerged as one of the most controversial figures in right-wing politics, Stephen K. Bannon tried his hand at producing movies. How did it go? Our colleague Daniel Miller has the story.
QUESTIONS ABOUT TRUMP, CLINTON? WE'VE GOT ANSWERS
Where they stand on issues, what they've done in their lives, their successes, their failures, what their presidencies might look like: We've been writing about Clinton and Trump for years, and we've pulled the best of that content together to make finding what you want to know easier. So check out All Things Trump and All Things Clinton.
LOGISTICS
If you like this newsletter, tell your friends to sign up.
That wraps up this week. My colleague Christina Bellantoni will be back Tuesday with the weekday edition of Essential Politics. Until then, keep track of all the developments in the 2016 campaign with our Trail Guide, at our Politics page and on Twitter @latimespolitics.
Send your comments, suggestions and news tips to politics@latimes.com.
---