Conejo Oaks: An animal oasis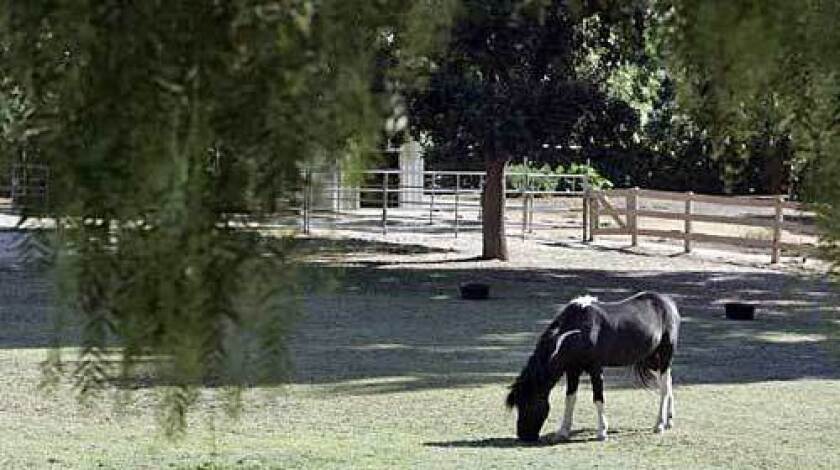 Special to The Times
Thousand Oaks, which sits in the Conejo Valley roughly midway between Santa Barbara and Los Angeles, is in fact home to 40,000 to 50,000 oaks, according to the city's public information officer, Andrew Powers.
Many of these fine trees adorn Conejo Oaks, an affluent neighborhood of well-established homes in the eastern part of the city, where the country feel is further enhanced by large lots, some stretching more than an acre.
What it's all about
Conejo is Spanish for rabbit, and the creatures have long been a fixture throughout the area; they are known to have supplemented the diet of the native Chumash people living here hundreds of years ago.
In the days when farms and orchards carpeted the valley, rabbits were a common sight, and even today in urban Conejo Oaks, wild rabbits are easy to spot, especially in the evenings and early mornings.
"We feed them," said Debbie Puente, whose half-acre property on El Monte Drive is home to a dog, three cats, three roosters and about 30 chickens, not to mention husband David, a swimming-pool builder, and the couple's three sons.
Inside scoop
The Puentes have lived in this home for 20 years, and their boys grew up on the property. Debbie, the author of four cookbooks, loves the area and the lifestyle.
"It's very rural," she said. "There are no sidewalks or streetlights. It's like being out in the country." The downside of no sidewalks, she added, is that the street isn't safe for children to play or ride bikes.
Well within living memory, this area was farmland. Some things don't change: Residents, Puente said, can keep goats, and the neighborhood is zoned for horses, depending on lot size.
Mark Towne, the city's deputy director of community development, said larger lots in the north of the neighborhood can have up to three horses, no permits or permission needed. Toward the southern side, where lots tend to be smaller, tighter zoning requires at least 20,000 square feet, a permit and notification of immediate neighbors to keep two horses.
Still, Puente said, Conejo Oaks is popular with equestrian enthusiasts, and there are plenty of horses around, especially on Rancho Road and along parts of La Jolla Drive and La Brea Drive.
Out and about
Conejo Oaks is well served by nearby elementary, middle and high schools, and though there are no neighborhood stores, it's a short drive to shopping malls, restaurants and the main cultural and entertainment attractions of Thousand Oaks.
Residents can walk to the Grant R. Brimhall Library, the city's main library, on East Janss Road. As a bonus for locals young and old, buildings adjacent to the library house the Goebel Senior Adult Center and the Alex Fiore Teen Center.
On the market
Realtor Wendy Pickard said the majority of the single-story, single-family homes in Conejo Oaks were custom-built in the late 1950s and through the '60s and '70s, though homes continue to be remodeled and new ones added.
Like almost everywhere these days, property sales have slowed and many buyers have been forced to lower their prices. Pickard, of Troop Real Estate, said 13 homes in the neighborhood are currently on the market, and four others are in escrow.
The lowest asking price, $850,000, is for what she describes as a typical property in this area -- a 2,900-square-foot, four-bedroom, three-bathroom home built in 1961 on a little under half an acre.
At the other end of the scale, a four-bedroom, five-bathroom property on just over an acre is listed a fraction above $2.5 million. This 7,625-square-foot home, built in 2005, has a gym, media room, pool, spa and sports court, plus garage space for four cars.
Although average sale prices so far this year are hovering around $1 million, some buyers have paid much less. A bank-owned fixer on three-quarters of an acre went for $706,000, and an 1,800-square-foot, three-bedroom home fetched $675,000.
School report
Youngsters from Conejo Oaks mostly follow the educational route of Meadows or Park Oaks elementary schools, Colina Middle School and Westlake High School, though some attend Thousand Oaks High School.
Last year, Meadows had an Academic Performance Index of 872 out of a possible 1,000, and Park Oaks scored 785. Colina Middle School scored 878, and of the high schools, Westlake scored 832, just ahead of 824 for Thousand Oaks.
Sources: www.toaks.org/ living/about/history; cde.ca.gov; www.toaks.org; wendyshomes.com.
---