This story is part of Image issue 18, "Mission," an anthology of fantastic voyages — from L.A. to the world and back to the epicenter. Read the whole issue here.
From Bonnie Clyde sunglasses to an Alexander McQueen bag, we've got you covered with a list of drip that really sings.
If you buy a product linked on our site, The Times may earn a commission.
Prada Raffia Bag, $1,990
May there forever be sand between your toes and never in your Prada bag. Available in black, aqua, petal pink, white, citron yellow, orange, lily, light blue and in the natural straw, this bag is an essential add to your summer wardrobe. Purchase 👉🏽here.
Ganni Bou, $445
Everyone will ask about this one. You can already hear it: "OMG, such a fun shape," "I love the color," "Where can I get that?" This one just sings. Purchase 👉🏽here.
Gucci Horsebit, $3,250
This revived silhouette is giving equestrian vibes. Match this one with your sweater vest, board shorts, tube socks and loafers. Purchase 👉🏽here.
Never Still Rimowa Vertical Tote, $1,125
For anyone who doesn't have time to dig in what can feel like a bottomless pit, this hella organized Rimowa tote is for you. The bag features a sleeve for laptops, a notch for keys and a webbing strap to easily slide onto a suitcase. Purchase 👉🏽here.
Bricks and Wood Yacht Tote, $110
Take a piece of South L.A. wherever you go — from the beach to Capri to Geneva to Banff to CDMX and back. Purchase 👉🏽here.
Alexander McQueen the Seal, $3,200
The Seal, an elegant on-the-go soft leather shoulder bag, features a new iteration of the house's logo in a satisfying quilted texture. Come May 18, the Seal will be available in black, ivory, bright green, fuchsia and anis. Purchase 👉🏽 here.
Hermès H08, $5,350
It's always a good time for you to get a watch. And if you do, go with the Hermès' Swiss-made timepiece. With an eye-catching knit neon orange band, you won't help but know the time every moment of the day. Purchase 👉🏽 here.
Loewe Paula's Ibiza shorts in denim, $550
Be the flyest foo at the function with these denim Loewe shorts. The spacious silhouette, frayed legs and dark wash are flexible for getting down at a day party or kicking it with the homies on vacation. Purchase 👉🏽 here.
Bonnie Clyde Angel Black, $168
Whether you're hiking, playing pickup soccer or stepping out to a party, these sleek, sporty shades from space are a time-transcendent add to any fit. Purchase 👉🏽 here.
Golf le Fleur* Cherub Scarf, $175
The silk scarf is cute for laying flyaways or as a chic neck embellishment. Those edgy little baby angels are perfect for the goth reintroducing color into their wardrobe. Purchase 👉🏽 here.
Valentino Donna Born in Roma Eau de Parfum, $130
Putting this on will make someone want to eat you alive, for real. This smoky floral scent captures both the coziness of winter with notes of vanilla and cashmere and the novelty of spring with a hint of jasmine. Purchase 👉🏽 here.
Supreme/Singing Machine, $298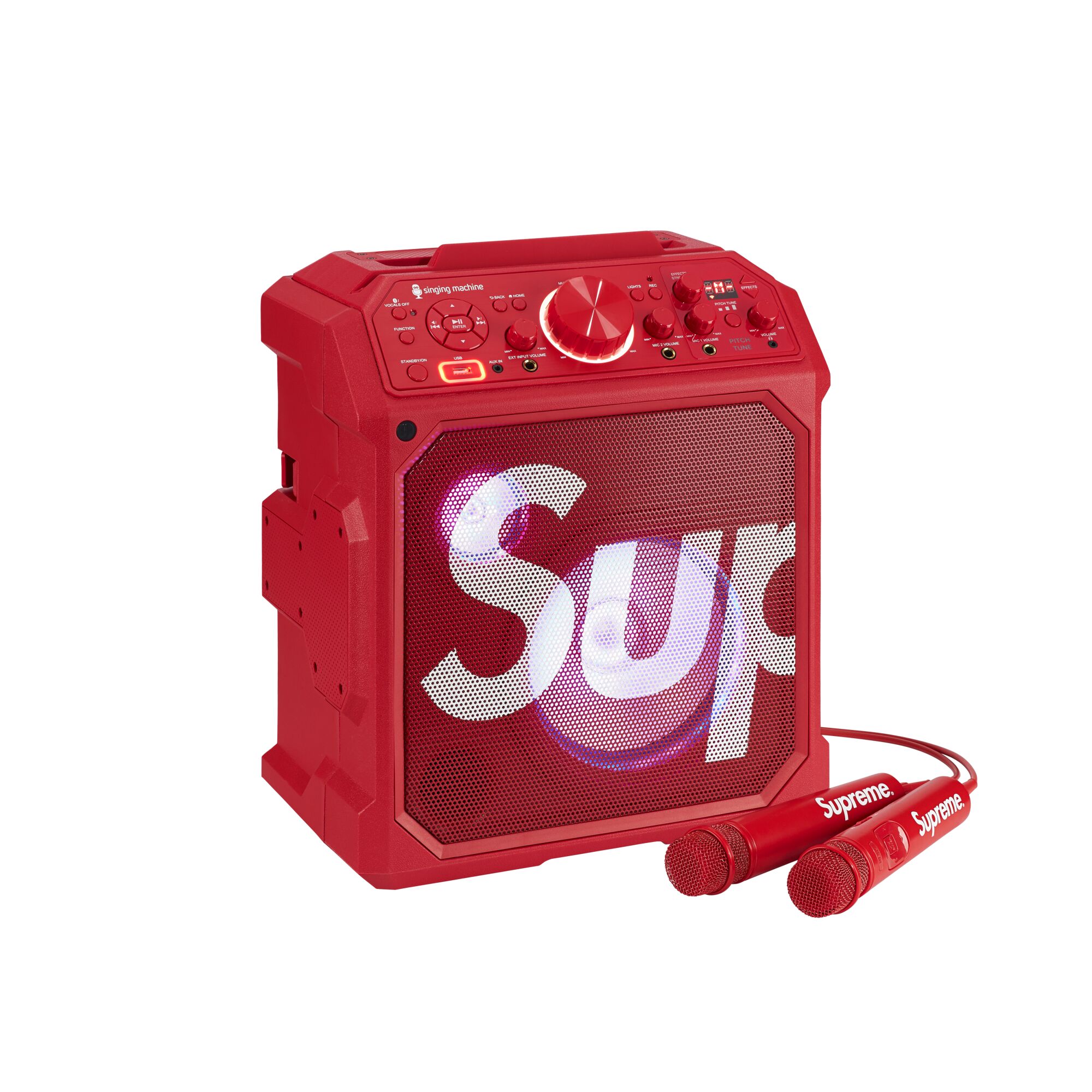 For those whose spirit calls them to burst out in song, Supreme and Singing Machine made a duet on their karaoke machine. The machine comes with two mics, has Bluetooth capabilities and acts as an amp. You better sing, baby. Purchase 👉🏽 here.
'Burberry' Book, $195
Get in a London state-of-mind with Burberry's new self-titled book, which celebrates the legacy British brand's century-and-a-half long history. Through five chapters and 200 illustrations, learn more about the house's signature trenchcoat and check pattern and key moments that highlight its craftsmanship. Purchase 👉🏽 here.
Come Tees X Heaven Star Girl Dress, $325
Come Tees, L.A.'s fave deep-cut fashion brand by artist Sonya Sombreuil, collaborated with Heaven by Marc Jacobs on a collection that just makes sense. The clothes feature Sombreuil's artwork — amulets, angels, demons and more — on thermals, cut-out dresses and jeans, fitting squarely in Heaven's irreverent, cheeky universe. Don't sleep on the Star Girl Dress, a knit mini tank number that's destined to be a transitional weather favorite with its matching sleeves, jacquard details and Come Tees energy. Purchase 👉🏽 here.
More stories from Image